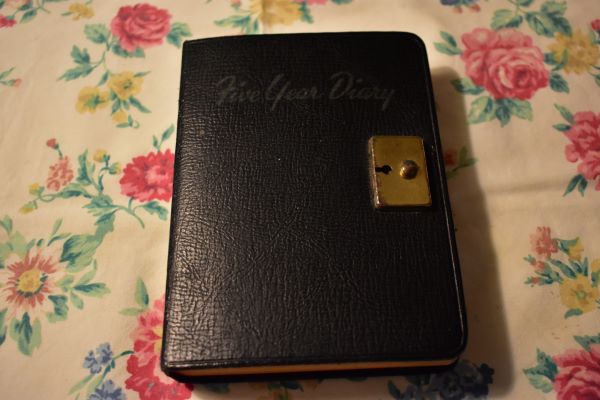 Continuing the diary of Lil and Bob. They are in their seventies, this is during world war 2, Bob works odd jobs and does war duty by going to the watch tower to watch for war planes. The tower is up on top of a tall hotel. Lil has few words in her diary but still important bits of the war and rationing.
Monday, March 29, 1943. Rain most all day. Nothing doing. over at Ruth's in a.m. Bob home at 1:40
Tuesday, March 30. Nice & Sunny. Planted some carrot & lettuce seed. Bob cut lawns. wrote Helen.
Wednesday, March 31. Fine day. Made Nuco butter. Called on R. Ambruster. Bob home at 1:15 Up town to shop called on Mrs. F home with some rolls.
Thursday, April 1 1943. Fine. Mended Bobs Trouser and scrubbed kitchen. Bob home 1:15 done some yard work.
Friday, April 2. Nice day. Baked a wartime cake. took some to Emma. Bob home at 1:30.
Saturday, April 3. Fine day. Done the Sat. Cleaning. outdoors most of afternoon. Bob cut back lot and Frahms C. G & clothes line.
Sunday, April 4. Fine day. Cloudy and then a glimpse of the sun. Bob at W. Tower 8 - 10. Bob M. called in Eve. Starting to rain.
End of this weeks reading of Lil's diary. Now on to Lena's diary.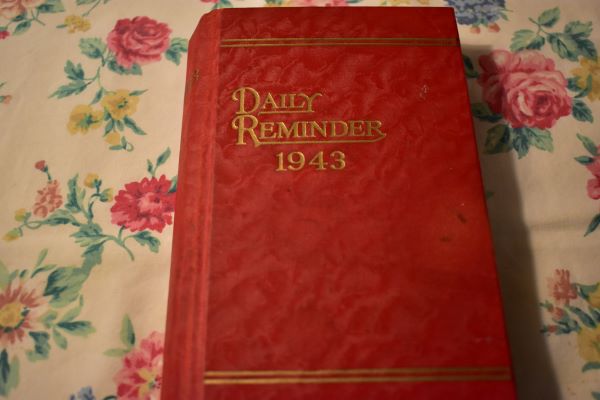 Continuing Lena's Diary.
Monday, March 29, 1943. 20 above zero. Did the washing and had quite a lot. Richard came home early was going to Woodstock cleaning the exchange but I had things on time. Made and apple tapioca Had to rest after dinner and intended going over street but couldn't make it. Didn't lie down and got in the clothes as they dried nicely.
Tuesday, March 30, 1943. This has been a busy day. I went over street twice and got some garden seeds and muresco for the ceiling in the little room 2 lbs of nucoa and have it all colored and in the refrigerator seems good and lb of compound used only 15 coupons. Posted a letter to Mrs. Johnson and got one from her this noon. This is a dark chilly day hope it dont rain and rain the river too much. I opened a can of chicken soup I made from the last chicken for R-S supper and he seemed satisfied.
Wednesday, March 31. Richard is drinking milk so I started on an extra qt. making 3 qts every other day. Went down to Reeves and shall carry my own groceries if I can from now on. Finished my March blue stamp. No dried beef. Got a bigger fish bowl at the flower store. The road is dry and dusty cloudy today and a little damp but has been dry. Canned some beef and did the ironing this forenoon,. Got a pkg of beef steak tomato.
Thursday, April 1. 36 degrees. Washed the ceiling in the small room, am glad that is done and painted the bad spots where water came down.
Friday, April 2. 30 degrees. Put muresco on the ceiling in the small room Then went to W. Leb after a fish, got haddock and 3 pink grapefruit and carrots & onions. To late to put another coat on the ceiling.
Saturday, April 3. 24 degrees. Put on a second coat on the ceiling it needed it but guess it will look very fair now next week must clean the wood work and hope to varnish it only 2 doors and 1 window but the door sash should be painted. Only had 8 points for the meat for Sunday got 1/2 lb top round and 2 slices cooked ham also 1/2 pint oysters. Spent 6 points. Some more are available April 4.
Sunday, April 4. 20 degrees. The sun shines but cold. I aught to have gone to Church but couldnt seem to feel like starting should have made a start and put in an envelope but Ill make myself go soon. My ceiling looks neat and now must fix the wood work. Hope I have some varnish stain for the molding at least.
This ends this weeks diary readings. Will pick up on the diaries next week. Grandma Donna