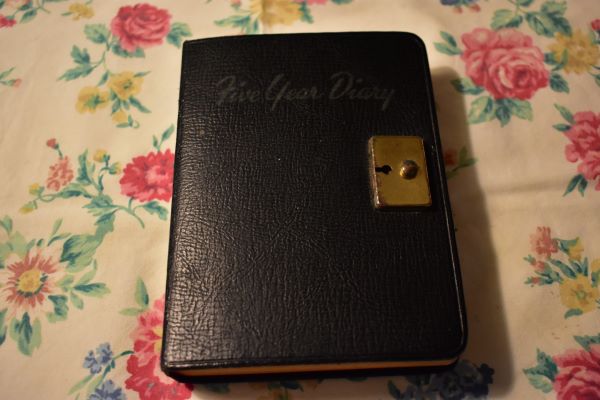 We continue the 1943 diaries of Lil and Bob and the diary of Lena and Richard.
We start with the Lil's diary, Lil and her husband Bob are in their seventies and Bob works lawns and does war duty by watching for air planes on top of a hotel. The year is 1943.
Friday, June 25 1943. Fine day- Done the ironing- Bob fixed front door lock. Workds better - Ruby Armbruster in for short call.
Saturday, June 26. Nice Day - house cleaning Vac'd rugs - Richard and marion in for a few minutes.
Sunday, June 27. Warm 90 degrees in back porch 99 degrees in side. Cooler this eve- Bob walked up for Chronicle mowed lawns.
Monday, June 28. Fine. Watered lawns all forenoon - Up Town with - Bob in afternoon to shop & use our red points.
Tuesday, June 29. Fog all forenoon - Bob home early - not much doing.
Wednesday, June 30. Fog all forenoon - Done some sewing - Bob home late - OVer to see Ruth - painting Judy's room.
Thursday, July 1. CLoudy & cold wind watered yards all a.m. Bob home 1:15.
End of Lil's diary reading. On to read Lena's Diary.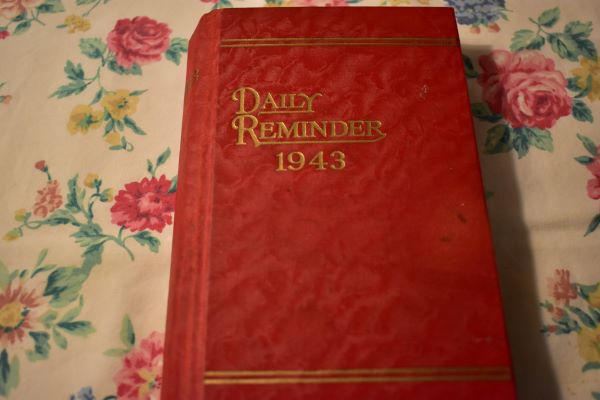 We continue with Lena's diary. She is a widow in her seventies. Her son Richard lives with her and works downtown.
Friday, June 25, 1943 . This is a hot day. Went out and finished a space for some more tomatoes as I have some more plants also pepper and want to plant some more beets but they can go in when the peas are gone in a few weeks. It was hard work as the witch grass is terribly strong and had to use the small ax but got it done and emptied what ashes we had as wood ashes is like lime to sweeten the land for beets. Dr. Stephen came this P.M I called him this a.m. but didn't exptec him. My hives holds on.
Saturday, June 26. A very busy day but didn't go shopping only Joes and got liver and pork chops a cake and frankforts. Enough 4 for Richard 2 days by squeezing. I went out and did some weeding around the house and then finished in the house. set out 11 more toms making 32 in all and I have 7 left and quite a few pepper plants. Shall try and make room for them. The toms grow so fast there will soon be tomatoes and the string beans are in blossom. I hunt every day for the mex beetle and must dust.
Sunday, June 27. This is a nice day and pretty warm. Strung the morning glories as they are spoiling and put the screen on the big window it seems more comfortable now. Made Macroni & cheese for supper and wrote to Eva. She is worrying about the garden pests as is Geneva. THey have these pests too down there. Elec came to look at the washer and said he'd come tomorrow night and put on a new cord. Having very hot weather.
Monday, June 28. went out before 7 and did what weeding I could and came in some after 9 and cleaned up and went over and paid tele and 2 elec light bills had forgotten last May the time goes so fast! Got potatoes 5 for 3 cts. nice ones and some other things. Got dinner 2 pork chops left from yesterday and my red points must last til June 30 but haven't any a week & 3 days on the points. Elec didnt come to fix the washer as he said.
Tuesday, June 29. Started in good season and did my washing looked like rain so put them on the piazza but didn't rain after all. Not so bad doing it by hand. Managed by having fish hash with dropped eggs on and a tapioca cream. Went over street and got the spray for the beans He told me I could use my sprayer as liquid but if I could put it on where the dew was on Id rather sprinkle it on with a can with holes in the bottom.
Wednesday, June 30. Very much cooler today. Did part of the ironing then went over to W. Leb but the fish wasn't ready so got a lb of rump steak it was natine and new and he said it would be tough but Richard seemed very glad of it and got 2 pts ice cream maple walnut & strawberry I thot it very nice. Shall try and get some fish tomorrow morning. Worked all afternoon in the garden but didn't quite finish at that. Must go out most everyt day. Things look pretty good.
Thursday, July 1. Went to west Leb and got a mackerel and frozen perch after fixing the plug on the washer and doing my mid week washing. Got a small piece of salt pork for beans 1 pt. Didn't do much this p.m. Pearl was in little while and I went over street and sent in the order I was making out to Sears. Kiblen is advertising one of those "Victory wagons" and Im going over and get one as it will make my shopping much easier.
End of this weeks Diary readings. Will be back with readings next week. Grandma Donna