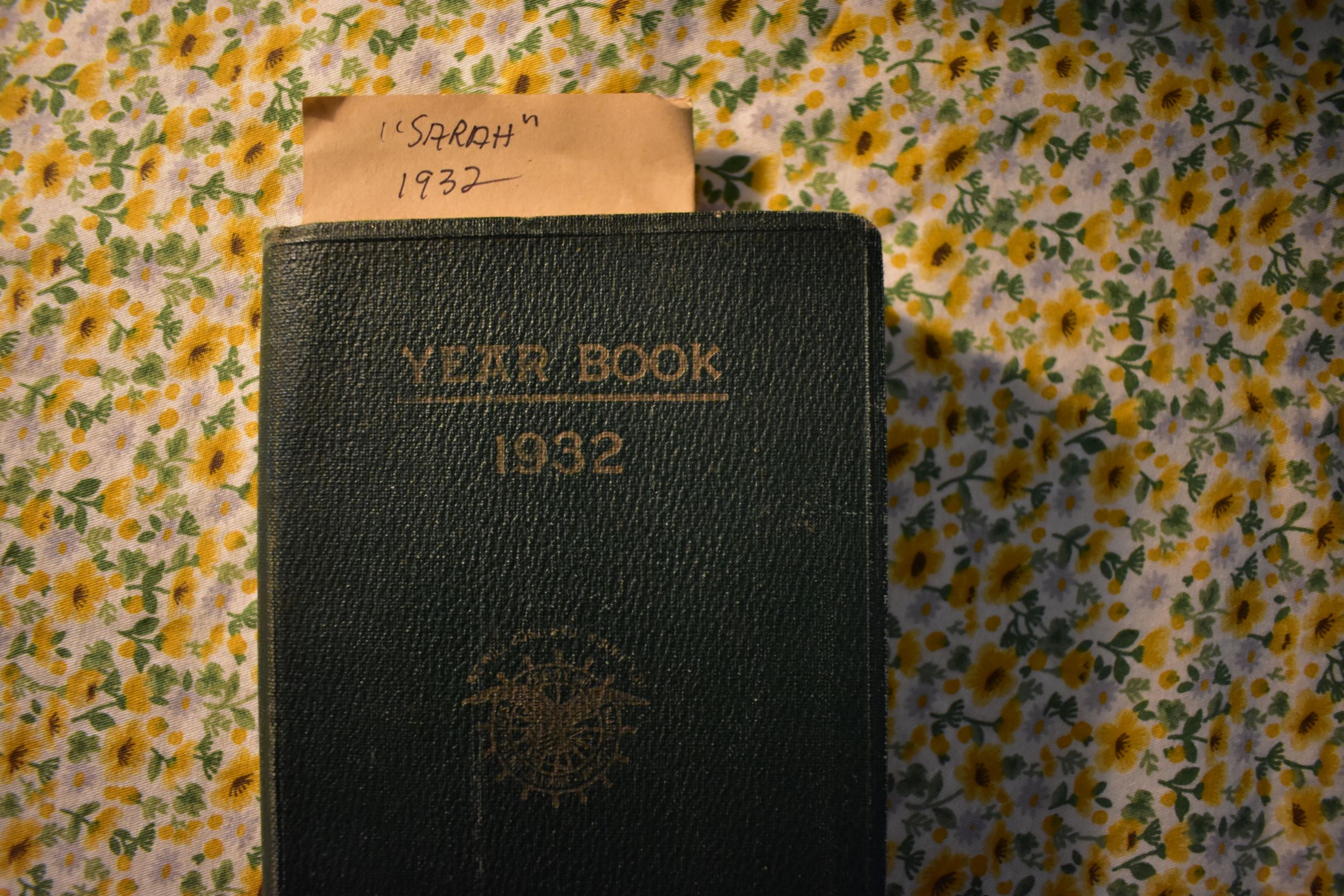 We continue the Diary of Sarah and her family. They live in the United States in the State of Ohio, the year 1932.
Last week we left off with the reading, Saturday, January 23, 1932. Cold and cloudy again today. Had the usual early morning tasks to see to and helped Joseph off to town. Baked pies, bread and kuche. Dinner. This P.M. I made some cream tapioca, dressed and cut up a chicken, started a fire in the parlor - preparation of cleaning up the room. gave the living-room and kitchen and especial clean-up usual evening tasks to see to. Ernest, Vera and Jimmie here for supper and the evening mending. A bath.
I believe that you will start figuring out as we go along part of Sarah's morning and evening tasks starting with todays reading.
Now we begin this weeks reading.
Sunday, January 24, 1932. Cold and cloudy this A.M. clearing this P.M. Had the usual necessary morning tasks to see to. Made preparation and attended church and S.S. services. Called at Dan Singers on the way home and found Dan is no better. Dinner. This P.M. I spent at home by the fire-reading almost the entire afternoon. Sarah Frances here for a visit. Usual evening tasks. Supper. Tried on my new kid gloves & found them a great fit. Expecting Ernest anytime now.
Monday, January 25. Clear and cold - a most beautiful day. Had the usual morning tasts to see to. Then made preparation and got at the washing. Finished by 11:15 and hung a part of the clothes out. As my hand got so cold - I came in to work until they would warm up. Dinner. Hung out the rest of the clothes. Helped father get off to Nellie Glasfords. Mr. Constiner called to report that the insurance on the church had expired. Spent all my spare time getting news items. Evening tasks. supper - worked on the news job.
Tuesday, January 26. Rained almost continuously all the day through. Colder this evening and quite a stiff breeze stirring. Saw to the early morning tasks & then settled down and copied my news items. Sent them to town with Joseph as he left for Germantown. Cleaned up some meat & put it on to cook. Before we got to dinner, Harry, Polly, Bonnie & Ralph arrived so I got busy and got a real dinner , which made it quite late. Harry's left just after dinner and by the time I did the after dinner work & swept, it was time for the evening tasks, Supper, Sleepy.
Wednesday, January 27. Cold and cloudy all the day. Had the regular daily routine of household tasks to see to. Baked bread and Kuche. Wrote a letter to Mrs. F. Miller & got it off in the mail. Prepared and served dinner. Melted some chocolate and dropped it in bits ready for serving. Dampened down the clothes and did the work ironing. Usual evening tasks, Supper and after supper work. Wrote 3 letters and a postal. 10:20
Thursday, January 28. Some clouds and some sunshine. Had the usual early morning tasks to see to. Wrote a couple of dinner invitations just after breakfast and sent them over with the school kiddies, Also the letters written last evening. Stored some cans in the attic and even preparing to do some mending. When Mr. Taylor and father came in & visited for a time. Prepared and served dinner. Put a fire on the parlor. Made a couple of bed sheets for little Bonnie's bed. Mrs. Taylor visited with me for a whiled. Made quite a lot of hens nests and cleaned up the old ones. Usual evening tasks. Mending this evening.
Friday, January 29. Dull, cloudy and threatening all this A.M. About 1 o'clock, it began sprinkling but, by the time an hour has passed it was raining in earnest and kept it up the remainder of the afternoon and evening as well. Father was gone to-day to help Mr. Taylor and I put in a full day. Worked with hens nests for quite a while this A.M. Started a fire in the parlor and gave the room a thorough clean-up. Also the hall-way & stairway & our bed-room. Scrubbed the W. Porch & pavement & used the rest of my spare time mending.
Saturday, January 30. Clear and severely cold the coldest weather we have had this winter. Had the usual morning tasks to see to, got my eggs ready for town and then got busy with pies - baked 7 pumpkin pies, 2 peach pies and one cream apple. Baked bread and Kuche but was late with it as I had to await Josephs return from town to get the yeast. Gave the living - room and kitchen a special clean-up & mopping for Sunday. Ernest here for supper and the evening mending. A bath, Harry and Roy made in a call this evening en route to Joseph's.
End of this weeks diary reading. We will be back around Tuesday, next week. Grandma Donna