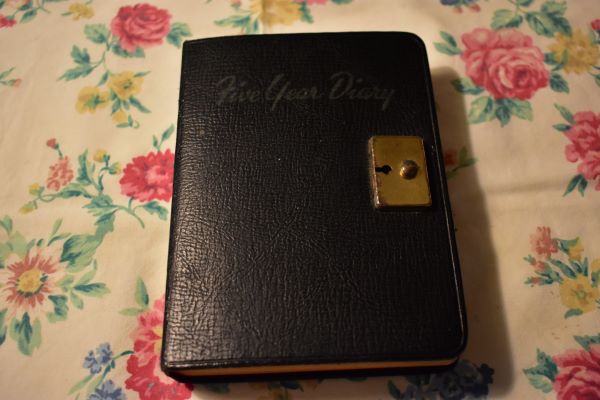 We continue with the weekly diary readings of Lil and Bob and Lena and her son Richard.
Friday, October 8, 1943. Clouds & Sunshine- Bob home early - Up Town for bread.
Saturday, October 9. Fog in a.m. - Bob home early - Lena & Nancy Armbruster came in afternoon.
Sunday, October 10, Fairly nice - Bob & the s. watering very busy in front yard also cut lawns.
Monday October 11, Fine - Done the watering this week - Bob M- called - Bob cut & watered Emma's lawn also Clisbus.
Tuesday October 12. Columbus Day - Fine- Wayne pruned berry bush - Bob home early - To Town to Shop - Ruby A called to A. to wish Bob goodbye.
Wednesday October 13, Fine summer day- Done the washing enough said-
Thursday October 14, Very fine- Done a bit of watering - Bob home late Up Town to bring Emma home - wrote to Clare.
End of Lil's diary for this week. On to Lena....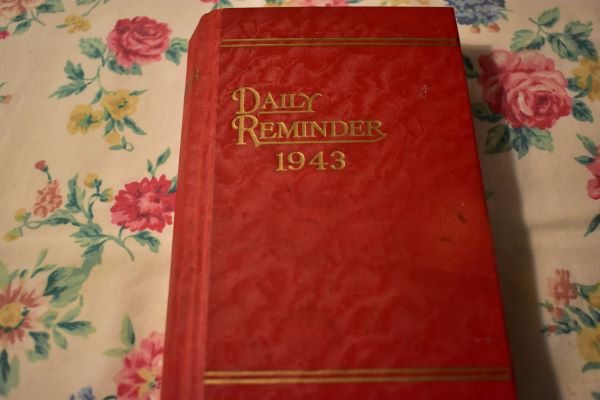 We continue the diary of Lena and her son Richard.
Friday, Oct 8, 1943. Washed Richards clothes and a few others have cut the bandage up the front and a great relief. But my foot still swells. Spent the rest of my points (war stamps) for hamburg but can order Monday Brushed up around down stairs.
Saturday, Oct 9, 1943. We are having nice weather no coal fire altho Richard started one a week ago. I took the hose and washed off the piazza after sweeping and clearing and it does looks so much better then also washed down the front stairs. Wish I dared do more but have to be careful of that ankle. Baked beans. Bot 1/2 dozen donuts at Joes.
Sunday, Oct. 10. Nice day but a cool wind froze last night my nastitiums I neglected to pick yesterday are all frozen and my bananna tree is spoiled too but I couldn't do anything with it in the house but felt badly as a new leaf was just ready to unfold. Didn't do much had canned lobster that Mrs. Lefoe bot and Richard swiped 65 cents for a small can. Was very fresh but I don't care so much as to pay the price. Go to Hamner tomorrow.
Monday, Oct 11. This first heavy frost this morning. We need our coal fire now went to the clinic and had my cast removed and another put on came home got here at 3:30 have another appointment Nov.2 Warmed up nice and the sun Shines this P.M. Pearl called a little while after I got home.
Tuesday, Oct 12. This is a nice warm day after the cold frosty morn. I did all the washing and am feeling real good best my left leg got a little tired but on the whole the cast Dr. French put on is real comfortable. Hope it stays so Have got most of the clothes in and now must try and write some letters. Had one from Eunice and Bill wants a divorce and she is trying to join the WAVES or the Navy. Hope she passes if it is what she wants.
Wednesday, Oct 13. Did part of my ironing this morning. After dinner Pearl dropped in and I went over street when she went and Quite a little shopping.
Thursday, Oct 14. Called up for fish at Sargents and it hadn't come in this forenoon so I sat down and wrote to Eva Picked up something for dinner and can of macoroni Mashed potatoes carrots Had made coffee icecream we made out. After dinner went over and got a 4 lb haddock as it looked better than the small ones shredded cod fish clams and C.C. cake.
End of this weeks Diary readings. Grandma Donna