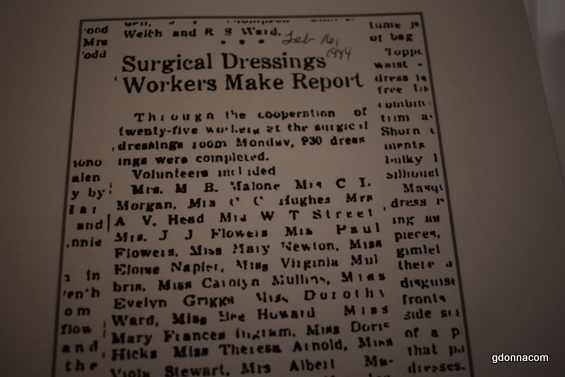 While I was doing research getting ready for our year of living like 1944 I kept coming across articles about bandage making. Regular meetings were being held and women were getting together in certain places to make bandages.
The surgical dressings had my attention as I worked many years in wound care at the hospital and outpatient. I wanted to know more.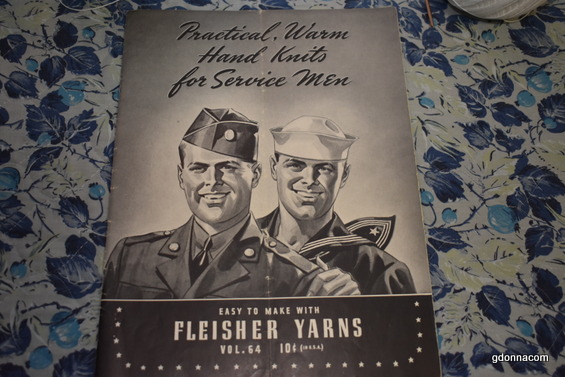 When we did our year of living like 1943 I had several booklets and items about the war and one of them was this booklet filled with instructions how to knit for the men that were gone to war.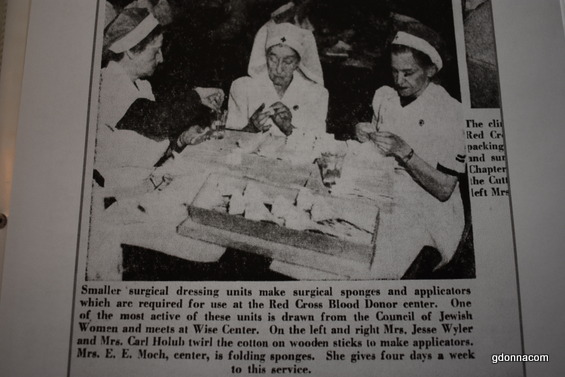 I found that in the 1940s during ww2 women all over the country were working together with the red cross making bandages of all kinds and shipping them out for the war needs.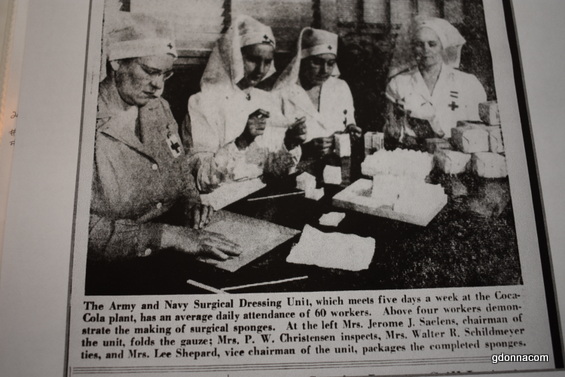 I spent hours and days trying to find out all I could. I figured out that women worked in different areas, some were knitters and some were rollers, some make sponges and some made cast pillows and all kinds of different bandages.
Some sewed, some knitted and some crocheted and many other things they did.
These women all over the country worked hours and hours making bandages. The paper was full of articles about women turning in numerous bandages. The bandages would be sterilized and wrapped and boxed up for shipment.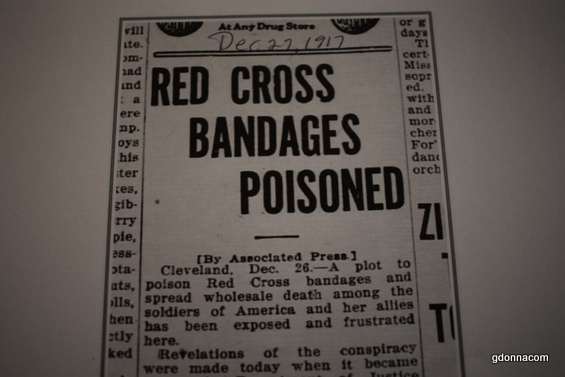 Some not so good news where a large shipment of bandages had been poisoned but the women continued on.
This article said continued from above. Revelations of the conspiracy were made today when it became known the Department of Justice agents were hunting the perpetrators of the deed.
Three thousand four hundred surgical dressings, rolled by patriotic women in Toledo, were infected with a mysterious greenish poison while in transit between Toledo and Cleveland. Immediately every one of the 3.400 bandages was burned. They were destroyed secretly in the rear of the Red Cross warehouse.
Every effort was made to keep the matter secret and it was successful until today. Officials of the lake division of the Red Cross refused to discuss the poisoned bandages, but the authoritative information was that the bandages had been destroyed and that government agents, aided by only slender clues, were tryin to solve the mystery.
I had already read that it took 20 minutes to knit one inch of stretch bandage and I thought about all the hours it must have taken to make Three thousand four hundred surgical dressings.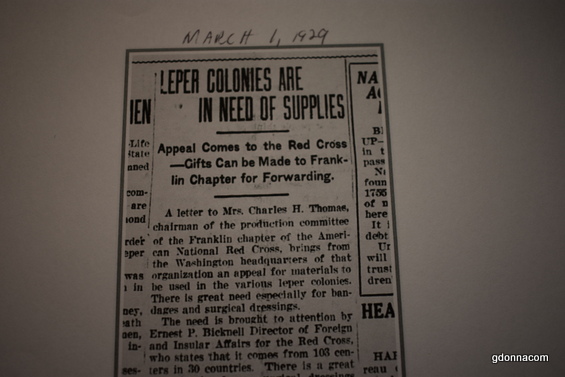 Then I found articles that dated back to ww1 where women were making bandages. It was intense work, they were making bandages day and night. The red cross was very particular about giving out directions because they wanted the women to come to meetings to learn how to do it properly.
All of this information was new to me. Some of you may know about this but I did not and found it very interesting. So much that I filled a notebook full of information that I printed out so I can sit down and study it more when I get a chance. Then I had no idea how to do a post on it because working with microfilms is difficult to clip and save and print but this is important home front history and should be shared.
Then I came across an article in the 1980s about women making bandages for people with leprosy. It first looked like a woman started an organization getting women to knit and crochet for what they called the Leper's but I dove in deeper and I found articles about women knitting for the lepers in the 1960s then articles in the 1950s then such as above in 1929.
So I wanted to know more, how long had women been making bandages? Well I cannot answer that because I made it into the 1800s and I started realizing that women made bandages all the way back in time most likely. The civil war and keep going back.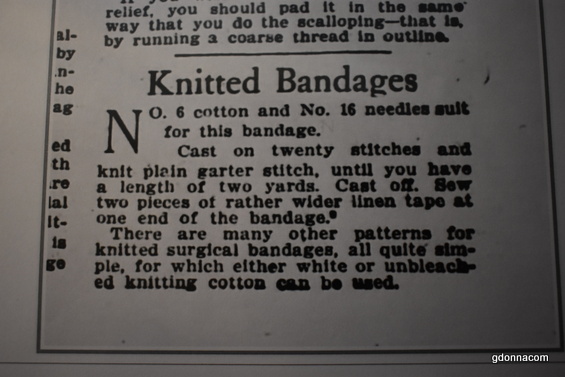 So I finally found this article in the paper and was so happy I had some kind of directions. But a long time ago our thread and yarn were different so how would I ever understand the sizing?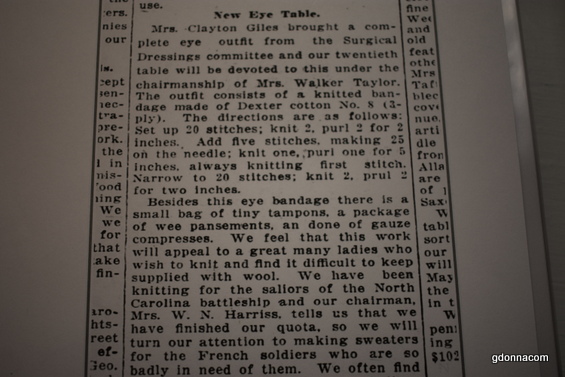 I had to start putting pieces together. This was for the ladies at the eye bandage table.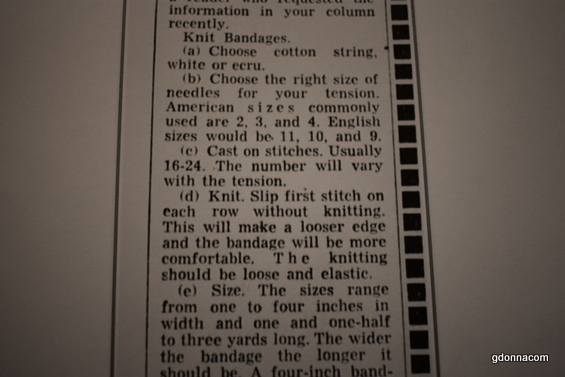 This article in 1961 paper showed directions for people that wanted to help knit bandages for the leper organization. part one...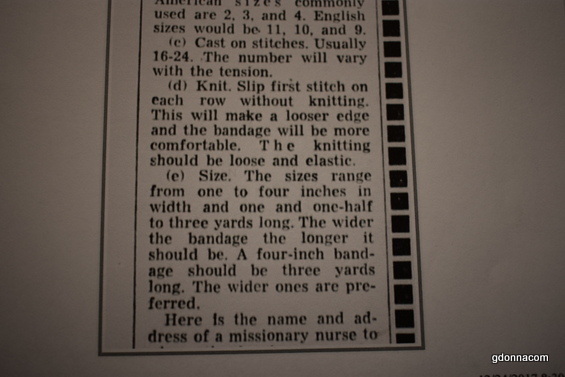 Part two... I had to do two parts to get it big enough for you to read.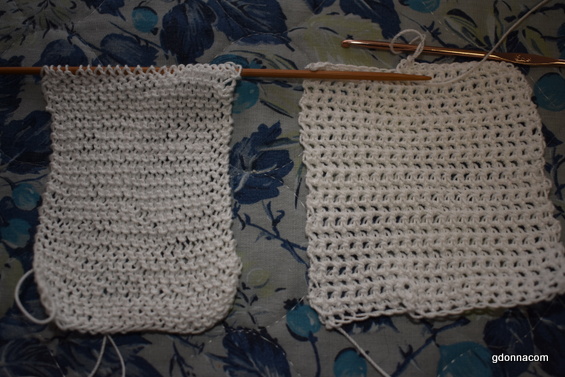 So after much reading about ww1 bandage making I came across that bandages were made of muslin, cotton, sewn, rolled, stacked etc. The knitted bandages were used like the elastic wraps of today. So I found enough information to know that it needed to be bedspread cotton which I purchased Lydia's cotton size 10 and it works out well. This is a closeup, the one on the left is knitting and right crochet. The one on the left is softer and more stretchy. I am using a size 2 knitting needle and a size B/1-2.25mm crochet hook. I have not idea if this is the correct crochet hook but it is working so far.
All it is for knitting is a garter stitch all the way and crochet is single stitch. You can make a one inch for fingers, two inch, three inch, 4 inch or whatever you need.
I thought about this and realized we can make our own bandages for our family.
These above are just samples because I have not had time to knit or crochet right now because Charles wants me to make him some new house shoes but I will continue on with these. I did find two videos on crochet bandages but none on the knitted ones.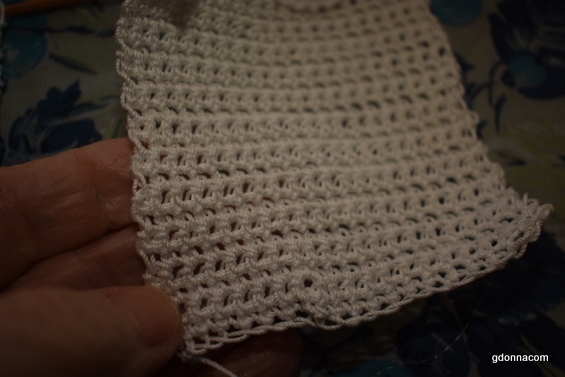 These need to be very long, about 4 feet long to make an elastic bandage.
I read many articles and they said that the knitted or crochet bandages are very good because they let air in and also because they can be washed and sterilized by boiling. This is why they use them for the communities that have leprosy. I think that need is still going on today but I have not had time to research that. I did find an article in 2003 about this need.
I wanted to share this with you because it is very important and this is why.
I feel that we are losing our common skills and we do not need to let this happen. One major bad decision can bring us right back to another world war. If we don't know how to do something such as knitting or crocheting we need to learn.
If we don't know how to do things the old way, we need to learn. We cannot depend on someone else to do things for us in a world where most people do not have common skills.
When I was growing up girls were being taught in school how to sew and cook and clean a home. Boys and girls need to know how to do common skills and the adults that missed it need to learn how. It cost less when we can make things ourselves. If we don't start doing things our supplies we need to make things will go away. Just like in our town fabric stores started going away. We just got one back and I am so thankful.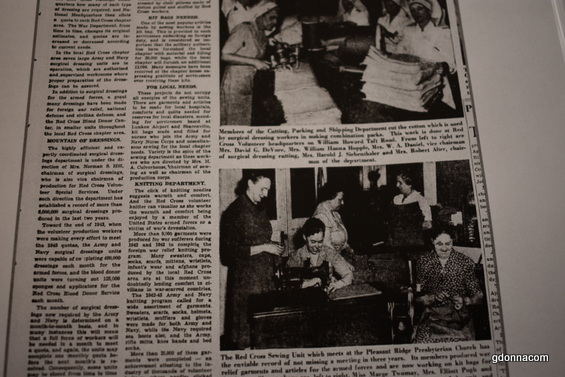 Living like the past as we do such as learning about the history not just playing romanticizing it but really taking a deep look into it makes us see where we are today and I feel we all should take a look back. We can learn many things such as wearing aprons saves our clothes from getting stains and that we wash our clothes much too often. We should hang up the clothes that we wear if we did not get them dirty. Unless we have a very dirty job our clothes can make it several wearings before washing, it helps our clothes last longer.
Here are some directions I am sharing..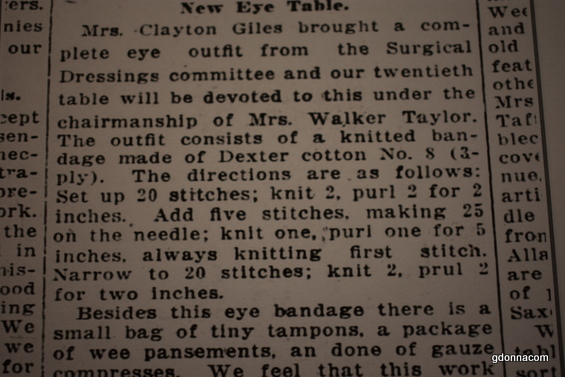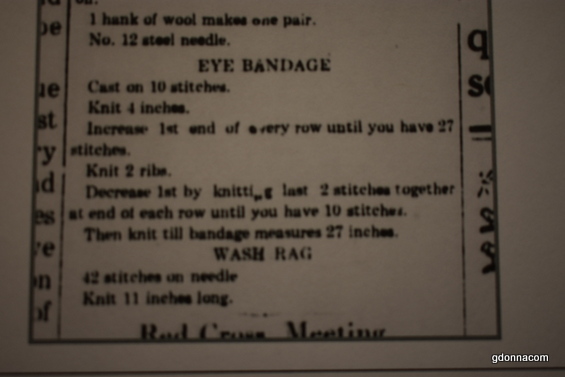 Wash cloths were also knitted to send to the troops. Here is the simple wash cloth, 42 stitches on needle, knit 11 inches long.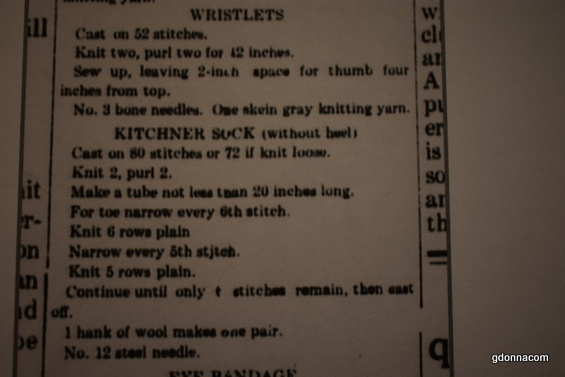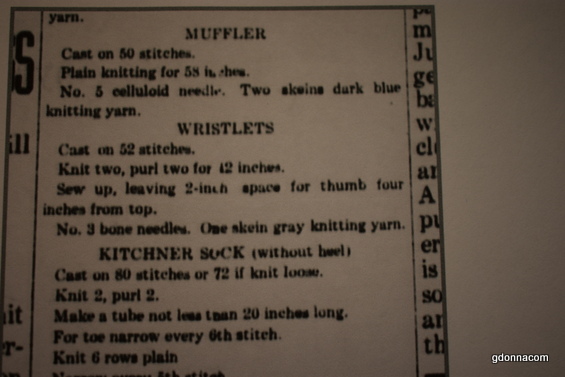 One more thing I want to mention, while I was researching I came across a ladies website that has directions for knitting stump wraps. In the war news that I read, people needed knitted stump wraps from amputated limbs. We have a "Lot" of people today that have lost a limb or limbs and could use home knitted stump wraps. Think of our veterans or our loved ones that have lost a limbs due war or accident or cancer. Even children have lost limbs.
I am including a link to her website, I think it is a very good thing to do and am thankful for her work.
I hope this helps in some way.
Grandma Donna
http://www.bevscountrycottage.com/stumpcovers.html

http://suzies-yarnie-stuff.blogspot.com/2009/11/am...

and for the knitted stretch "crochet" bandage, I also appreciate her time for doing a video for crochet bandages see link below.
https://www.youtube.com/watch?v=qeNfV7_8JmI

I have not found a video on the knitted bandage, only from the microfilms.