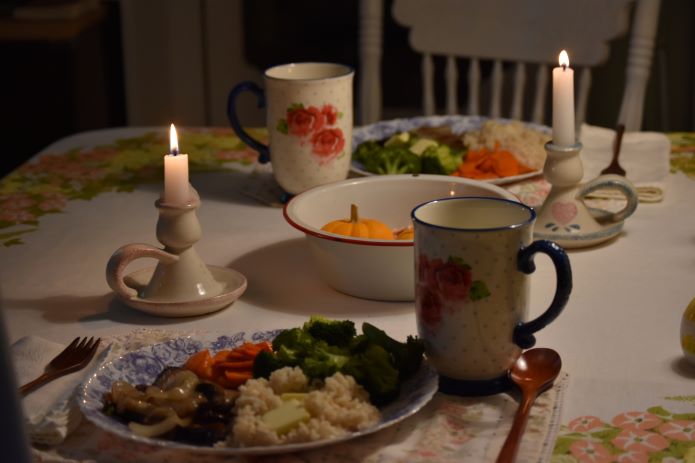 We all live in different locations and countries and some of us are going into winter soon and some in summer. At this time, after a very hot summer I feel that I would rather bundle up with layers and layers of warm clothes than to try and get cool when it is triple digits and high humidity. I am so happy that I could wear a sweater and coat the last several days.
It is once again fall cleaning time at our house and this has kept us very busy.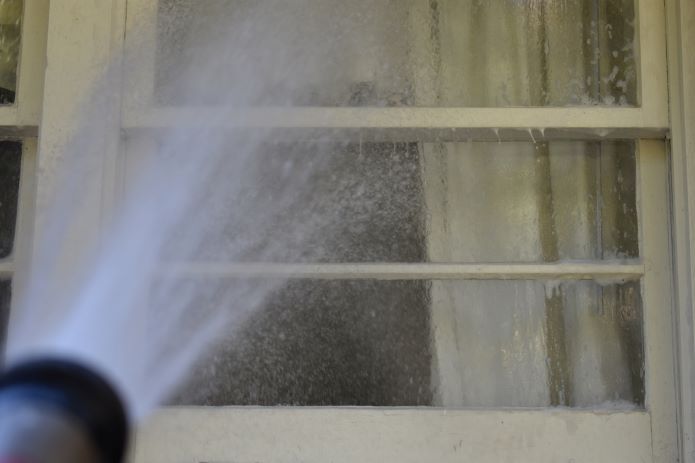 Each season is a good opportunity to give the house that extra special clean up. We remove our window screens and wash our windows at least spring and fall. I have posted several times about cleaning windows since this blog is our real life following along as time moves on.
This past week we gave our window screens a special clean up as well..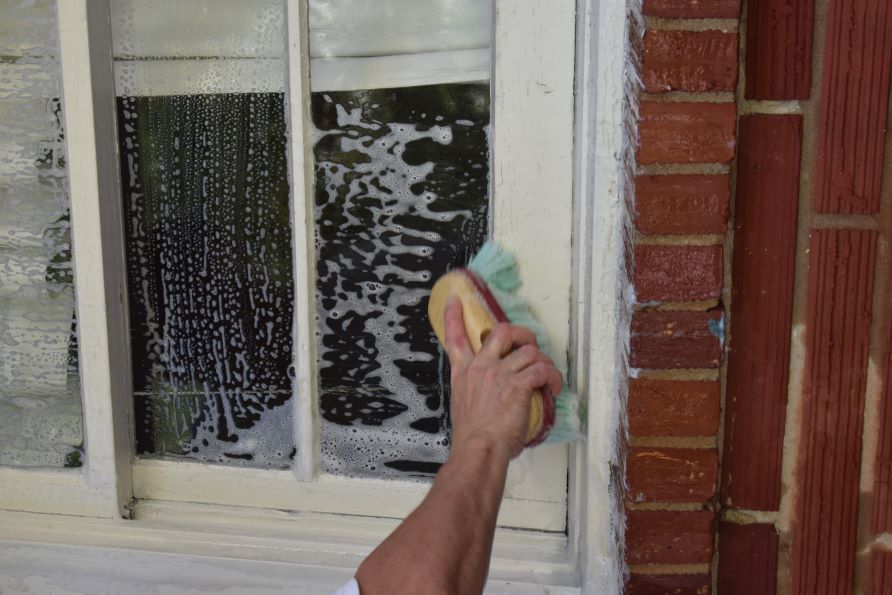 I hope this does not make you dizzy. This picture would not rotate to fit here because my old computer is being very difficult and my new computer is overwhelming. After spending way too much time trying to figure out how to rotate this I am posting it sideways. It will rotate but when I go to put it on my page it goes sideways. I will ask my son when he has time if he can show me what to do. In the meantime I will try and remember to only take my pictures the regular way.
All I wanted to show is how Charles washes the windows. He has a bucket of soapy water and a brush. I wet the window down ahead of him and then go behind him and rinse. We move along a lot faster this way.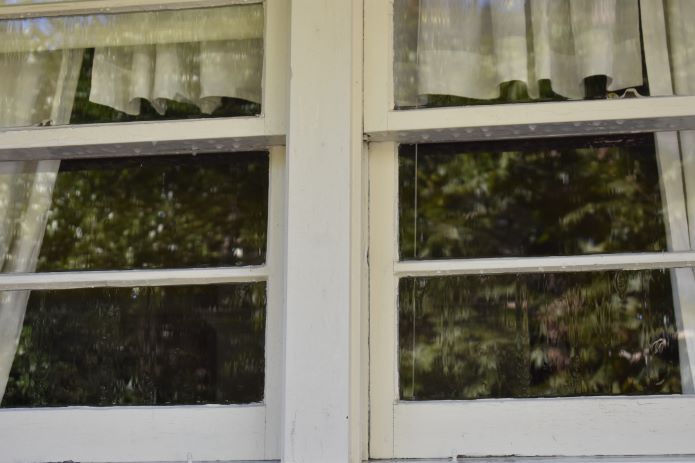 It is surprising how quickly the ledges collect dirt. If we don't clean the ledges then when we open our windows for fresh air we get dust along with the breeze. I love the clean ledges and the smell of good soap. To me plain castile soap just has a clean smell, no fragrance, just clean. We clean our glass with soapy water either a gentle dish soap such as seventh generation or just castile soap and rinse.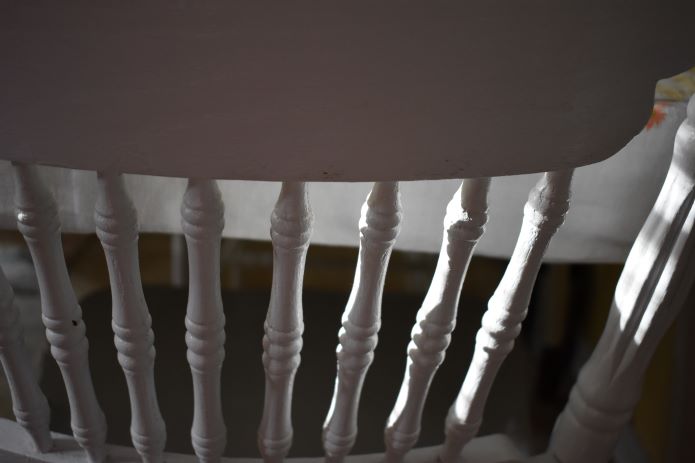 I have been thinking a lot about the things we need or do not need as we get older. I personally find I need for the house to be brighter. I am safety conscious and I want to prevent falls and accidents. One of our neighbors just passed away from falling off a roof, we must not take chances in anything we do.
This is not just about getting older, there are things we can do to our homes to make it more safe for everyone at all ages.
I am trying to arrange the house to be able to clean freely around things and have furniture that can be cleaned under easily.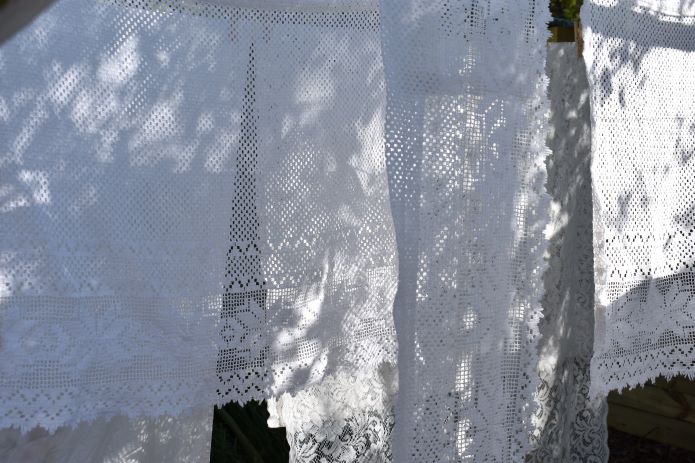 After cleaning the windows inside and out the curtains needed to be washed and dried.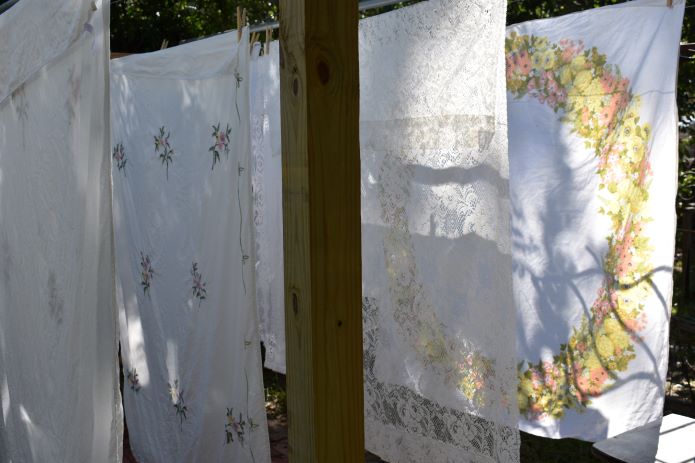 People talk more about spring cleaning but fall cleaning is important as well to stay on top of things. This is also time to put many of those garden tools away, especially garden hoses and sprayers.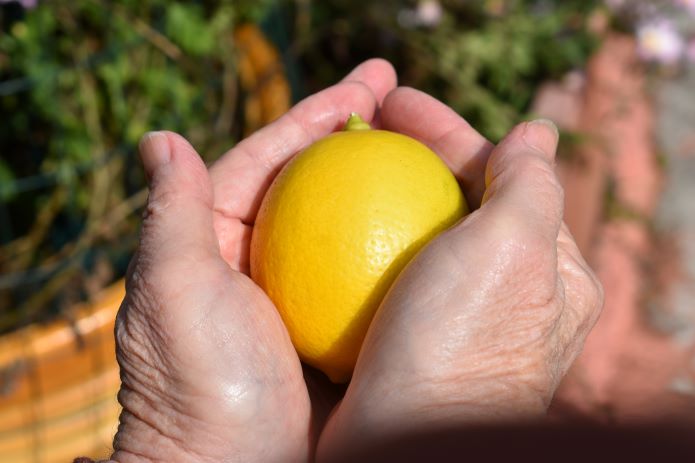 I am thankful for our lemons. It is almost harvest time and our first few lemons are getting ready to be harvested. This is the time of year we do not need a freeze.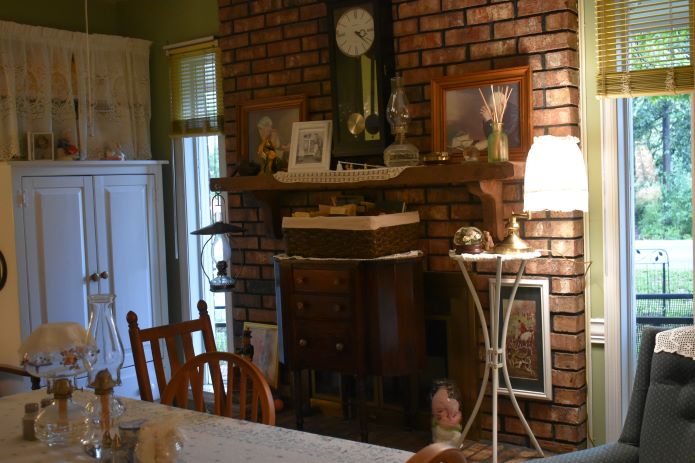 It was finally time to do something about the dark over decorated (cluttered) fireplace. It became more of a catch all. I decided one morning I would whitewash the brick and it was done by evening.
This above is before..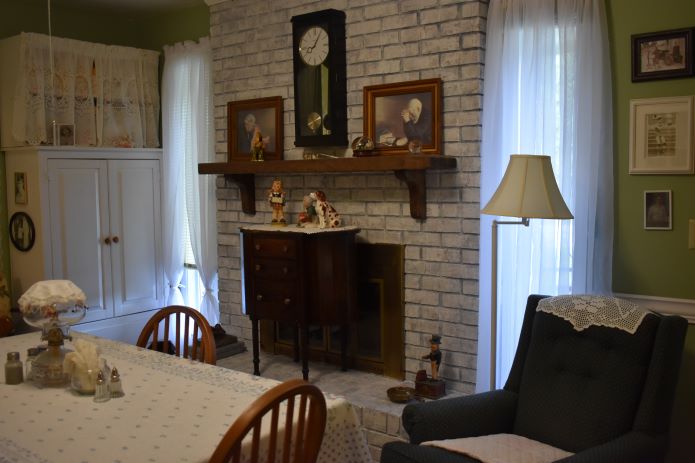 And after....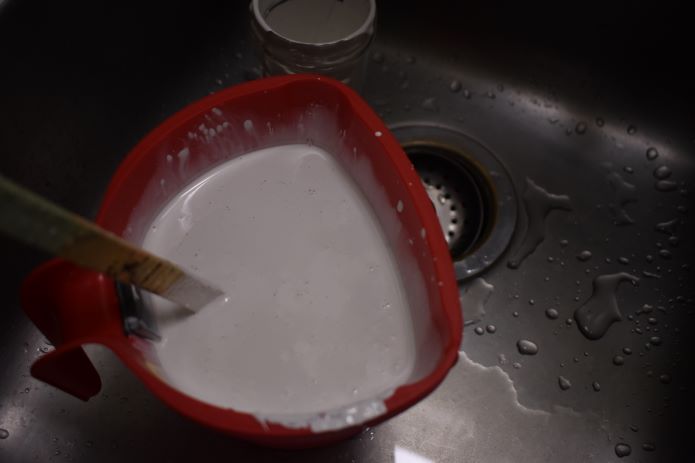 I mixed half white paint and half water. I had some semi gloss white and so that is what I used. This was pretty messy since it was thin but worth the trouble. I taped and put paint cloths and newspaper all around to keep it from splattering on things.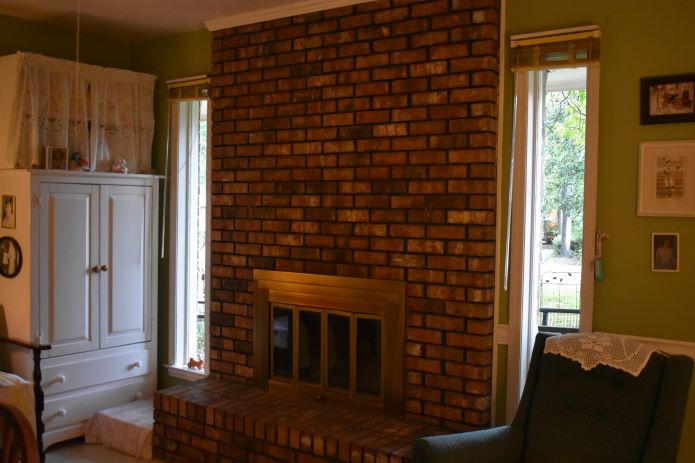 Just cleaning it up made it look much better but I knew it was time to lighten this room. This fireplace was added to this house. There was a nice picture window here so the small side windows do not let enough light into this room.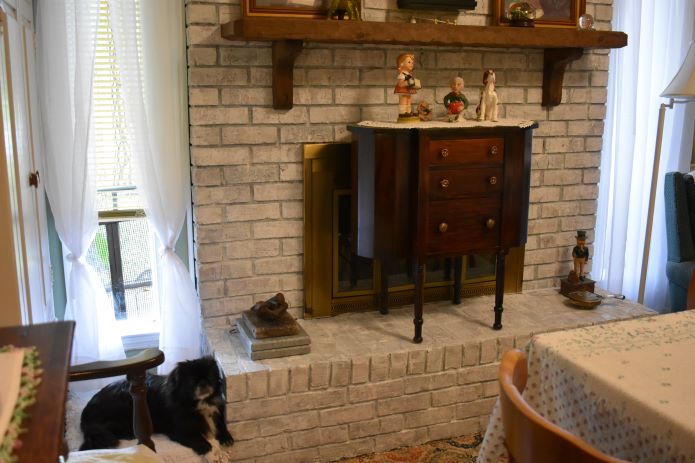 I had to ask Charles for help because after climbing up the ladder to reach the top I knew it was unsafe for me to do the first seven rows of bricks. Since Charles is much taller than I he did not have to stand as high up on the ladder.
Charles said he wanted me to only do one coat because he likes the look of some of the stone peeking through. We are very happy with the look.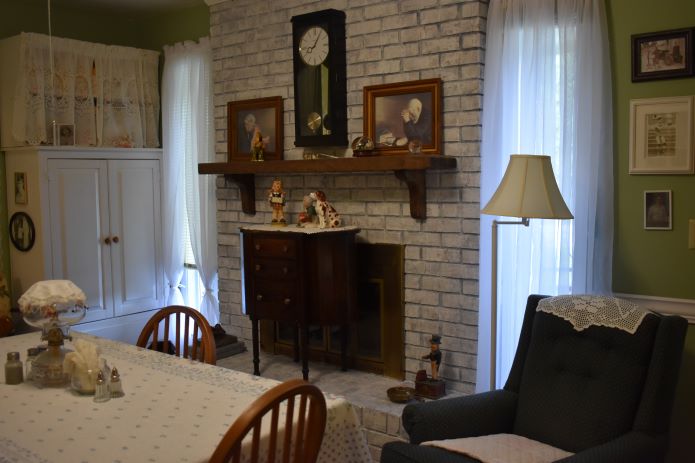 I added white sheers instead of the off white lace curtains. Another area of the house I can scratch off the list of things to do.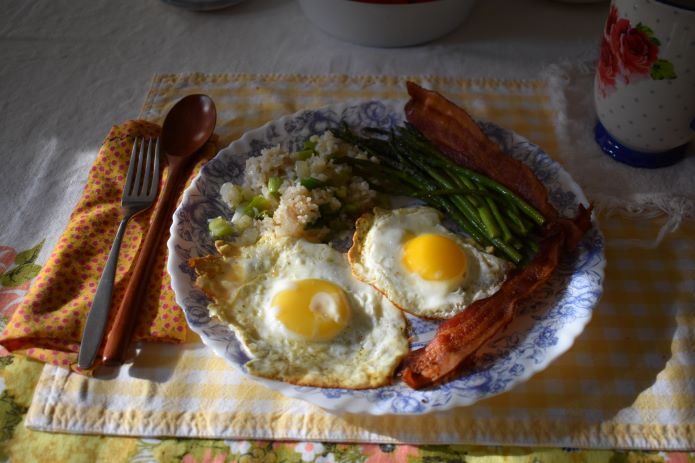 We enjoyed this meal of bacon, asparagus, leftover rice with sauteed onions and eggs. It was cooking up what we had.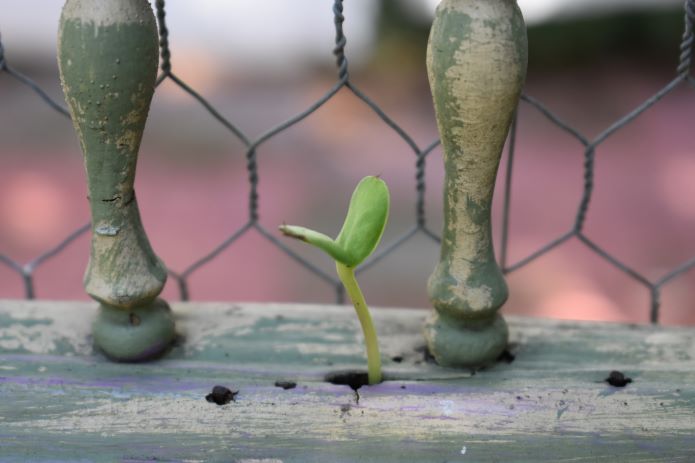 When I was walking up to the clothesline the other day, I went to open this garden gate/door. Something caught my eye and I just had to share. This is how these gifted vegetables come about. This was above the handle area of the garden door.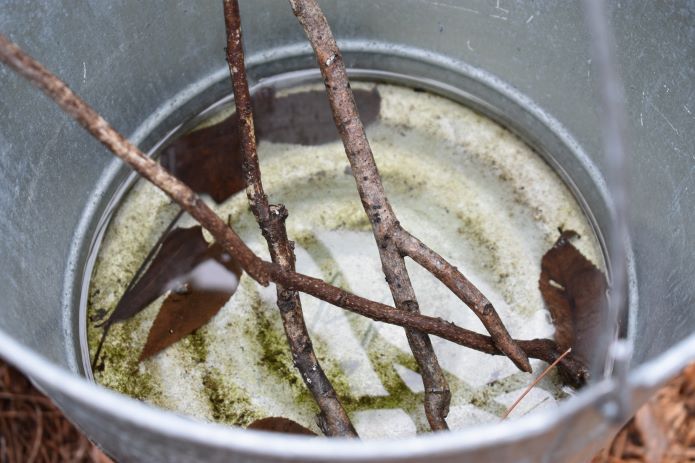 We did get some rain this past week and hopefully we will get a little more. The drought has been pretty bad in our area for us gardeners.
Charles has been working on the second Chifferobe that we bought a good while back at a yard sale. We bought two very old Chifferobes and they were in pieces and poor condition but Charles decided he was going to work on them and give them a new reason to be around.
I will post about them when the second and last one is finished.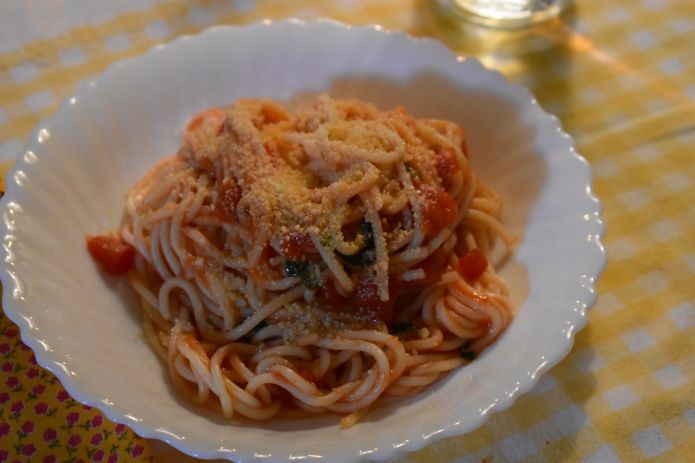 Leaving you with a simple meal picture.
This is such an easy meal. Just add one can of petite diced tomatoes in a skillet, if you have some basil, add that, or rosemary or whatever you want. I have even added spinach before. Just a small amount of either. Boil some spaghetti and top with the sauce and some grated cheese.
Grandma Donna