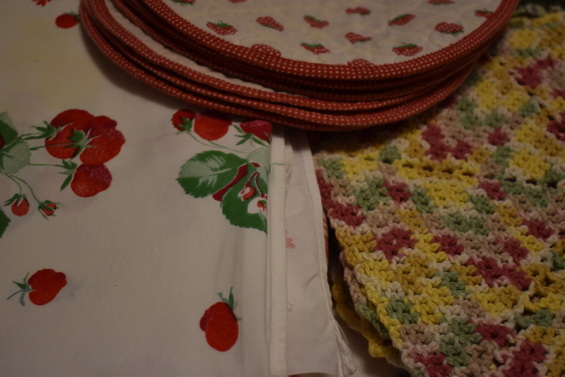 It is getting that time for another history project here at our home. We have studied the 1940s home front for many years now. We started with WW2 rationing and went through many of the early 1940s learning about how people lived while the war was going on.
We learned how the ration cards were used and how people pulled together here at home so food and ammunition and goods could be sent to the fighting troops.
How men, women and children worked hard pitching in to fill empty positions as people joined the armed services. How victory gardens were grown just about anywhere there was dirt to plant vegetables and fruits.
How important home canning was during the war and how people bartered. How the hems of ladies dresses went up to save on fabric and after the war the hems went back down.
I have many posts about the 1940s through these years of study about the homefront.
It is time to move on....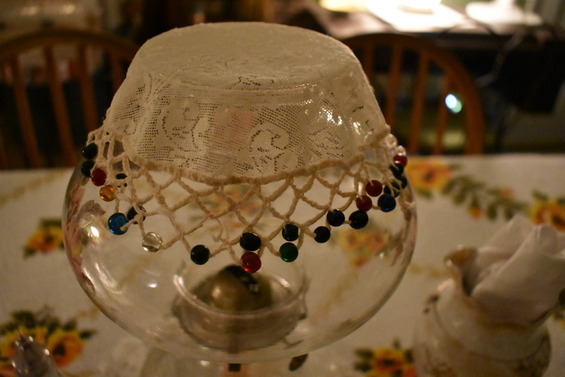 Or rather backward.
We have decided to study before the 1940s. Just like the 1940s there was much news about the war but little about the home front.
I want to know more between the time of 1890s to the end of the 1930s.
I want to know more about this time my Grandparents lived and my parents were born. I want to know more about 1918 when my Grandfather died from the Spanish flu epidemic and what it was like during that time when my Grandmother had to take care of a young child and a baby as a widow.
Now that I have learned how to go about searching the research room in our public library and how to use their microfilms I may be able to learn more this way. It is a lot of work and time to do this so it is not something instant.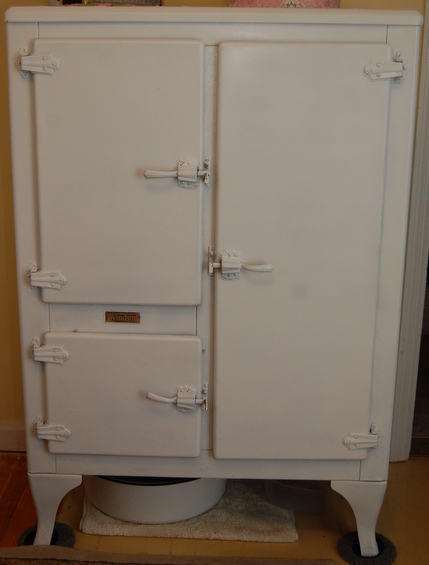 I have written many posts about the 1940s and rationing, the victory gardens and so on. They are found in the older posts on this website.
During these years Charles and I have been studying the past we have been going back in time in our home. We live in a modern 1959 home in a more modern world. We cannot completely live like our generations before us did but we can resemble them. Not as a museum but as a family that lives more like the past.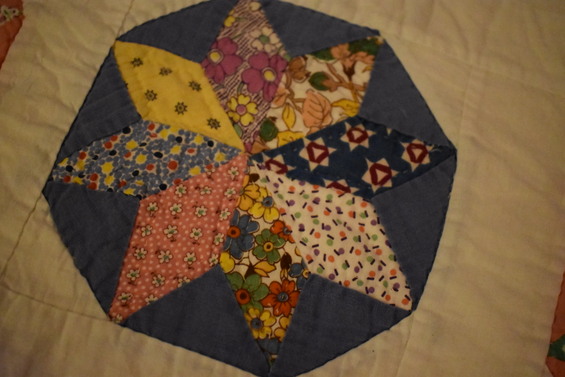 We have been on a mission to rid our home of modern things made of plastic, particle board, poorly made items. We have replaced many items in our home as we work our way to more like the past. For us to do this it must be affordable which means we find it at the thrift stores, yard sales and sometimes the booth type antique stores. Some items we picked up from the side of the road where it was set out for trash pick up. Charles has rescued several pieces this way and it is free.
It must be metal or real wood, textiles have to be cotton, linen, wool and not for decoration but for practical use.
Above the quilt is Windsor our 1920s icebox we had to restore. That is another thing, many of the items we did buy to replace our poorly made items, we had to restore. Two pieces we literally had to tie it together to get it home because it was in pieces. What we knew was that it was in pieces because it was mistreated and when we put it back together it would last the rest of our lives.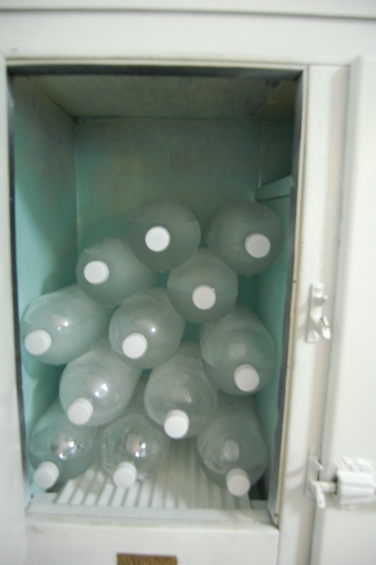 Windsor has not worked out as an icebox for us because we have to freeze bottles of ice to keep it cold. In the past the iceman came around like the milkman did with large blocks of ice to go in this ice holder area. It was silly for us to use a modern freezer to freeze bottles so we stopped this and added shelves and use Windsor to hold our canning and dehydrated food which means this still holds food. We can and have put Windsor back to work by adding bags of ice to use for extra refrigeration when needed.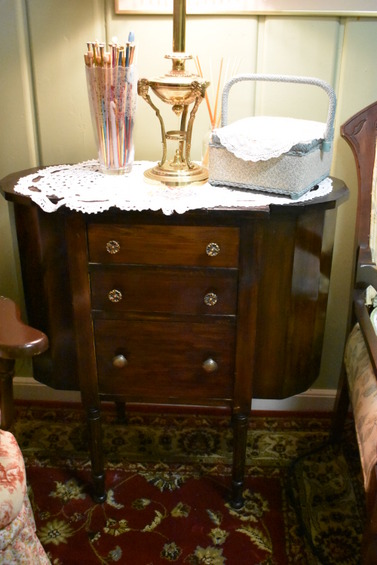 We looked for pieces that we saw in the old newspapers at the library such as this Martha Washington sewing cabinet.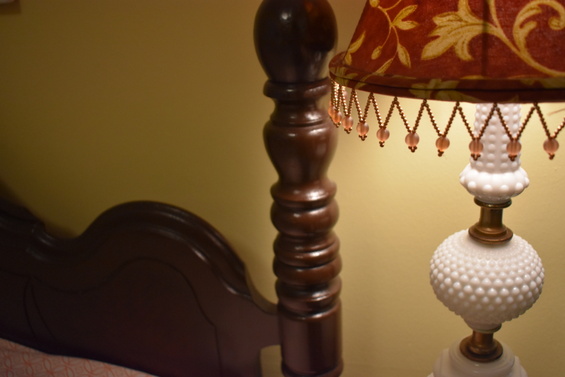 Our bed that we found and had to restore. Also we kept on lookout for milk
glass lamps.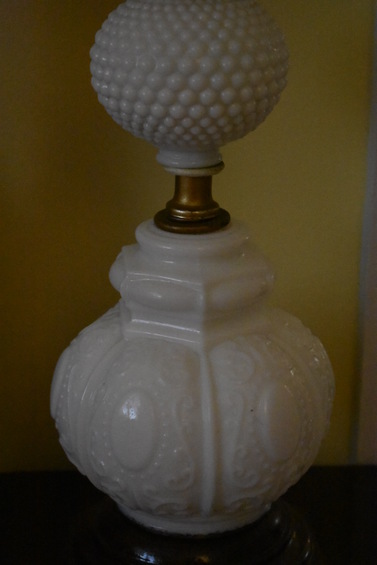 Maybe we are being silly, we are not buying them as an investment or what it is worth, we want it in our home because it is glass and metal. It is not plastic and poorly made and it is something that was around when our great grandparents and grandparents kept house.
Some items we already had, some stored and sadly some things we once had but got rid of for modern times. Only had we known to hang on to the more quality items we already had no matter how much we are pushed to buy new.
We found this lamp above for $12.00 and only because it was old and not modern. Why do we sell or discard a beautiful lamp for a modern lamp made of unknown synthetic stuff? Always check the wiring on lamps and the wiring can be replaced without a lot of work. If something is more complicated than you can do there are lamp repair places still around.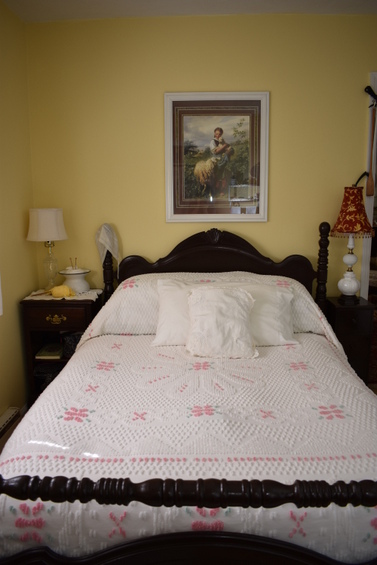 We are very happy with our old bed we purchased at a surplus/thrift store that was scratched and weathered as it most likely had been replaced by a new modern bed and stored somewhere unprotected. It was in much need of restoration and when we finished I told this bed it has new purpose and we will take care of it.
When I was young we took care of our furniture and belongings. We literally cared for it, cleaned and polished it. Life changed and now once again I live a time I once did cleaning and caring for the furnishings in our home.
We also cleaned our shoes regularly. We polished, brushed or wiped down our shoes, this is a bit off track but this was an important chore that was done. We did not throw away things as we do in this time.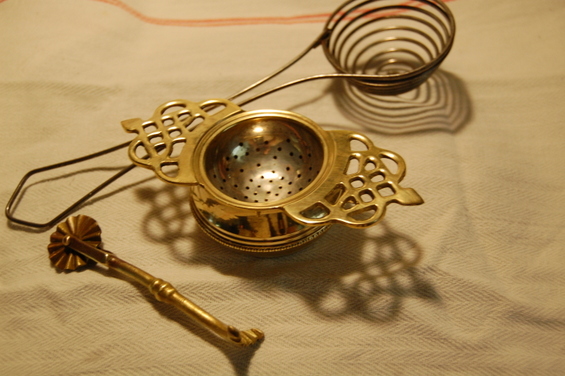 What we have learned is the older items have so much quality that they are still around unlike the many modern things we have purchased only for it to have little use before it breaks.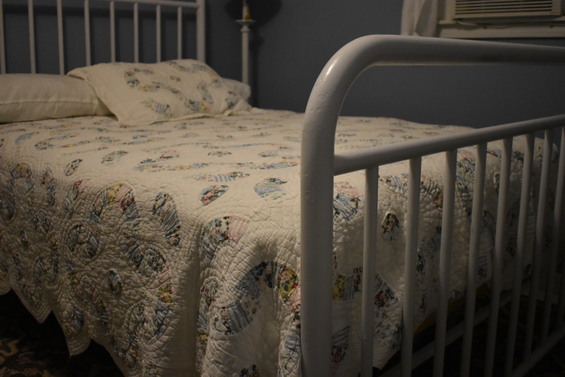 I have shown our small metal twin bed but never our full size metal bed frame shown above. We found this at a thrift store. It is "very" heavy. I cannot even lift the foot end when unattached to the bed and the head end comes up to my forehead. It was rusty and had green paint and other colors but this bed frame is solid!. So we restored this bed and it just feels right to have these pieces. When I think about the amount of money people spend on things made of fabricated wood or even plastic I now think about how this was the path we were going until we came to our senses.
I hardly go into a modern store anymore and if I do I can smell it right away as it burns my eyes and nose. I will certainly stay with the old items.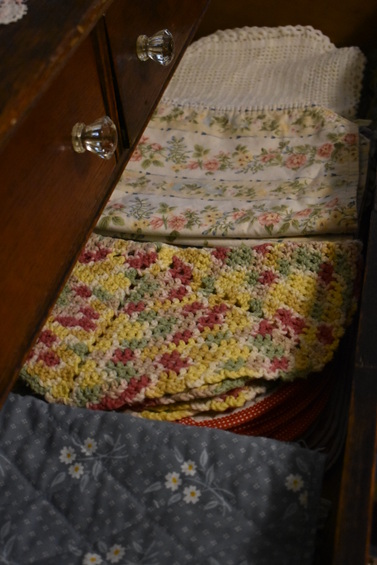 I was straightening the hutch drawers the other day and thought about how many vintage linens we have.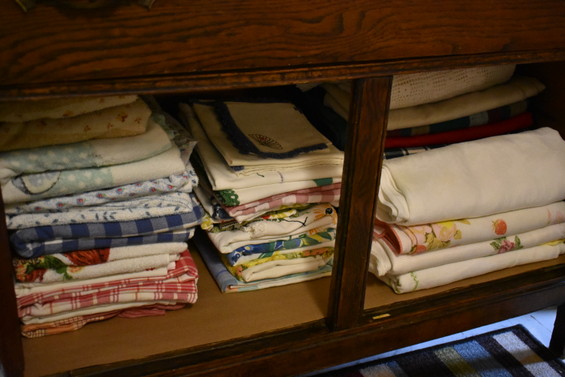 What I did is allow myself this space in this hutch for the linens and if it fits it can stay but if it ever goes over this then something has to go or I just stick with what we have which is most likely what we will do. We use every one of these as I like to have the table dressed every day.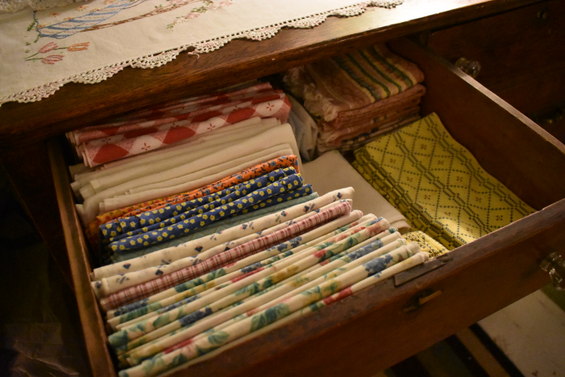 We try to use as few paper towels as possible so we use cloth dinner napkins. These can be picked up at thrift stores as well for very little cost. The blue and yellow orange ones in the middle left side I bought 8 for $1.00
I also found that if I wash them in the chlorine free bleach that has peroxide, it removes grease or food smell from the napkins. Off and on during the year I will refresh the table linens simply hanging them on the clothesline.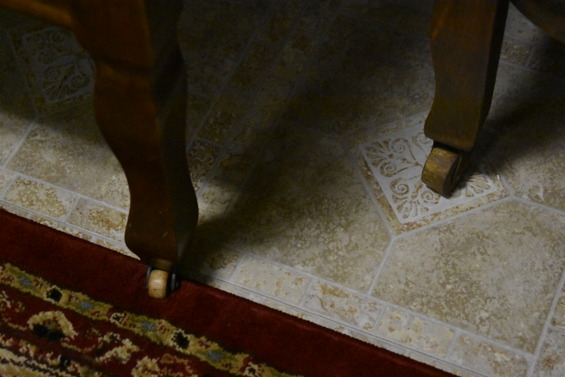 I have learned to look at the bottom of the pieces such as wooden wheels which were put on furniture to help identify antique or the hardware that is used.
You may be tired of looking at oatmeal with stewed apples and currants but when you see this it means things are going well at our house.
This year has been difficult at times due to sickness, weather and especially the work after the hurricane. Our eating got off track but when we are back to our morning oatmeal things are getting better again.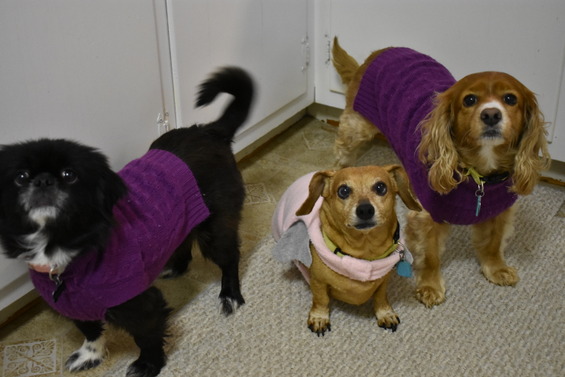 It has been cold weather again so the sweaters have come out of storage.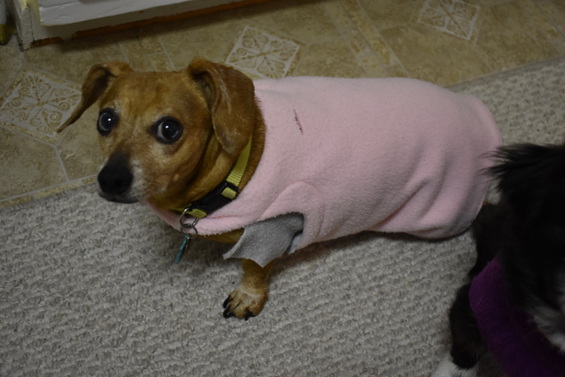 I made Katherine a long pink sweater several years ago that has held up well and now I need to make Bernadette one since she has outgrown her purple store bought sweater.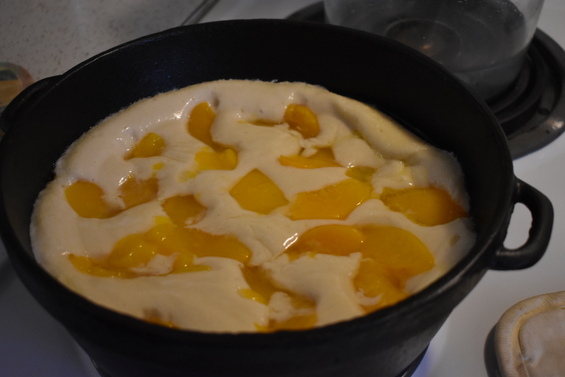 I was going to take Thanksgiving pictures but like most holidays I get lost with the cooking and visiting with family and forget to take pictures. This is a peach cobbler getting ready to go into the oven.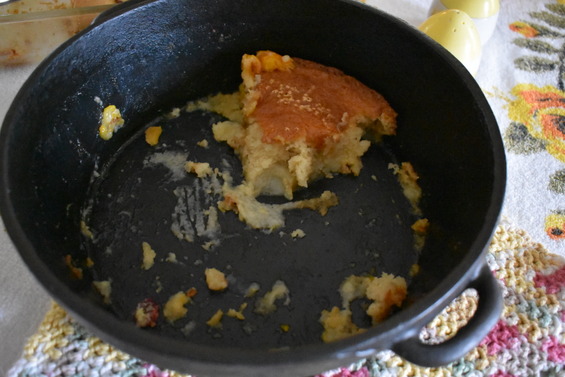 Before I knew it the day was over and no pictures.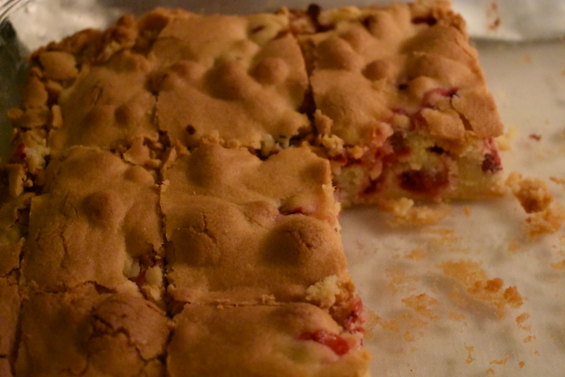 I almost got a picture of a full cranberry cake but this is the best I could do. :)
I am looking forward to this coming year and our new adventures. I hope it is more settled and I can share what I learn. I hope to have more textile projects. Knitting and embroidery especially as this year was building a guest apartment inside our house and many things we were busy with I did not show many things.
Also I will be concentrating on menu planning and growing vegetables with hopefully solutions to the environmental changes during too hot or too cold weather.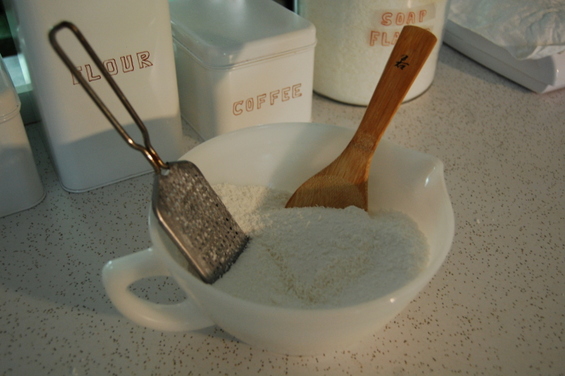 Also we are going to try and do a year of staying in our tight budget.
The plan is be extra frugal and concentrate on ways to save money. We want to have our food budget more organized and do better with our garden diary. We will set aside an amount for important extras, this will be a small amount and we will discuss it together before deciding if we purchase it. We hope to not use this because we are going to try hard to save all we can this year as we need to get money built up for a new roof. If we keep having storms this could come before we are ready. We have insurance but we learned the roof is depreciated which means a lot of money out of pocket and less they will pay for.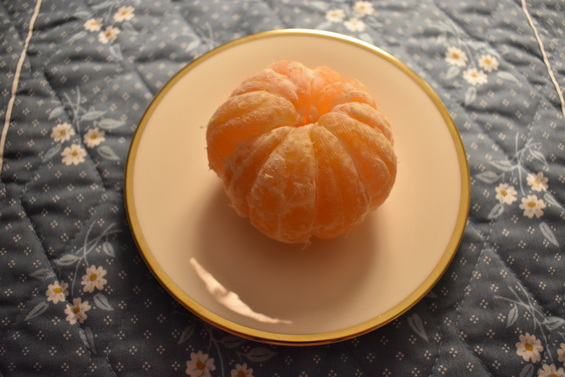 This is a satsuma grown in our backyard. Our two satsuma trees did very well this year.
I apologize for any emails I have not answered as my blog mail was compromised by bots. I don't know what the heck bots are but they are annoying, my son is trying to rid my mail from the bots. My normal emails are coming through, and my responding email is okay but my new visitor emails are being over run by bots. I hope he can find a way to get rid of them. If you hear back from me you will know he got them. It is not like a virus, it is like spam phone calls you can't make stop.
It is getting time to do a blog update (internal workings) to stay ahead of these types of things so this will be done hopefully soon.
Also some aol or yahoo mail coming to my contact form that does not forward to my regular mail. Keep trying, I will eventually get it.
Until next time.... Grandma Donna