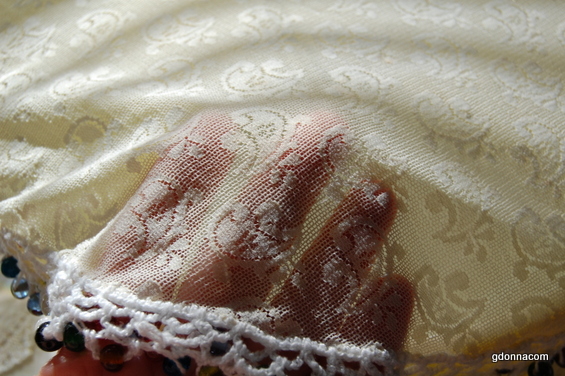 I love using the old things of the past. Some things just make better sense to me or I am just a romantic of the older eras.
This is what they called a milk jug cover and they used them to keep the flies out of the milk. It was also used for a bowl cover. This particular one was made in the 1920s and I don't set it on a shelf, I use it.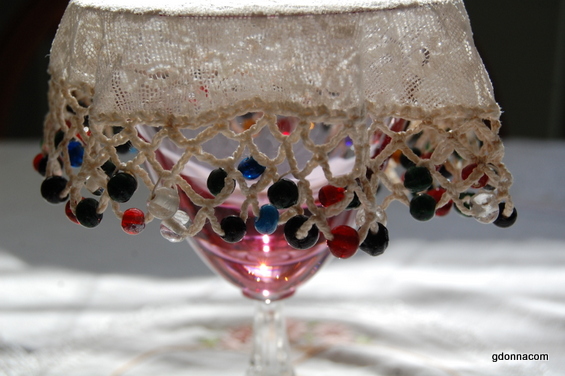 This is a smaller one that can cover a glass or a cup to keep gnats out of a beverage.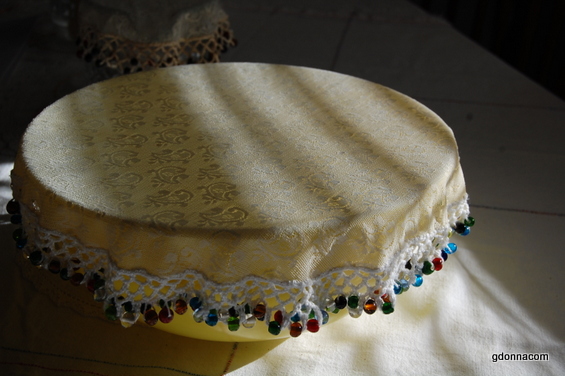 This one can be used for bread dough, sourdough or a milk jug if you happen to have your own cow or goat and need to keep the gnats out. The idea here is a net like fabric with a crochet edge with beads to weigh the cloth down on the sides.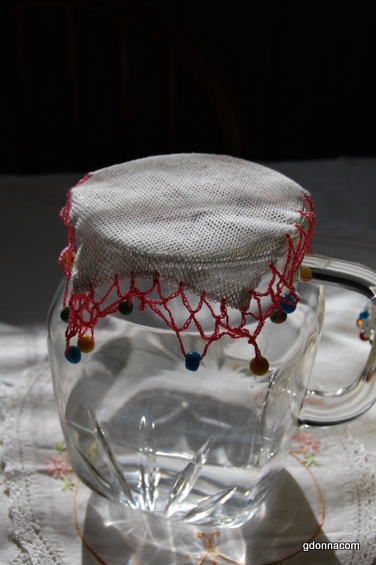 Here another one with a different type of netting. There are crochet versions that have crochet on the top but I like the netting or simple cloth so nothing small can go through. These can also be made of cotton fabric or old flour sack cloth as long as the edges are beaded.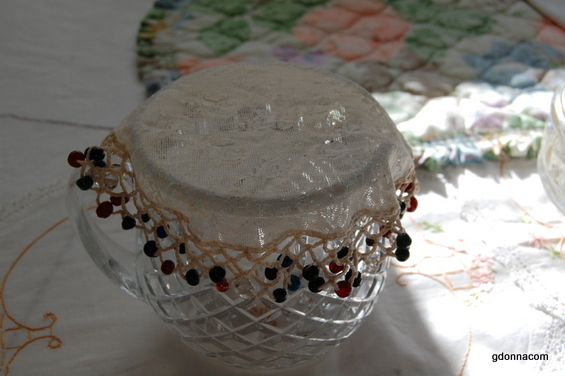 I have seen some patterns where there are fewer beads but the more beads the better pull.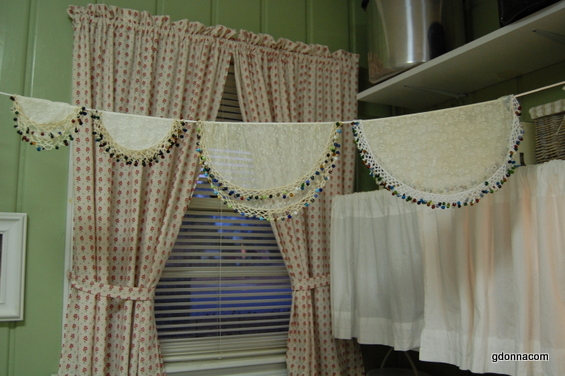 I keep mine in a small glass bowl that was actually a small goldfish bowl at one time on my kitchen counter and pull one out when I want to use one. I hand wash them and hang them to dry on a indoor line.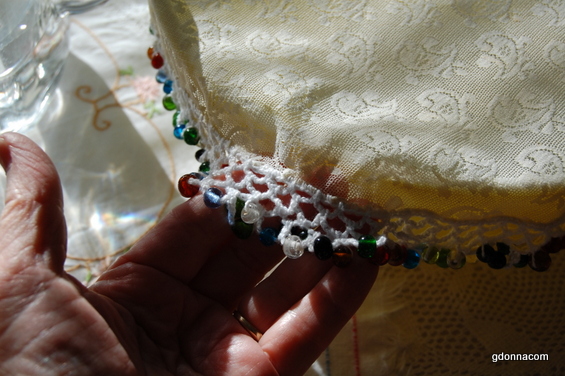 I started making some of my own because I seem to be going back more in time of what makes sense to me. This one is an older one.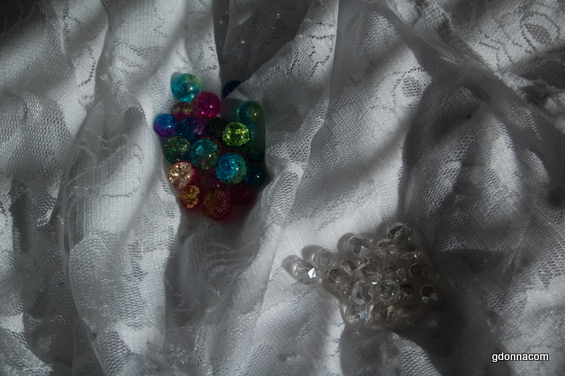 I believe this is more of a English/UK, Australia thing to use and I have great interest in many things that are not as common for us here in the USA.
Those of you who watch Downton Abbey there is a scene where Daisy is placing a lace, beaded milk jug cover over a jug. I recognized it right away as I saw her toss it over the pitcher.
When my husband and I started doing the 1940s history project as some of you know we removed our televisions. We kept one and covered it with a curtain for Friday night movies. In the 1940s people went to the movies and since we don't go to the movies we use our television for an occasional popcorn and movie night. We purchased the Downton Abbey DVD so we could watch it for our Friday night movie. My husband enjoys Downton Abbey too.
Here I have a 8x8 pan of cornbread I made today. For bread to keep it from drying out I put a sheet of waxed paper and then one of the beaded covers over it to hold the waxed paper down on the top. This goes for loaf bread too.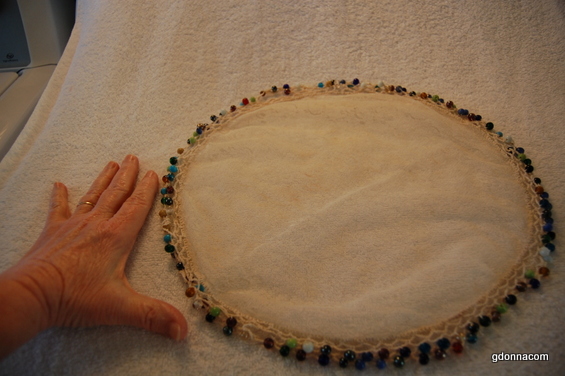 This would be a large one....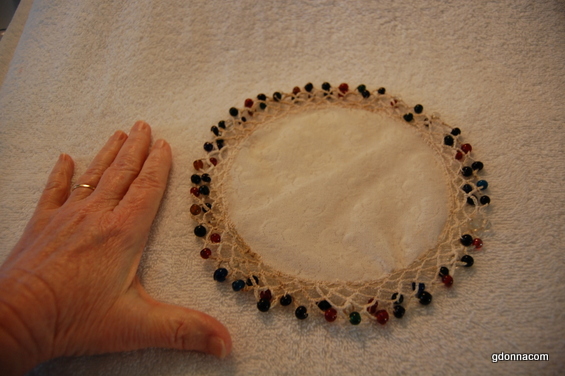 And a smaller one.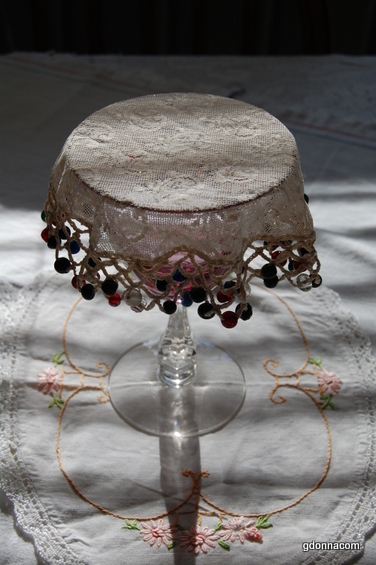 Any type of drink such as tea, coffee, wine, beer and such that has a sweetness to it that attracts gnats or flies this is your solution. I personally know that sourdough starter will attract a gnat from miles away. I just wanted to share with you another little thing from the past that we can bring back to our time now.
Some people still use these today but nothing I have commonly seen during my lifetime. I learned about these accidentally while I was researching lace making. I am not sure if we have any history of these in the USA. I think they are pretty and useful so that is why I use them. If you still use these today, send me a email or picture of your beaded milk jug covers.
Grandma Donna