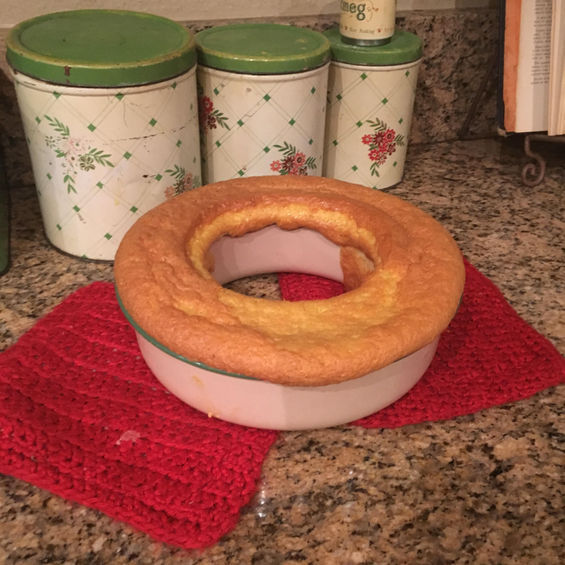 This picture above comes from Sheri and this is her sponge cake.
I feel excited about this post because some of you have been writing to me about how much you look forward to a new post, especially since starting the 1942 year, living like 1942 and this post is not just my thoughts and ideas.
I want to post more things than what I am about to post but my head is full because we are going through so many changes and I cannot remember all of the things some of you have written to me that I thought that would be something I should share.
I will make an effort to ask you right away for permission to share and then file that information some how for a future post so I don't have to back track.
Many of you that have written about how calm or interesting these posts are or how you are trying this simple life. Some are doing the 1942 project and are excited about how it is making a difference in their home. This matters because we need more of these kinds feelings in the world we have today.
Some of you, like Sheri above have pulled out the old cookbooks that have been handed down or purchased books from ebay, thrift stores and such.
Sheri has been making a great effort to get her household to a 1940s era and concentrating on things that matter for her family. Sheri has been an inspiration to me with her enthusiasm for this project living like 1942.
Sheri and I have discussed how both of us have felt a bit of burnout trying new recipes and how we have fallen off the wagon and gone out to pick up a sandwich or meal only to regret the cost of that food or the food not being that good. So we both want to tell you that is ok and just dust yourself off and put on your apron and start all over again!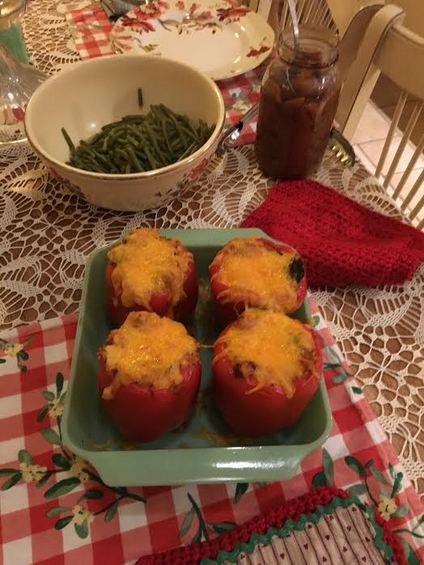 Sheri's stuffed peppers, green beans and home canned spiced apples from their tree. She used up some leftovers making these stuffed peppers. Thank you Sheri.
To me the pictures above make me feel like we are looking at what the phrase "going back home" looks like.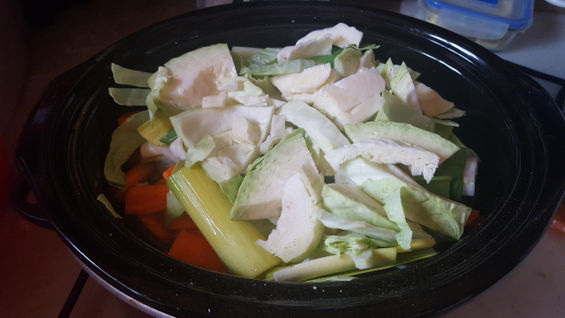 Phyllis has this wonderful tip.
She says that for a while she has been putting her vegetable scraps for broth into 2 gallon size zip lock bags in the freezer. Once they are full she puts them in the crock pot overnight to make broth. When the broth is done it goes into freezer containers until she needs it. The "cooked" scraps go into the compost bin, the bag gets washed and the process gets repeated. As Phyllis says this is much cheaper than paying the high cost at the store for broth. Phyllis has made those vegetables go full circle.
Another tip from Phyllis is about the meat pies I have posted. She is vegetarian as some of you are that read this blog and she used morning star crumbles in place of ground beef, sautéed them with onions and Worcester sauce as the filling and grated cheddar cheese. She said it was a great hit. Thank you Phyllis.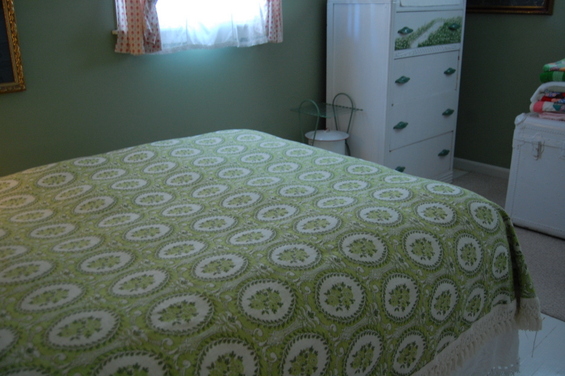 Lynne, asked what color is the bedspread that I posted in black and white? The bedspread is green and white. some of you have told me you are happy I went back to color and I am too but I wanted to give you a feel of the change to 1942 :)
I want to mention Judi that has been making her way into 1942 and how she has been doing some research over in Australia. Judi became interested in researching and living more like the 1940s when we started the 1943 project the year before last. Judi started talking with elders and asking her father about ways that her grandmother did things. Judi, like us is adjusting to getting back in the saddle so to speak adjusting to what was not there in 1942. What is being rationed? She like many of us find peace and calm when coming home to 1942. It is difficult to describe but there truly is a feeling that things make more sense. We start becoming more frugal, using all we have so we don't waste. We are finding our way, there are no rules and it is becoming just the way of life now.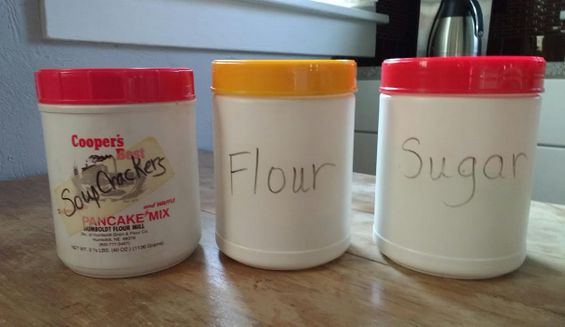 Above is a photo from Joy.
It is hard to buy things that do not come in plastic so Joy gives us another example of not wasting.
I received an email from Joy after one of my posts showed me cutting up the used tea box to make a sewing notion box. I asked Joy if I could share what she said in her email because I think it is very important.
Joy said that her mom and later herself would use the empty Velveeta cheese cardboard boxes that are quite sturdy to store pencils and pens in. She also use paper towel tubes for electrical cords. She washes the empty lunch meat containers and uses them for freezer and leftovers. She also has plastic containers with twist on lids (Shown Above) that pancake mix came in and uses them for storing flour, sugar and soup crackers.
She mentioned that the other day she sent her brother home with 2 sandwiches, an orange and a banana all tucked inside an empty paper flour sack.
I have never thought about reusing the paper bag that flour comes in! I think this is just wonderful information how to re-use/re-cycle the things that come into our house that normally go out in the trash! Thank you Joy.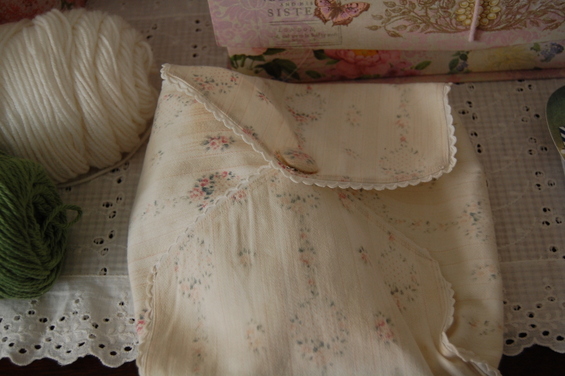 Another photo that was in black and white....
I want to mention my dear friend Catherine and how she cooks ahead and makes casseroles, soups and crock pot meals. She cooks ahead like this each week because she works and does the 1940s lifestyle.
I asked permission from Catherine to use what she said in a recent email about food.
She started off talking about it being laundry day and getting things dried and ironed and getting caught up because she was going back to work in two days. That work day was Friday.
Then she said, I need to cook or do prep for three of the days tomorrow too. It won't be too bad though. I'm going to do a meatloaf for Sunday, then I can pop that in the oven with some potatoes before I leave and set the timer. I'm going to make a stuffed pepper casserole for Saturday, and then for Friday a spaghetti ham casserole with Thursdays leftover spaghetti. Those are all easy with not a lot of work involved. I'll do Fridays on Friday since I need the spaghetti noodles from Thursday night.
You did read, "it wont be too bad" and "those are all easy with not a lot of work involved"? To me that is a lot of work involved because I am retired now and we cook day by day but I did do this when I worked outside the home when needed. This an the example of how it flows when you are used to doing it all the time because you develop routines.
Catherine preps for meals days ahead, makes her casseroles/meals then she freezes her meals/casseroles. She will come home and turn the oven on to cook the meals or her husband or Son will cook them if she is still at work.
Refrigerator thawing is the safest way to thaw but Catherine and I both let it thaw in a cold oven throughout the day but I don't know if that is recommended today. I suggest you to research how to thaw frozen meals and make a safe option for your family.
We all learn our way through things by doing it over and over and find out what works for us.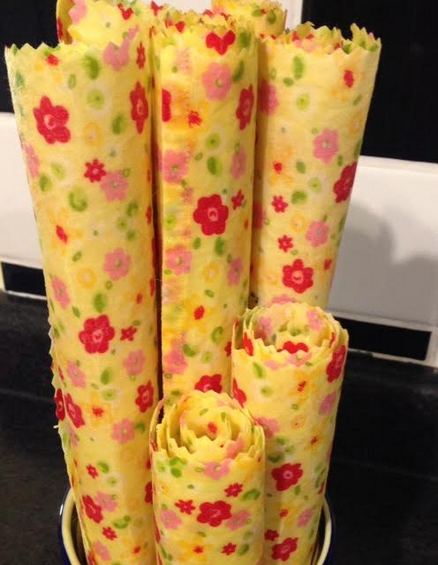 Deb makes her own beeswax wraps. What a neat idea! She pinks the edges of hers (pinking sheers).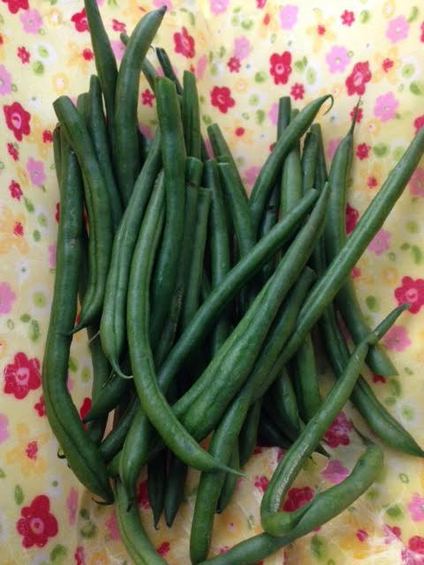 You will need some lightweight fabric. You can use anything you want to cut up for these beeswax wraps.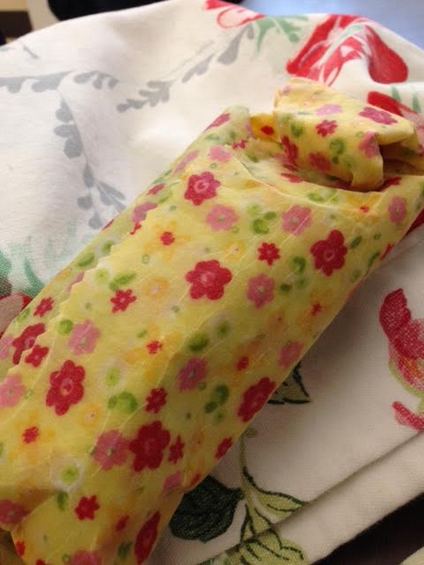 Here are her beans wrapped up. When you are done with the wrap just rinse it off and roll it back up.
Deb sent me a link to a blog that makes beeswax wraps. I think this is a wonderful idea and Deb has made her some and using them regularly. Here is the link. Thank you Deb.
http://myhealthygreenfamily.com/blog/wordpress/pla...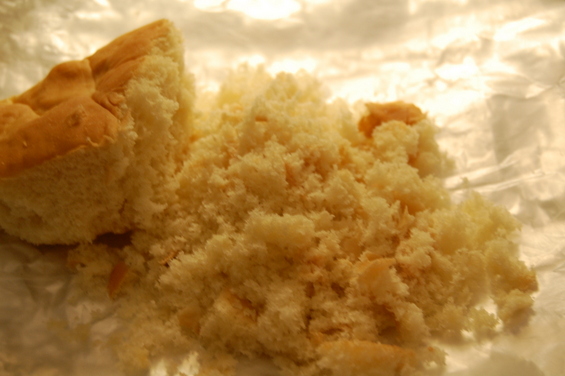 I have a tip for bread crumbs. The other day when I made the dish Chicken with noodles it called for butter bread crumbs to go on top and it was a delicious topping.
Bread crumbs are so easy to make that I don't understand why they even make them to purchase in the store. Just use your fingers to crumble the bread. You can also make your own croutons.
Bread crumbs are called for in meatloaf and other dishes so it is nice to keep a supply of bread crumbs in the freezer for days when you run out of bread.
I place a good handful of breadcrumbs onto a piece of wax paper...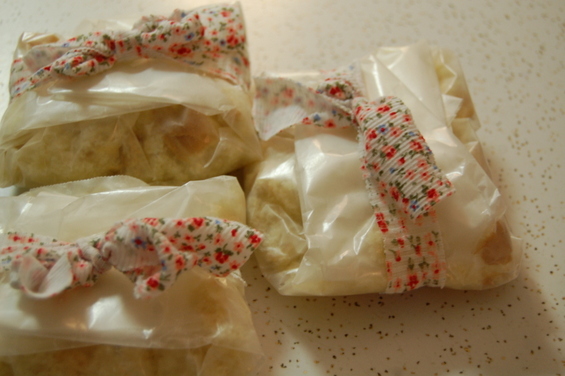 Fold the paper around the crumbs and secure it with tape or ties. I keep scraps of material in a kitchen drawer that I have stripped or cut to use for ties when packing lunch or things like this. I like to use stretchy fabric but I have other strips that are just cotton, anything will do. This fabric was from a sleeveless top that I wear under my shirts. They are always too long so I cut them off and I save what I cut off to make ties. But anyway they are stretchy and make great ties.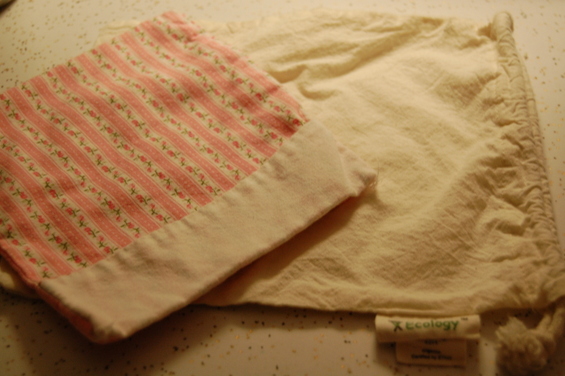 I put them in cloth bags. I have some I have made and some I bought. The one on the right is a organic cotton bag and the one on the left a flip top sandwich bag I made.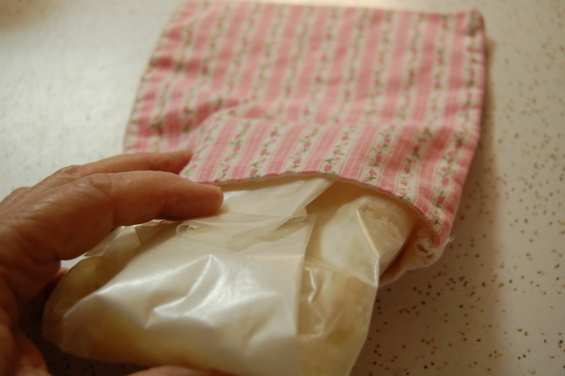 The flip top bag is very handy for popping a sandwich in or anything else for that matter.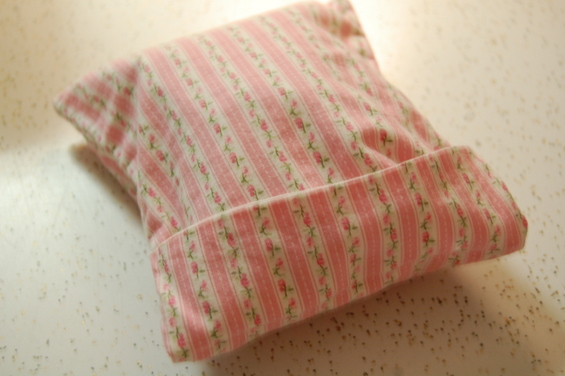 So these bread crumbs will go into the freezer... There are two pouches of bread crumbs in there.
I hope you have enjoyed this tip post and I thank you all for sending in the emails, and inspiring me to do this post. There are many more things, if only I could have filed it back to pull out. Like I said I will work on that.
Grandma Donna