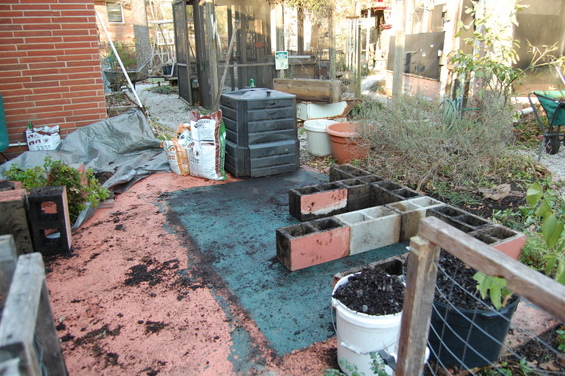 This was a bit overwhelming but we had to start somewhere. We took the keyhole garden apart, dug out all the dirt and carefully removed the gravel from the bottom. My husband did most of this as I pulled weeds from beds.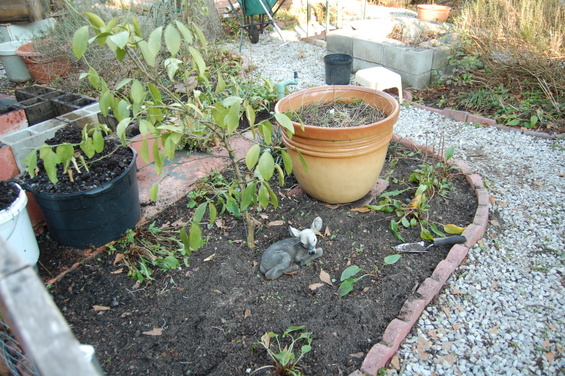 The young meyer lemon tree looks pretty bad from the freezing temperatures. I dug out many of the coneflowers and transplanted them to other areas.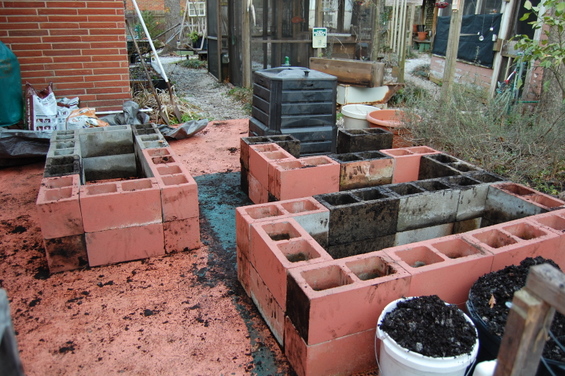 We decided to make a change in the shape of the large keyhole patio garden (which is posted below on the Feb 7th update). We made three raised patio beds two blocks high with walking space so I can reach all the way around. The original Keyhole garden did good at first but then we had a rollypolly invasion and the rollypolly's actually ate our vegetables. They were everywhere!
Here is what happened. Our garden was called a keyhole because we had a composting area in the middle. It was not the same shape of most keyholes because we used blocks but we did have a small compost hole in the middle. We had composting worms and we fed them but the rollypolly's liked living with the worms and they multiplied by the kazillions! We will not be putting the center compost areas in these new beds.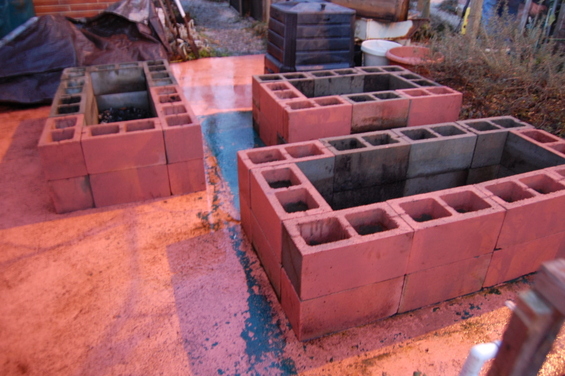 I pressure washed the blocks and part of the patio. It was actually dark when finished and used our camera without flash where it does that gathering light thing. Crazy how it takes a picture at night and it looks like day.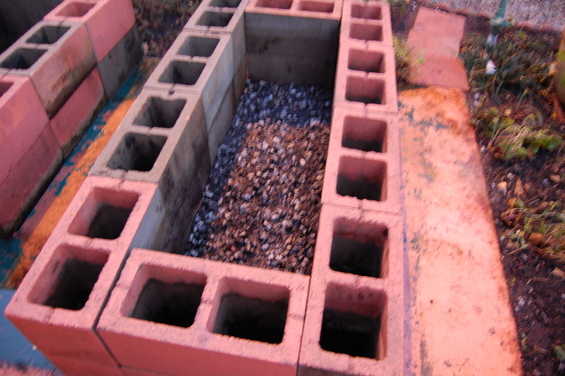 We put the gravel back in the bottom of each raised bed because that has been working very well in the big keyhole.
I would like to note a few things. The reason we put a keyhole garden on our patio is because we had tried many different ways of gardening in our back yard and everything we did attracted tree roots. The roots would take over and it was so difficult to dig into the beds. The same thing happened with our composting beds. We simply have too many trees in our backyard to garden in the ground. We do grow herbs and perennials in beds but everything must be in pots or on the patio.
We noticed when we dug out the dirt from the keyhole today that the roots on the remaining few vegetables should have enough room with our two block high beds but the perennial lemon balm went all the way down three blocks high and became root bound because it was planted in one of the smaller outer block holes. I will not plant another perennial in these beds. Next year when we replace the soil we will observe how our roots did with the shorter beds.