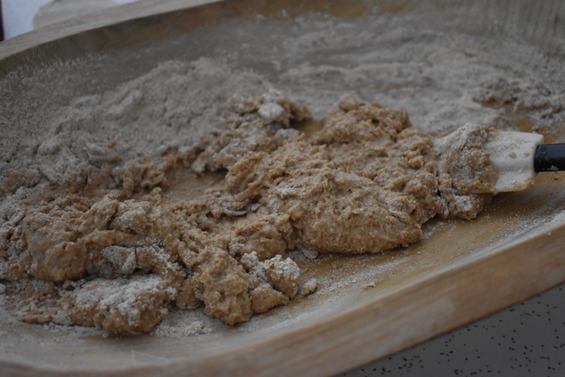 I have missed making bread since we stopped eating gluten. Charles and I are not allergic to gluten but there seems to be some kind of connection for us to inflammation when we eat bread and such.
I decided to give spelt a try since I read that spelt is suppose to be an ancient grain and is a species of wheat. It has gluten in it but possibly more nutrients and less gluten. I have read a lot of information on spelt but the recipes I found a bit complicated.
So I decided to try making it just like my other bread only using 100% spelt flour.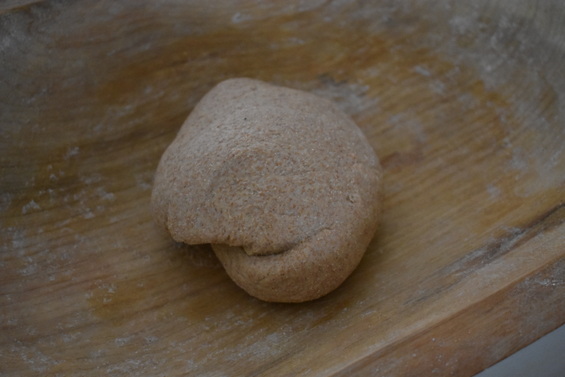 So I did everything the same, same yeast, water, same temperature of the water, same honey, same everything only I did not knead it quite as long but I kneaded it until it felt right which was about 8 minutes or so.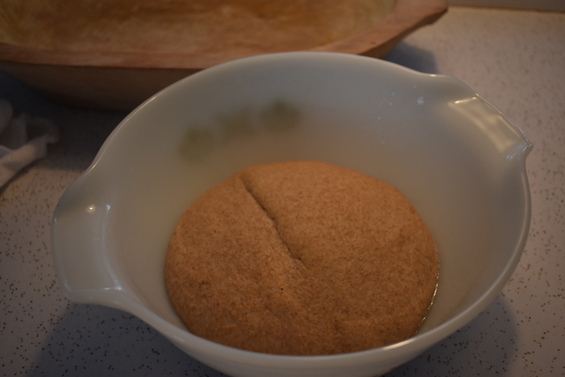 I put it in a oiled bowl to rise and covered it with a slightly damp cloth like I normally do and I let it rise for about 50 minutes. Then....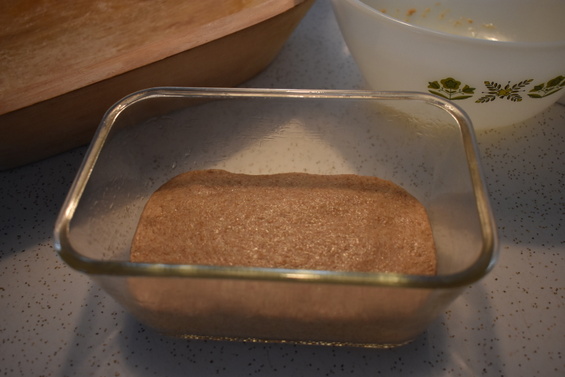 I put it in an oiled bread pan. My pan is an old fashioned bread pan with tall sides and a bit shorter than a normal bread pan.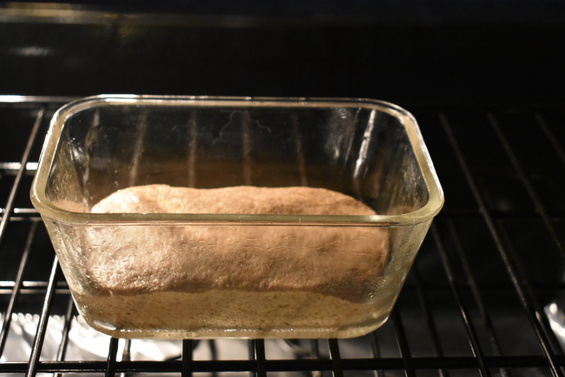 I put it in a warm oven to rise. By warm I mean just warm. I normally turn on my oven to 350 and count 10 seconds and turn it off the turn the light so the oven is not cold.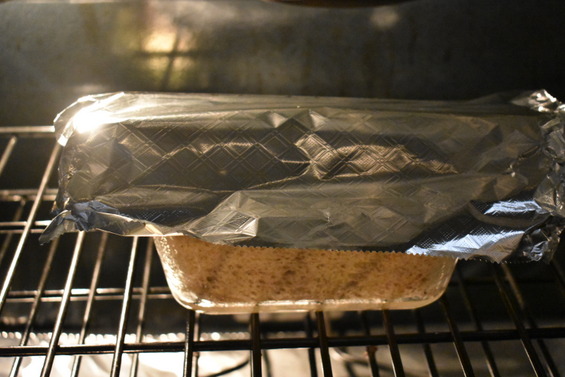 After it rose to the top I baked it in the oven for 25 minutes at 350 degrees. The last 8 minutes I covered the top with foil so it would not get too brown.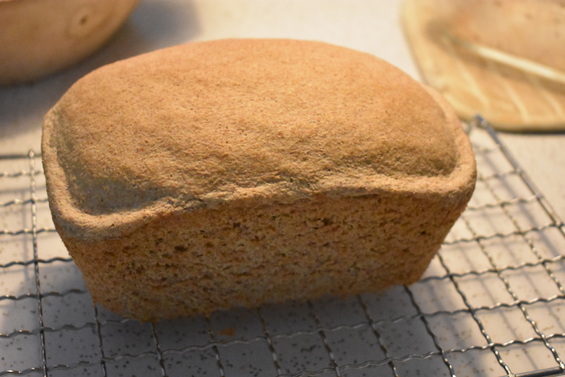 This is the bread after it was baked and cooling on the rack.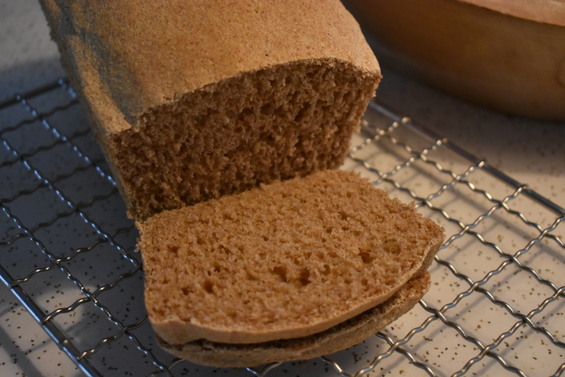 And this is the bread after it was cool enough to slice. Charles was very happy to have bread again. We also made tortillas with the spelt. We just treat it like flour.
It is better to save back some of the flour in the recipe and then add more as needed. All bread making is by feel anyway. We learn the feel of dough when kneading the dough what the dough needs if that makes sense. I have never been able to add extra water after starting to knead dough so I would rather have it a bit sticky at first and add flour as needed. This goes for Spelt flour or regular flour if you are using regular flour.
The spelt bread does have a different texture but it does have a good flavor.
For our tortillas which by the way we use for our pizza dough we simply made our tortillas the same only we used spelt flour.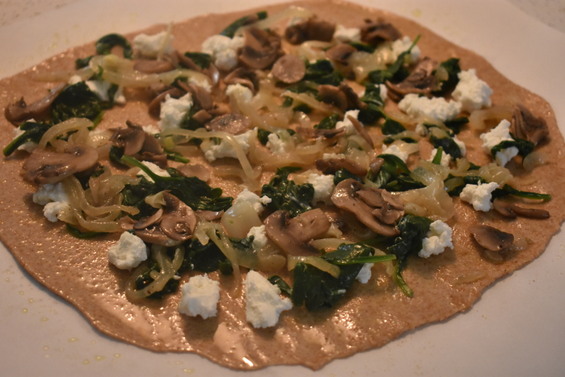 We like to make pizzas by rubbing olive oil over the tortilla, then top it with sauteed spinach, mushrooms, onions, olives and goat cheese.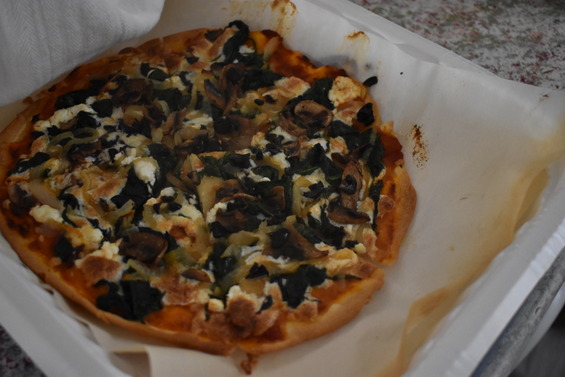 We bake them on parchment paper.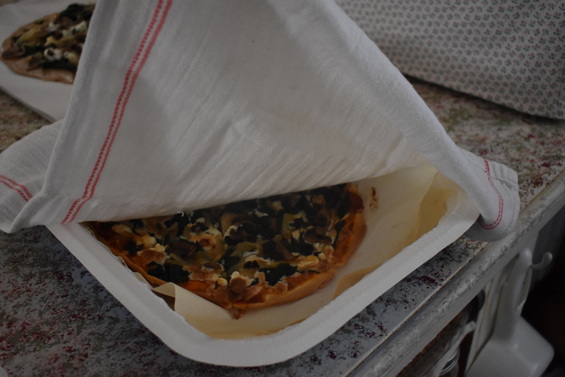 We stacked them in a pan to take to a family gathering with our adult grandchildren and our son and daughter in law. We made some with spelt, and also with regular flour so they could choose which they like and they said they liked both of them so that was a good thing.
Charles likes the bread. I will try to get a sourdough starter going made with spelt and see if that would be even better.
I wanted to share this with you and also my recipes.
Homemade spelt Bread Recipe
2 Tablespoons olive oil light or normal veg oil you use, we use light olive oil.
1 teaspoon active dry yeast
2 Tablespoons Honey
2/3 cup warm water (110 degrees)
2 cups spelt flour
1/2 teaspoon salt plus pinch
First put the warm water, honey and yeast in a small bowl and stir until yeast is dissolved and let it sit for about 6 - 8 minutes.
Put 1 and 1/2 cups of the spelt flour in a large bowl or bread bowl and add a generous 1/2 teaspoon salt and give it a toss in the flour.
After the yeast has finished its 6-8 minutes add to flour and toss around with a spatula or your hands. Start kneading the dough adding the other half cup of flour as needed. Add more spelt flour as you are kneading until it is no longer sticky and forms a soft dough. Knead it for about 5 to 8 minutes. This dough will not be as glutenous as regular flour and why I chose to bake in a more narrow taller pan.
Bake in a preheated 350 degree oven for 25 minutes covering the top with foil the last 8 minutes or so if your oven browns too quickly. Remove from oven and place on rack to cool.
Homemade spelt tortillas Recipe
2 Cups spelt flour
1 teaspoon salt
1 teaspoon baking powder
1 tablespoon oil
2/3 cup hot water on the warm side
Mix ingredients together in a blow including the oil but not the water. Mix the ingredients together with your fingers until it is like cornmeal. Then add the water and mix to form a dough. Then it for about 5 minutes adding extra spelt four until it is not sticky but a nice soft dough.
Let it rest in a covered bowl for about 20 minutes in a warm place. Then divide the dough into 4 balls and let the dough balls rest another 20 minutes.
Then roll out the balls for a round tortilla. Move to parchment paper and finish rolling it out fairly thin. Top with pizza toppings. If you are making tortillas for another purpose cook the tortillas as you would in a lightly oiled skillet.
I feel that for now the spelt is a healthier option for us because Charles skin issues have not flared while eating the spelt.
Also you can use these same recipes with regular all purpose flour or whole wheat just remember start a bit sticky then add extra flour while kneading.
Grandma Donna