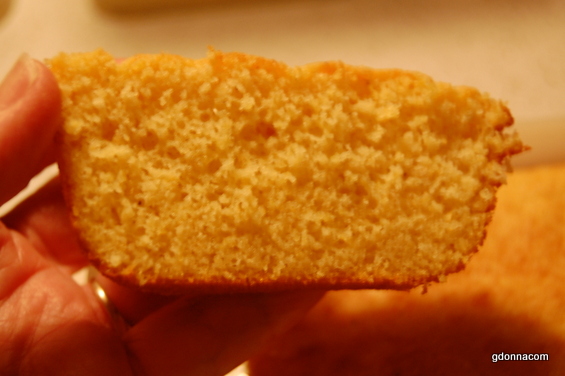 This recipe is for a small pan of homemade cornbread. Many families are smaller now than they were many years ago but our recipes are still for large servings. If you need a larger serving just double the recipe.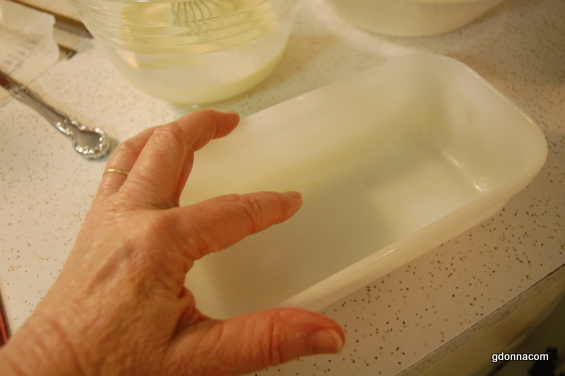 I am using a very small loaf pan. It is 8 inches by 4 inches, it holds one quart. This is not your normal size loaf pan, you can use a one quart baking dish such as pyrex or corning or most anything that is one quart.
Here is the recipe.
Preheat oven to 400 degrees
Grease or butter your baking dish
You will need two bowls, one for liquid and one for dry and a very small pot for melting butter.
1/2 cup Plain cornmeal (do not use self rising cornmeal)
3 ounces of Plain Flour (I use a small measuring glass that has ounce measurements, you can also just measure 6 Tablespoons which equals 3 ounces.
1 teaspoon plus 1/2 teaspoon sugar
1/2 teaspoon plus 1/4 teaspoon baking powder
1/4 teaspoon baking soda
1/8 teaspoon or "pinch" of salt
1 egg beaten
3/4 cup buttermilk
3 tablespoons melted butter
In one bowl mix together dry ingredients, in the other bowl mix together the wet ingredients. Pour the wet ingredients into the dry ingredients and mix together with a whisk, fork or spatula.
Pour into the buttered/oiled baking pan and place in 400 degree oven for 25 minutes. Remove from oven and place on a pad or towel to cool. Allow about five or ten minutes so it can sweat just a bit in the pan to release from the sides.
Cut and serve.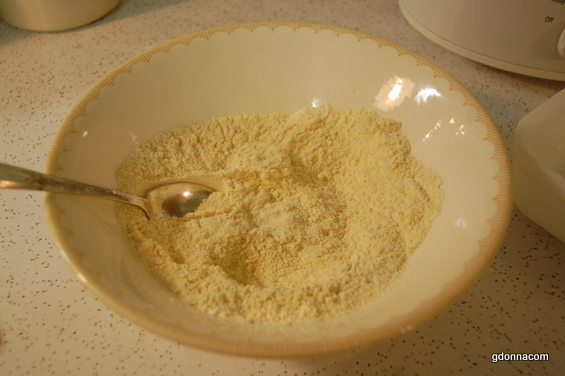 Put all your dry ingredients in one bowl and toss around. This would be the cornmeal, flour, baking powder, baking soda, sugar and salt.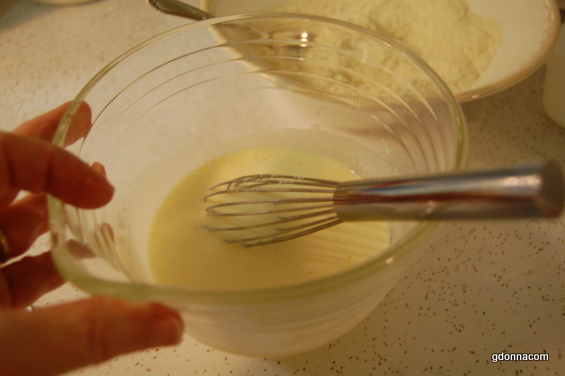 Put the wet ingredients into another bowl. Beat the egg in this bowl, add the buttermilk and the melted butter and mix with whisk, spoon etc.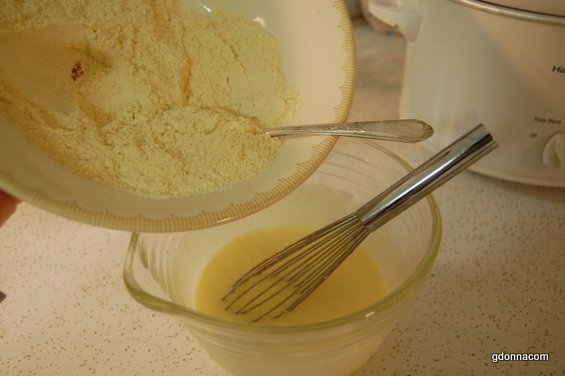 Add the dry mixture to the wet mixture....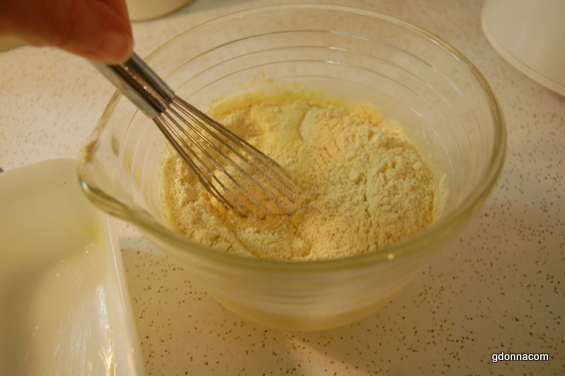 Now just mix it together...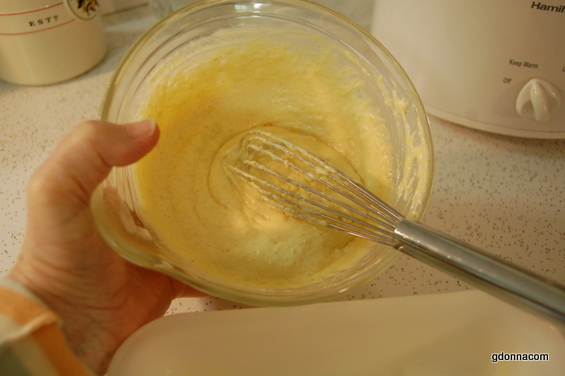 It will become a bit airy when the baking soda and the buttermilk react, this is what makes this cornbread light. Do not over mix.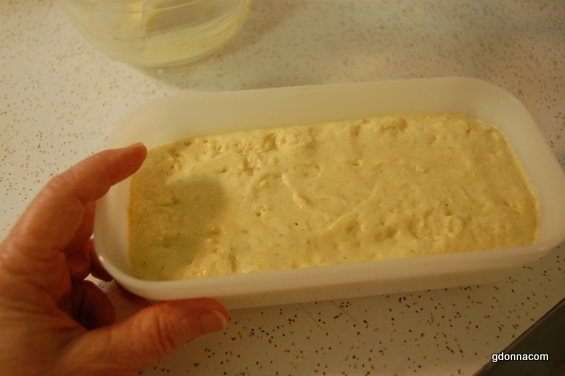 Spoon into the loaf pan...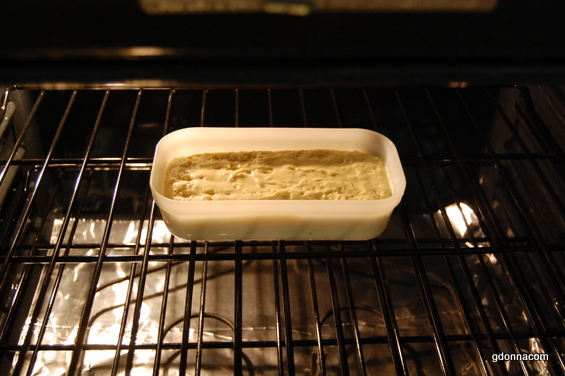 Place into the 400 degree oven for 25 minutes.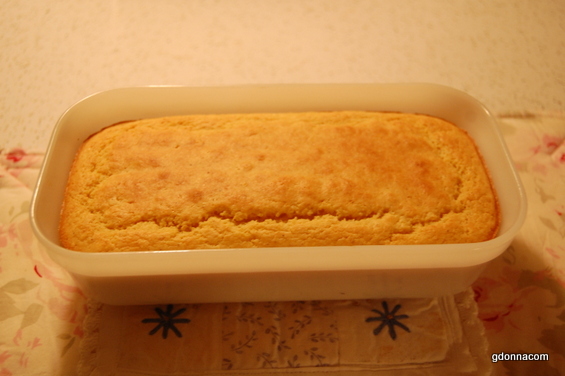 Remove from heat and place on pads if your baking pan is glass.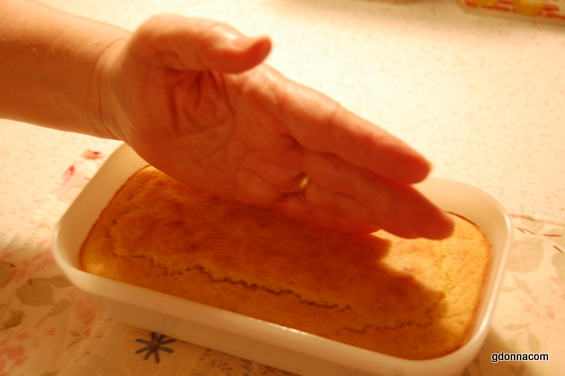 This is the size of the pan I use.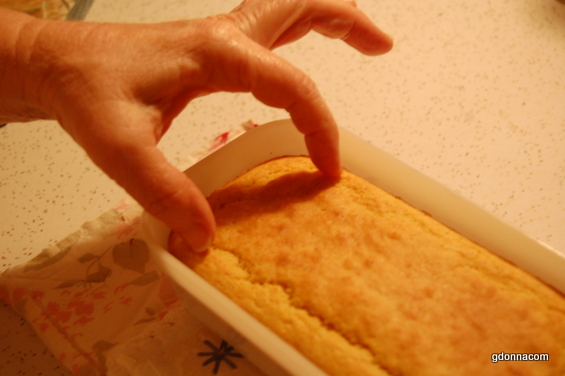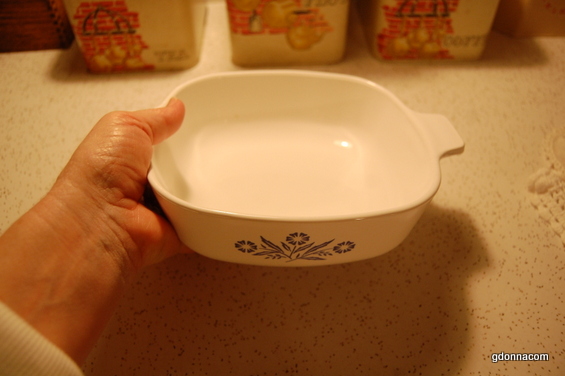 This is another pan I have that I use to bake this.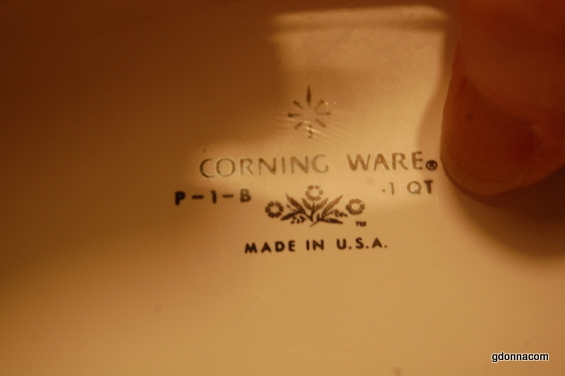 One Quart dish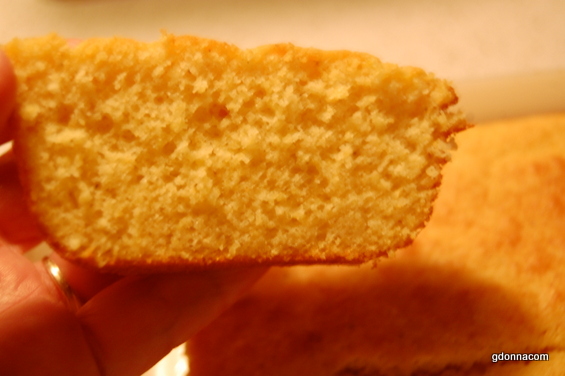 This cornbread has a cake like texture.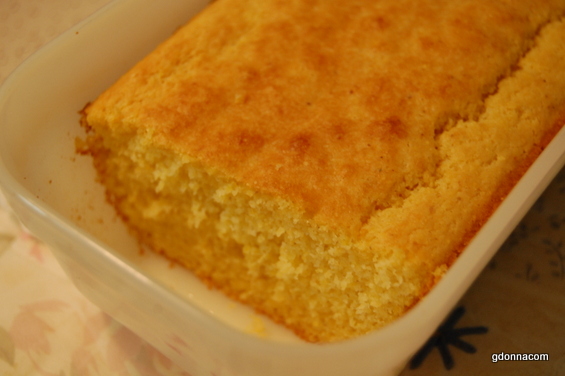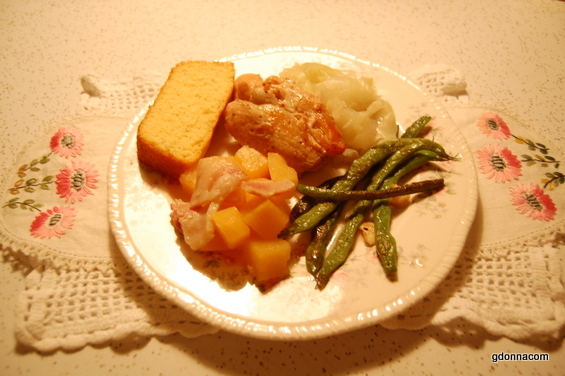 Enjoy with a meal. This is Chicken cooked in a crock pot, Cabbage, green beans that have been sauteed and rutabagas. The cornbread goes well with this meal.
Hope you like this recipe. Grandma Donna