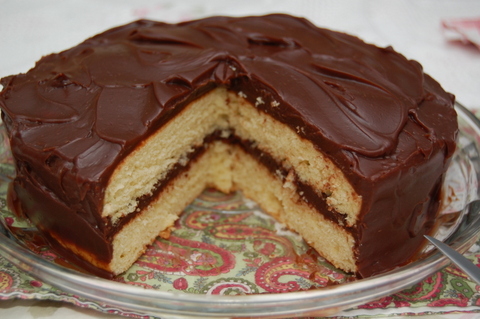 I am behind posting requested recipes so I will try and catch up a bit starting with my yellow cake with boiled chocolate icing.
Grandma Donna's Yellow Cake with boiled chocolate icing Recipe
2 and ¼ cups unsifted all purpose flour
1 and ½ cups granulated sugar ( I use organic sugar)
3 and ½ teaspoons baking powder
1 teaspoon salt
1 and ¼ cups milk
½ cup extra light olive oil (extra virgin olive oil is too strong for baking)
1 stick softened butter
1 Tablespoon vanilla extract
3 eggs
(Update, I have been asked can you use vegetable oil in the cake batter instead of olive oil and yes you can.)
Preheat oven to 350 degrees, cut wax paper to fit the bottom of two 9 inch pans. Wipe a small amount of extra light olive oil in bottom of the pan, place the wax paper round and oil again, flour the pan and tap flour out.
In a large mixing bowl combine the flour, sugar, baking powder and salt, mixing well.
Add the milk and vegetable oil, butter and vanilla to the flour mixture and beat with an electric mixer for 2 minutes, scraping the sides of bowl often.
Add eggs one at a time and continue beating for another 2 minutes.
Pour batter into pans and bake at 350 degrees for 20 to 25 minutes. They should be lightly golden.
Cool cakes on wire rack for 15 minutes then remove the cake from the pans and cool completely before icing.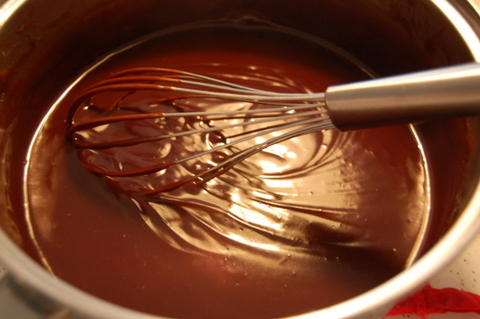 This is a very old fashioned boiled icing on this cake. It is a bit different than normal hard frosting but it is not suppose to be runny but more like a thick pudding.
Boiled Chocolate Frosting
1 and ½ Cups granulated sugar
¼ cup plus 2 tablespoons cornstarch
7 Tablespoons cocoa
¾ teaspoon salt
1 and ½ cups boiling water
1 tablespoon vanilla
6 tablespoons real butter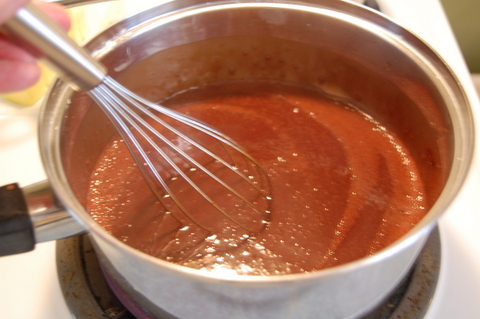 Put sugar, cornstarch, cocoa and salt into medium size cooking pot. Pot needs to be large enough to have room to whisk and without possibility of chocolate boiling over.
Whisk the dry ingredients to blend before pouring the boiling water in and be ready to get the heat on right away.
Remember that you are working with boiling chocolate so be very careful to not burn yourself.
Stir the 1 and ½ cups boiling water into the dry mixture and cook on top of the stove stirring with a whisk constantly. This must be whisked quickly because the cornstarch may lump if you do not do this. When frosting has thickened which should start thickening right away. When I make this it will thicken right away and normally I have it off the heat within one minute or so before I remove it from the heat. Remove from heat and stir in 6 tablespoons of butter and 1 Tablespoon of vanilla. Whisk and then cool the frosting.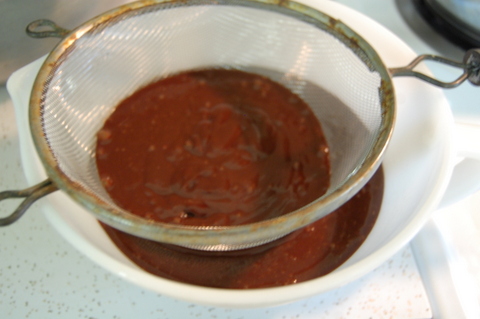 When it has cooled enough for you to taste it with a spoon and you find that the cornstarch has lumped then you can strain the frosting through a wire strainer. Use a spoon or rubber spatula to push the frosting through the strainer. I couldn't do this and take a picture.
It will thicken a bit more when cooled. This icing is delicious and tastes much like chocolate pudding but better :)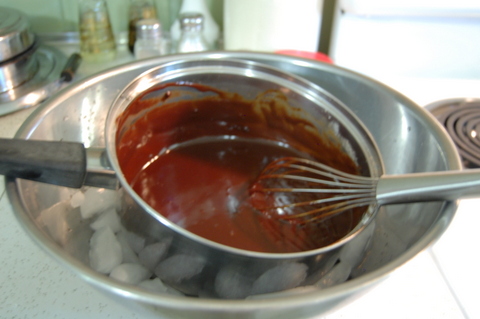 To quick cool, (which I normally do) carefully place the pot into a ice bath, make sure no water goes into the pot. Stir or whisk the hot frosting until it is cooled. Frost all layers of the cake after the cake and the frosting is completely cooled.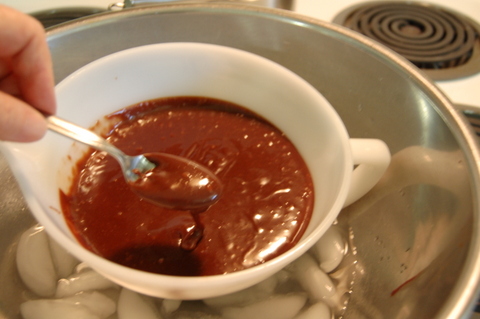 This is a creamy frosting and will not harden on your cake but will thicken when cooled and more after frosting on the cake.
Making a boiled icing is a technique that comes with practice. Once you master it you will keep this recipe for safe keeping.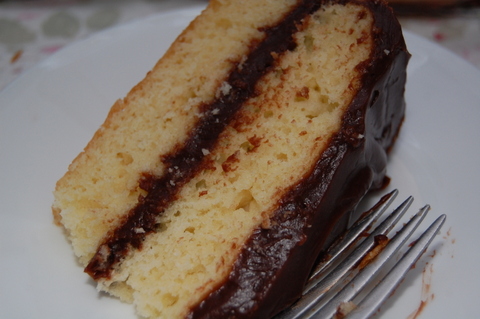 I hope you enjoy this cake, it is a family favorite. Grandma Donna