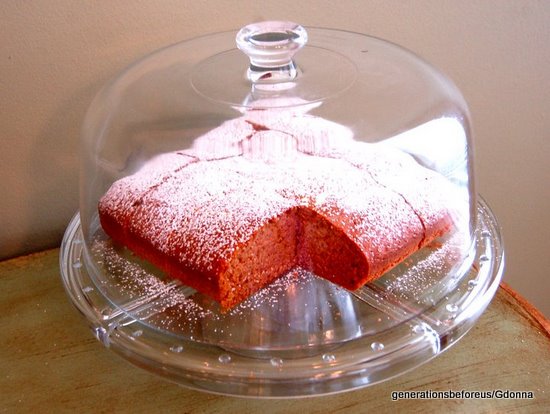 Recipe Below
This is a very easy cake to make. It is a simple cake, not too sweet, just right. It is also Dairy Free, Egg Free and Peanut Free for those with food allergies.
1/2 Cup lite olive oil
1 Cup sugar
1 Cup chilled applesauce
2 cups all purpose flour
1 teapoon Baking Soda
1 teaspoon cinnamon
Small amount of powdered sugar
There will be no mixer needed for this cake, just a medium size mixing bowl and a whisk.
Whisk together oil and sugar, then add applesauce and whisk together. Stir in flour, baking soda, and cinnamon, give it another whisk. Pour into a greased and floured 8" square pan or any kind of pan about that size. I use a corningware pan. Bake at 350 degrees for 40 to 50 minutes or until done.
Place on cooling rack and after you remove it from the pan and still slightly warm sprinkle small amount of powdered sugar. Enjoy!