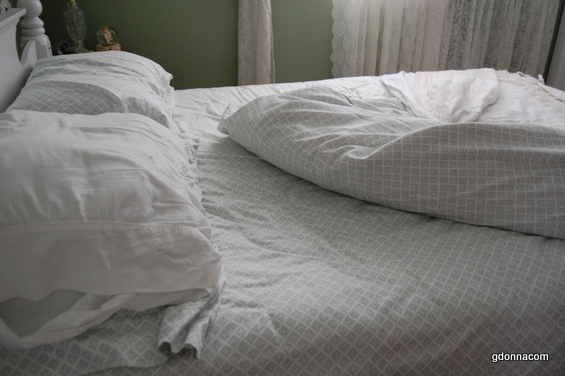 I have several old household books. Since we are living like 1942 I am following along the best I can cleaning the house using methods from these books.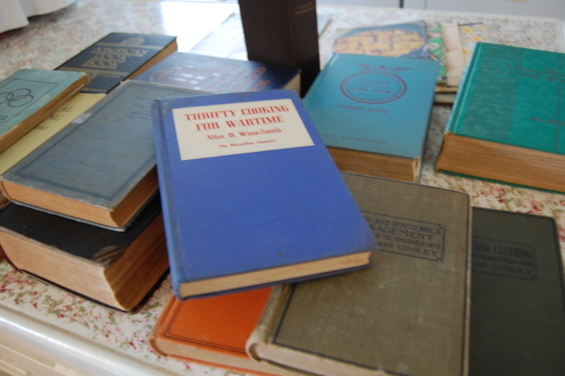 Today I am cleaning the bedroom.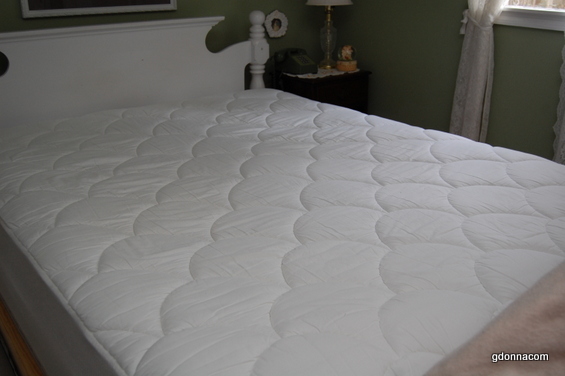 I stripped the bed down to the Mattress cover and then removed objects from the room so I could deep clean the room.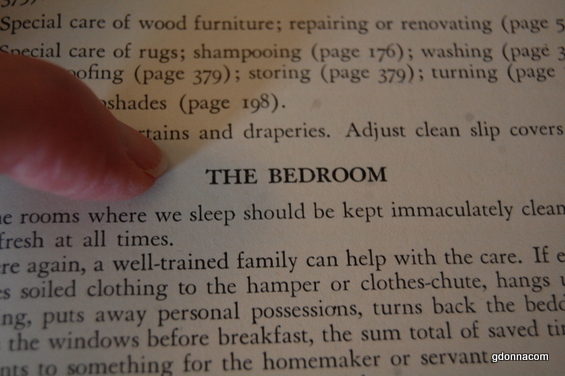 In most of the books the bedroom is given a lot of attention when it comes to cleaning. To sum it up the Bedrooms should be kept immaculately clean and fresh. Are your bedrooms immaculately clean and fresh?
Mine is not immaculate :( but it is clean and fresh now :)
Some things do not necessarily apply today such as renovating the mattress and pillows. The feathers and down are removed from the ticking, washed or steamed. Sterilized with air or steam at a high temperature. I wont be doing that today.
So I am going to move on to how to make a bed.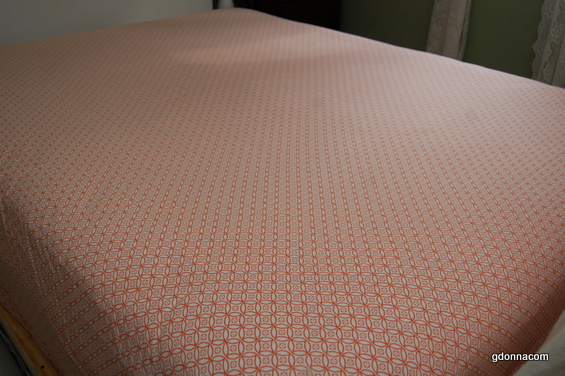 Those are not spots on my sheets, they are spots on my camera lense and I don't know how to get them off because they are on the inside.
In the past more often than not sheets did not have fitted corners and if they did they were home sewn. But thank goodness today we have fitted sheet corners for the bottom sheet.
How to make a bed
Spread mattress pad smooth. Spread bottom sheet right side up, even and straight, with center crease exactly in center of bed and wide hem at top. Tuck sheet in at head and foot of bed. Make a hospital or mitered corners on all four corners. Be sure sheet is smooth. This is for a non fitted bottom sheet.
Spread top sheet right side down, even and straight with wide hem at top. (oh does this make me happy, I will explain later).
Tuck sheet in at foot. Make mitered corners at foot only. Spread blankets on , one at a time. Tuck in at foot, mitering corners, Tuck in at sides and turn top sheet down over blankets.
If desired, spread third sheet or blanket cover over blankets mitering corners and tucking in sides. Plump up pillows and place at head of bed. Adjust bedspread. If the spread is not fitted in will hang better if mitered corners are made at the foot.
This is a mitered corner. If this was the bottom sheet.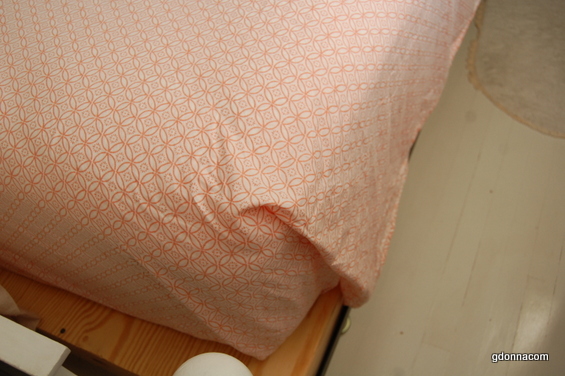 Top sheet is mitered here. By the way the wood under our mattress is a wood platform we have our mattress on. After we purchased our new mattresses a few years ago I needed a ladder to climb in our bed it was so tall so we did away with the box springs and built a wood platform.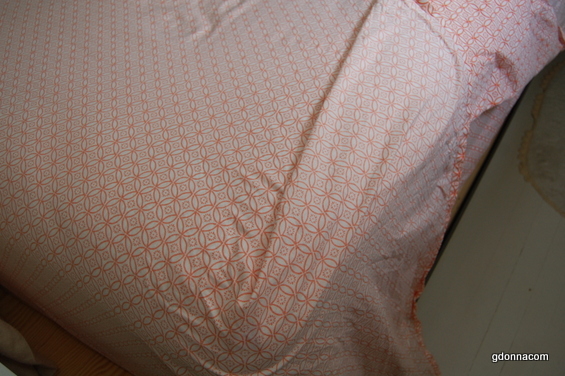 To do that miter you pull back the sheet and then tuck the loose bottom then lay the corner back down.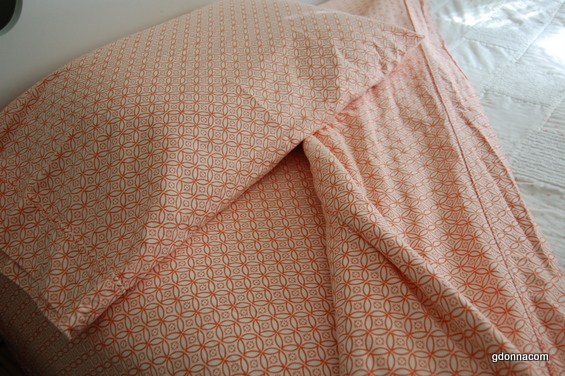 So back to the happy part. I was happy to see it in print that we should put our top sheet good side facing down. I have always done this as I was taught to make a bed like this. When you turn your sheets back you see the best side of the sheets.
It has been suggested to me that was a strange way to make the bed but now I have "the Book" to show this is the proper way. :)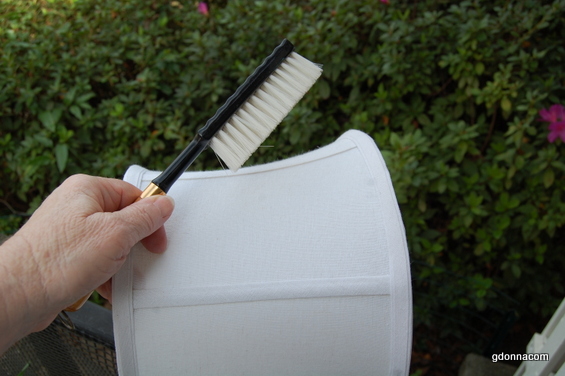 So I removed the lamp shade and took it out and gave it a good brushing.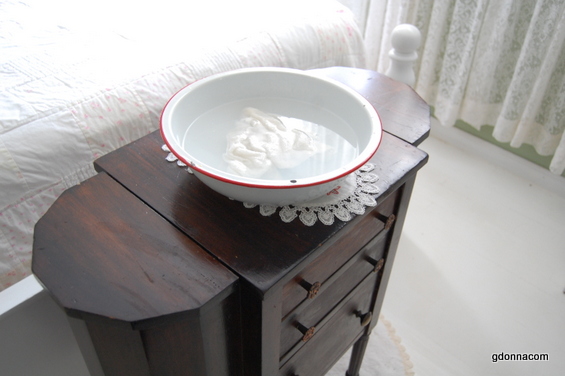 Made us some lightly soapy water with lye soap because it has natural glycerine and I washed down the furniture and objects in the room.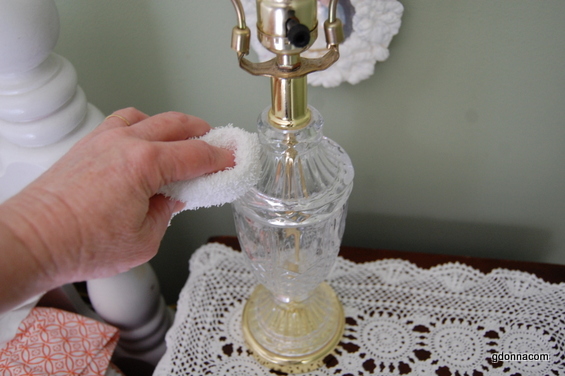 I dried and polished after washing.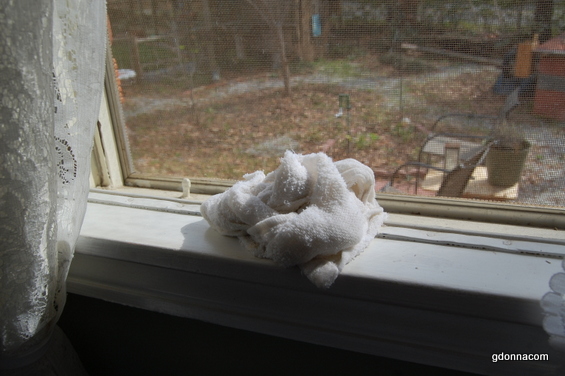 Cleaned the window ledges...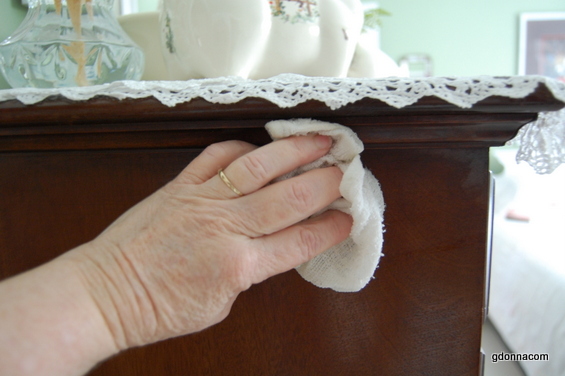 Put things back in place then gave everything a good polishing...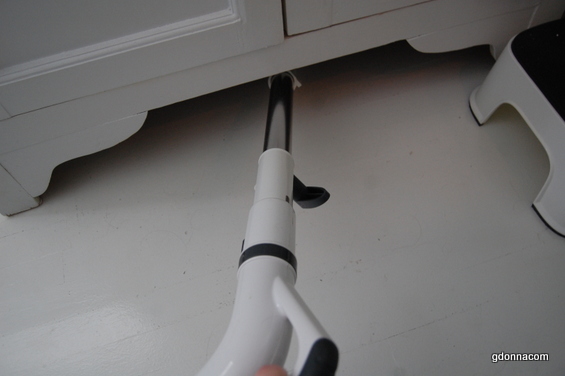 I vacuumed under the furniture...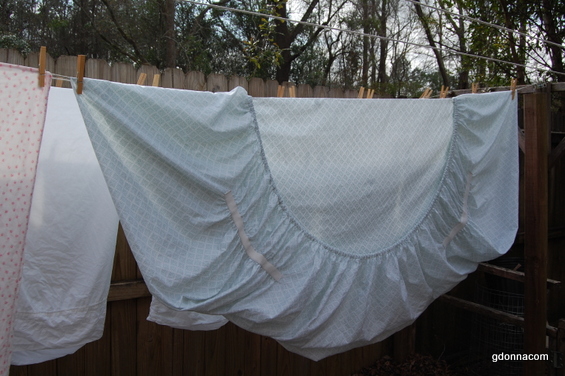 I washed and hung out the sheets that I took off the bed. This is how I hang a fitted sheet.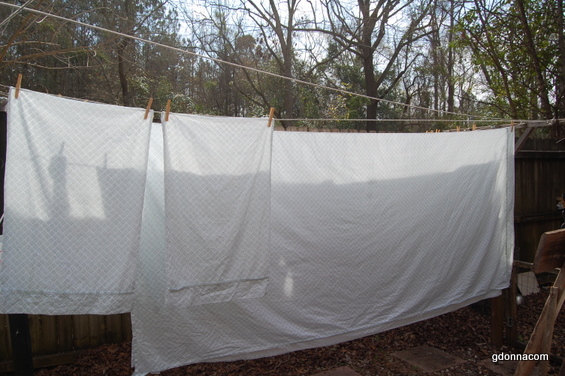 Now I will let the sun do its part to dry them.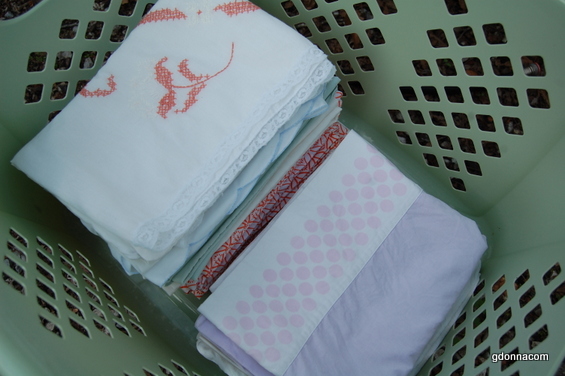 In the book one important issue that is brought up in this book is about keeping the air fresh in the house.
Under "Daily" care,
Open windows top and bottom for free circulation of air. This should be done before breakfast by the person occupying the room.
Throw back bed covers, including top sheet. This too should be done before breakfast by the person occupying the room. Pick up and replace small articles belonging in the room, such as books, bedroom slippers etc.
Gather up to take out articles belonging in other rooms, soiled clothing. Collect trash in waste basket. Carry out articles belonging elsewhere.
Bring in vacuum, dust mop, dust cloth damp cloth.
Make bed, dust high objects, brush upholstery if necessary. Straighten covers, plump up pillows.
Dust furniture and low objects if necessary. Treat stains or blemishes as they occur. Dust and clean flooring. Straighten draperies, shades, curtains, etc. Take out cleaning equipment and waste basket. Bring back clean accessories, flowers and waste basket. Close windows if desired. Ok now, this is daily care. Do you do this every day? Be honest :)
Grandma Donna