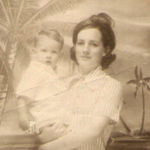 About gDonna
The photo is my son and myself. Now days you can get a photo made to look old like this one. This photo was taken when this was the new look.
Harry S Truman was president when I was born and world war II had ended. I grew up in a time when lunch was put in a brown paper bag and a sandwich was wrapped with wax paper. There was no such thing as pantyhose, we wore stockings that attached to the rubbery clippy things that attached to the girdle. Convenience stores were not common and when we took a trip we packed a picnic basket because many places did not have fast food. Highways had places to pull over and stop, some with picnic tables.
Read more ....
Contact
Fill out the form to send a message.