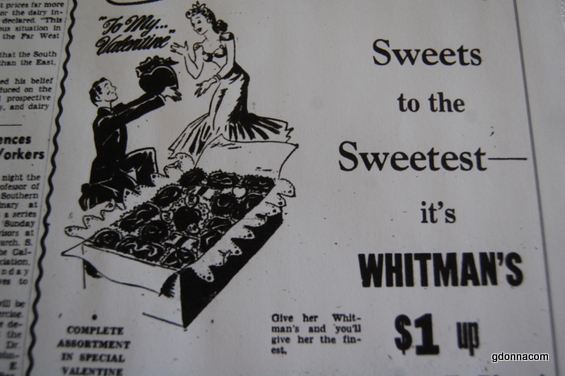 Since we are living like 1942 I decided to do another library search to see what we could find about Valentine day 1942.
It was a normal news day but then there was that Valentine Ad that showed a box of candy. I like the simplicity of the holidays in the past.
There was an article about soup and how February is the month for soup. Hearty soup with chunky vegetables and slabs of homemade crusty bread.
It was a story about a mother that would start early in the morning before her chores were done she would start a pot of soup boiling for their dinner. From the root pit in the hillside she dug up turnips, potatoes, cabbages and parsnips. She brought tomatoes from the spring house where they were left to ripen when frost began to nip them in the garden. Then on the back griddle from the old wood stove she set her big iron kettle.
In the pot went shank bone, cracked to get the full flavor from the marrow, a piece of lean and enough cold water to cover the meat well. Slowly this simmered in the stout old kettle until the strength was extracted from the meat and the marrow.
Then the vegetables all washed and chopped and shredded were added to the stock and cooked until done. Folks worked hard to make a kettle full of soup in those days.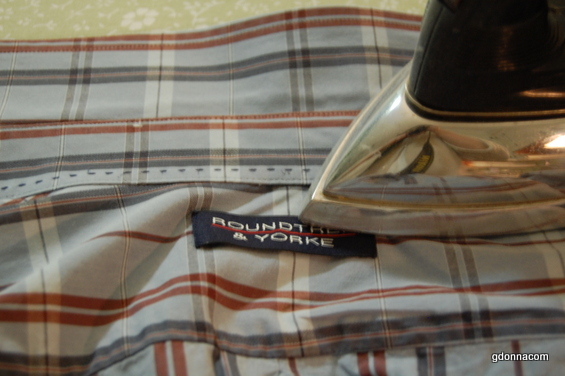 I went on about my morning doing my normal chores, lunch was simmering on the stove and I thought about another article I read about the sugar rationing and that life can be sweet without sugar. It talked about using more fruits and molasses, sorghum, maple sugar and honey.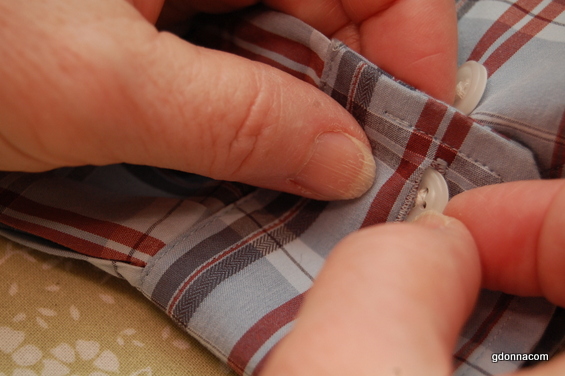 But then there was the recipe for Valentine Cake
Didn't sound like this cake was rationed. They must have saved up for this special day.
One pound butter (2 cups) 1 pound sugar (2 cups), 1 pound flour (4 cups), 9 eggs, 1-2 teaspoons mace, 6 tablespoons brandy flavoring, pinch of salt.
Cream butter, add sugar gradually, continue beating. Then add egg yolks, beaten until thick and lemon colored. Next, a stiffly beaten egg whites. Then flour, mace, salt and flavoring. Beat 5 minutes vigorously. Bake in deep heart shaped pan 1 - 1-4 hours in a slow oven 300 degrees.
Icing,
Two and one - half cups sugar 3-4 cups water, 1-8 teaspoon cream of tarter, raspberry or vanilla flavoring, red vegetable coloring for 1-2 the batch.
Put sugar and water in a smooth pan. While cooking it should be watched closely and stirred constantly until it reaches boiling point. To keep sugar from granulating on sides of kettle, wash down sides of kettle with pastry brush dipped in cold water, while fondurant is cooking. When mixture reaches boiling point, add cream of tarter, cover and steam 3 minutes. Remove cover, put in thermometer and boil to 238 degrees F, or allow mixture to boil until a little teted in cold water forms a soft ball. Then pour out on marble slab or moistened shallow tray. Cool. Scrape and turn mixture toward center with spatula, kneading until perfectly smooth and creamy. Then reheat mixture in double boiler until fluid enough to spread. Flavor with raspberry or vanilla. Completely cover cake with icing.
Decorative icing...
For the inscription "To my Valentine," use the following decorator icing, squeeze out of a fine pastry tube onto the red rosey top icing.
One egg white, 1 cup (approx) confectioners sugar, sifted. Put egg whites in large bowl. Add 2 tablespoons sugar and beat a few minutes and continue adding more, 2 tablespoons at a time, beating with perforated wooden spoon, until stiff enough to spread. Squeeze out of fine pastry tube into inscription desired.
Whew!! Now that's a Valentine Cake! I decided to not make one of these this year, I would have to have a bit more time.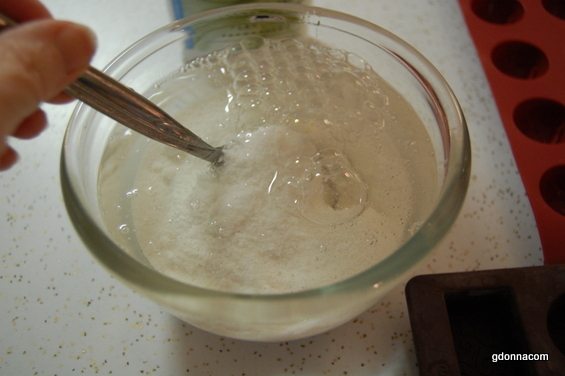 A couple of days ago I needed to mix up some dish soap blocks since I was out.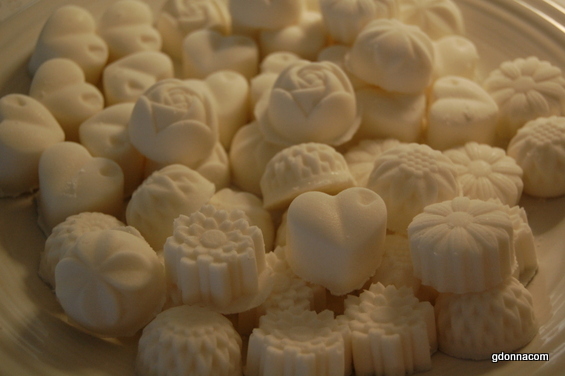 They don't take long to set up so by afternoon I turned them out.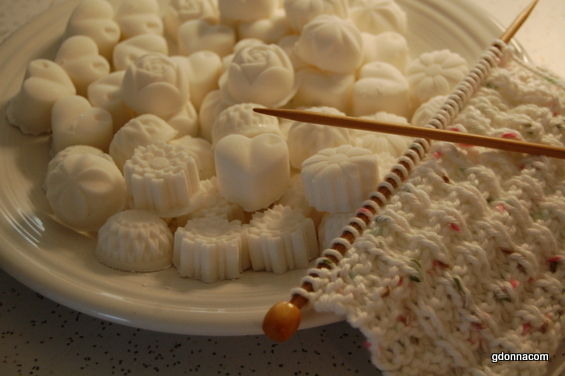 I got to thinking that these would be nice to go with the knitted dish cloths for the gift cupboard and wanted to pass that on to you while I was thinking about it.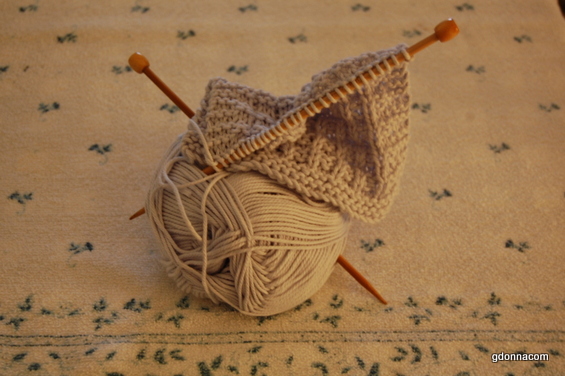 I have to finish a baby gift before I start anything else. As you see, it's a boy! He decided it was time to be born and is already here so I must get busy. :)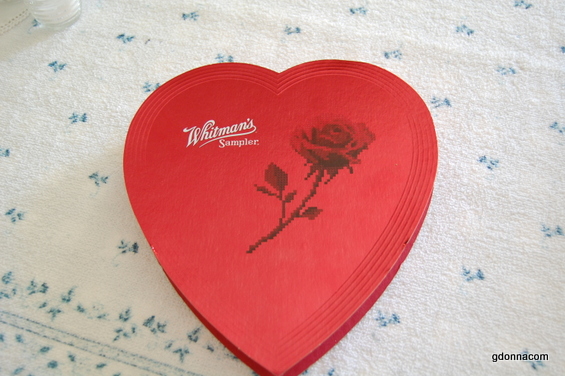 My special Valentine surprised me and came home this afternoon at an unexpected time to bring me a anniversary/valentine. Looks like that the maker of this chocolate has been around for a very long time. Happy 1942 Valentine Day everyone.
Here is a link to the post I wrote about the dish washing cubes.
http://gdonna.com/living-like-the-past/we-all-like...
Grandma Donna