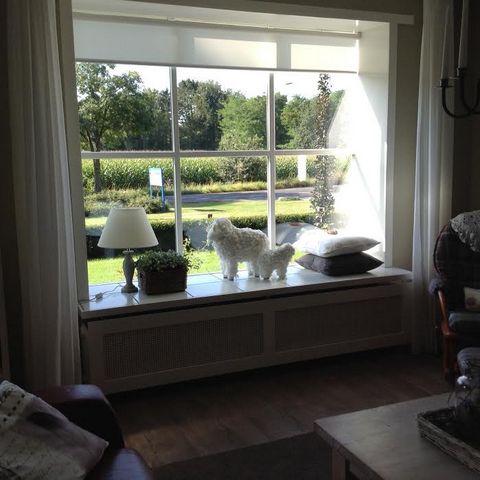 We are back with page two of windows around the world. These photos were sent in by Ina from Holland. Ina says that the Dutch like open windows. I can see why looking out this window :)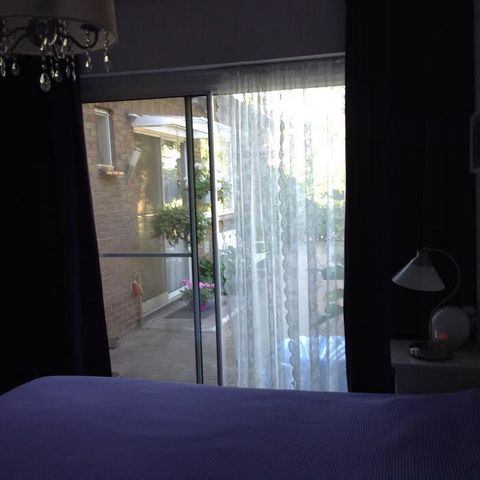 She describes this the sleeping room with lace and purple curtains with roll up shade. Beautiful views from her windows.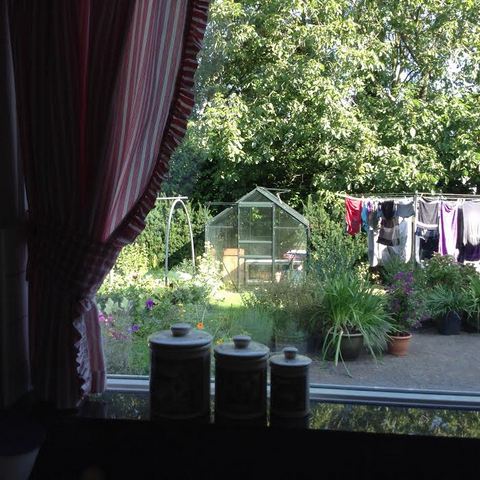 The kitchen window with self made curtains and a roll up blind. Ah someone else that hangs laundry and gardens. I would never want to pull my shades down. Thank you Ina for sending photos.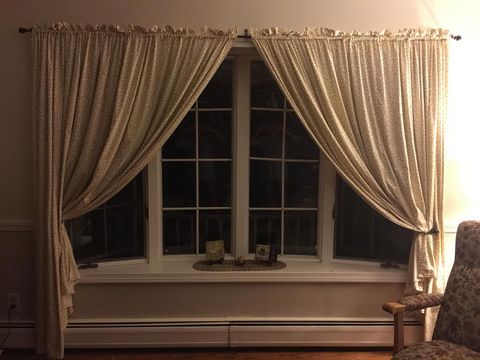 These photos are sent from Sue and she has a family of 9 :)
This is her living room window and it faces east. She made these drapes. Sue says that the material is heavy and when closed, keeps the draft out in the winter. She puts sheers behind the drapes in the winter but leaves them off in the summer for a more airy look.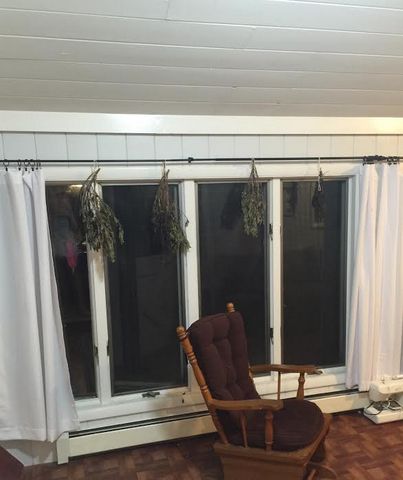 This is a west facing window that looks into their backyard. There is another window right next to it, the same size. This room gets a lot of light. Sue says she rarely closes the curtains because there are woods out back and it's private. These curtains were purchased.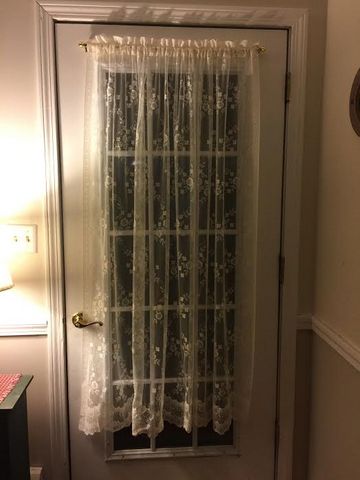 This is their front door. This lace curtain was purchased. Sue says the size is too small but the extra she would have have to pay wasn't worth it to her and that she has grown used to it being a bit short and now likes it.
This brings up a good point. As some of you may know by another post that started these posts about windows is my daughters family deals with severe allergies. Her blinds were very difficult to clean because they were heavy and her windows are very tall. She removed them.
She found some curtains that she liked but they did not come all the way to the floor or up to the bottom of the window. She asked does this look right?
Our home, our space, is ours to do with what we want. The only rules, window rules if we say, is do what we want to do. We don't have to live like the decorating magazines suggest. There are too many perfect images and that is not real life.
Real life is cooking, laundry, dishes, cleaning, for many changing diapers, wiping noses and and endless list of things to do. But this is home and somehow we manage to make it our space. There are no decorating rules it is our space in this big world and we make it how we want it.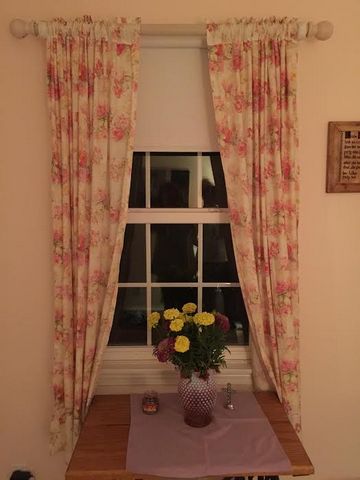 Continuing on with Sue's last photo above. This is my daughter's bedroom. I made these curtains. I like the room darkening shade because it really keeps the sun out early in the morning.
Sue I hope I have the order correct, just let me know if not and I can correct it. Thank you for the photos.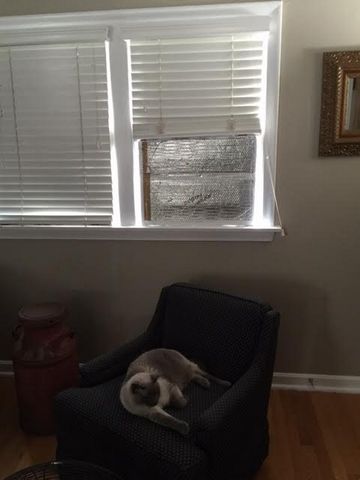 This window is from Cathy and Mojo. Cathy has blinds. This would be an easy way to keep blinds clean by keeping a window simple and easier to dust. Mojo probably helps her out :) Thank you Cathy for the photo.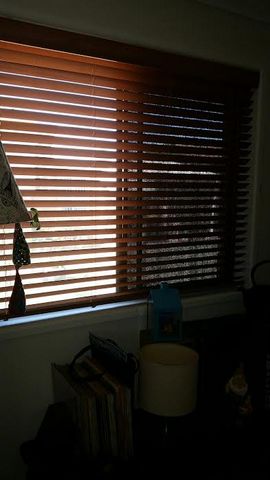 The photo above and two more following are from Jane. She lives in the sub tropical east coast of Australia.
This is what Jane says. We have sun beating down on the eastern side of the house in the morning. We have wooden venetian blinds on this side to help regulate light and heat. These are also on the windows on the back of the house.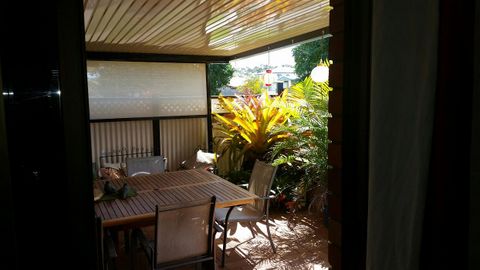 The western side of the house has a long veranda to protect it. Only the window towards the front has a curtain.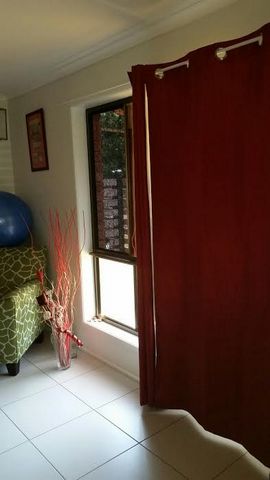 The block out curtains are on the windows at the front of the house. These are for privacy. Hubby and I are asthmatics and these coverings are relatively easy to keep clean and dust free. Thank you Jane for posting.
**********
Following is an email I received from Kelley in Guam. There are no photos but she has a solution to window panes and glass blocks.
This is what Kelly has to say.
I have a master slider door that we never opened the vertical blinds on but wanted the beautiful sunlight. Each door is mullioned, so I measured and cut cream sheet squares to fit each mullioned pane. I simply held each square up to the window, sprayed it heavily with spray starch and press all the air bubbles out with an old credit card or expired gift card. Privacy but I still get the light. I've done this on a glass block "wall" we have too that has 32 glass blocks on it. The sun could fade the clothes in the closet across from it, so I starched fabric squares to each block to help prevent that. You can see this done online too.

In our two bay windows in other parts of the house, we installed bamboo blinds from Home Depot. We roll them tightly before cutting off BOTH ends if we need the blind shorter. Again, I used sheets to line the "street side" of the blinds. I lay the blinds on top of the sheet, cut the sheet a little wider and longer than I need. I press under a 1/4-1/2 inch or so on the top and hot glue it there. I did the same on the sides. Finish the bottom at the length you need the same way. Lined now so no one sees in. You can also see this done online.

Sheets are great for me here on Guam. I line them with blackout because of the hot sun on one side of our house. But I positively love sheers on the windows, unless the sun's rays demand a "darker" treatment on the window.

Blessings,
~Kelley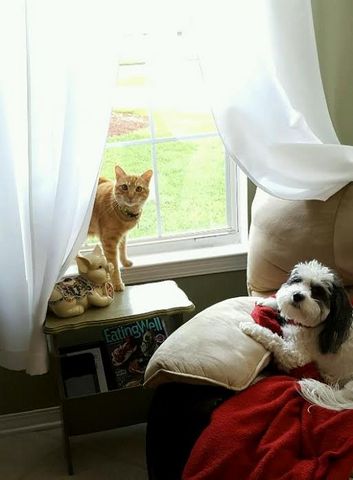 This photo is posted from Riley and Felix. Felix is in the window and Riley is sitting guard on the sofa. I am certain that they like their curtains to stay open. :) Thank you Riley and Felix for sending us your photo.
Several of you have sent me private emails with window suggestions and I thank you for the good information. It has stirred my creativity.
I hope you are enjoying the Windows around the world. If you have something interesting you think would make a good post that others might find interesting about simple home life just send me photos and description and I will tuck them in my file and possibly do a post.
Grandma Donna