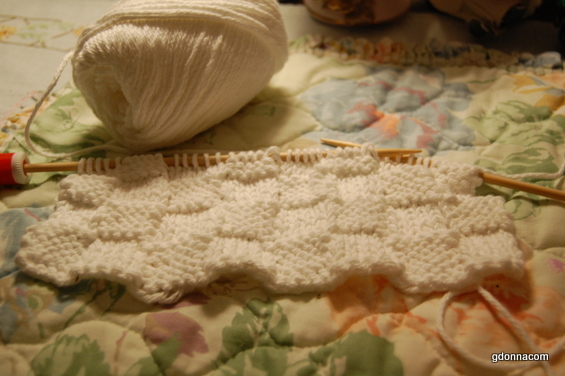 For the end of our fourth month living like 1942 I want to share with you a very special knitting pattern and discuss what we have been doing this month.
I cannot show you the completed wash cloth because this is it. I started knitting and have found this to be just beautiful and so I wanted to share it with you right away.
During world war 1 and world war 2 people at home wanted to help the fighting soldiers and they would knit socks, sweaters and vests for those fighting in the war. They knitted stump wraps and other items for wounded soldiers and knitters in a red cross unit during ww2 got the idea of knitting these wash cloths for the servicemen in hospitals. Later they found them so practical for their kitchen and bath they made them for their own use.
I was recently given this pattern from a friend of a family member that was cleaning out her mothers house after her mother passed away. She knew that we live like the past and shared with me some of her older books, clippings and even sheets I could use for fabric. In these fragile pages was this pattern explaining the story above.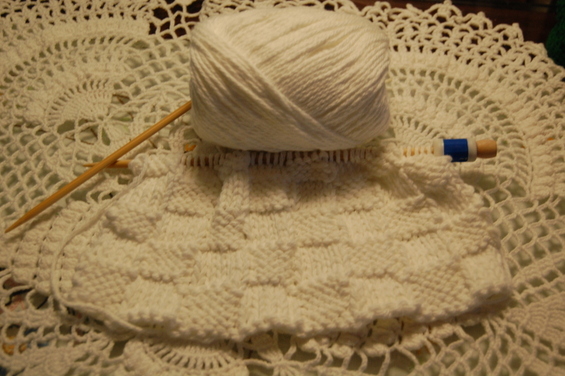 Here is the pattern for this bath cloth with instructions. It is suggested that 100 percent cotton was better than wool for this project.
Cast on 40 stitches
(K5,P5), across, ending with P5, for 5 rows.
Then (P5, K5) across, ending with K5, for 5 rows. Repeat pattern rows across to make a square. Try alternate pattern rows in white and color for an interesting effect.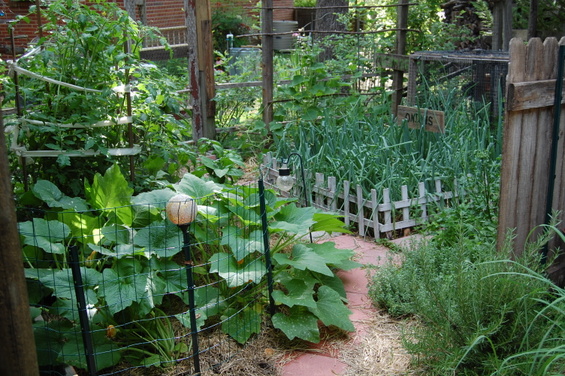 A brief secret victory garden update and then on to one more 40s project. Our tiny organic garden is doing very good. We are getting blooms now and if only the bees would come we would make better progress. Peppers, tomatoes, squash, onions, eggplants, garlic and herbs in this small space here.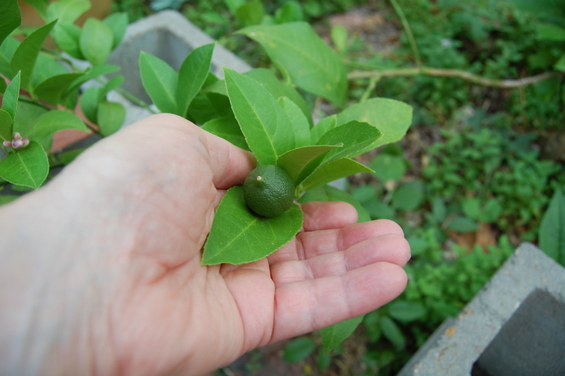 We have baby meyer lemons....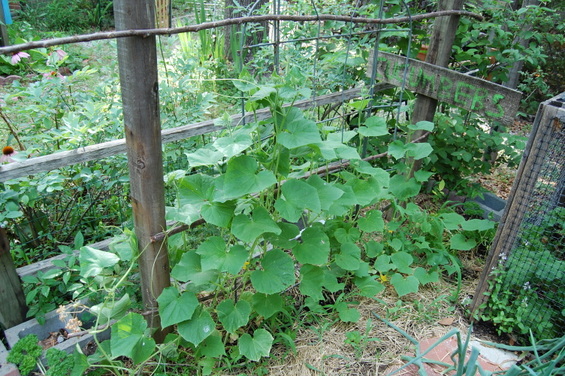 Cucumbers are running up the trellis...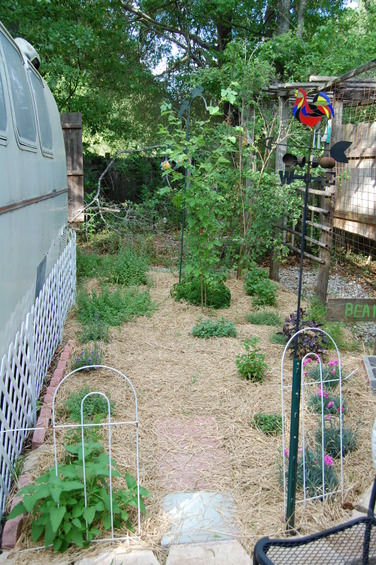 Even the newly transplanted herbs are stretching out.
In the early 1940's everyone was encouraged to grow food and thus came the name victory garden. We have been concentrating how to grow food in a small space. In the 1940s that is all some people had was a small space. I am getting concerned with the unsettled times we are living right now and it might be time to consider planting what you can and learning to grow vegetables and herbs. Look for seeds that are heirloom so you can save the seed from that vegetable to plant more later.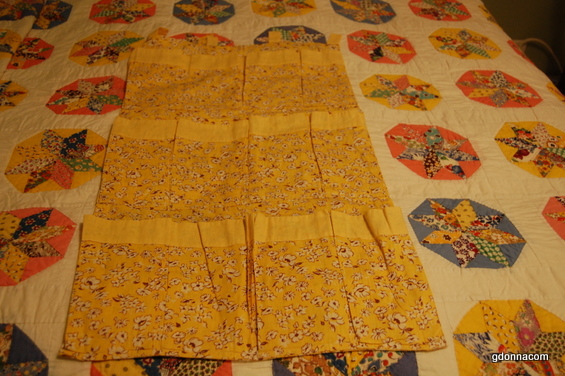 Another thing to share with you is this 1940s homemade shoe bag. three rows and 4 pockets per rows.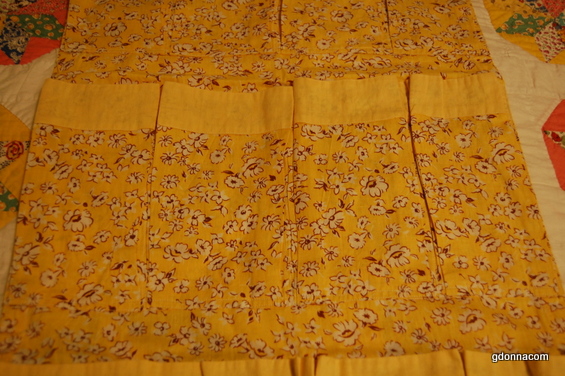 The four pockets across.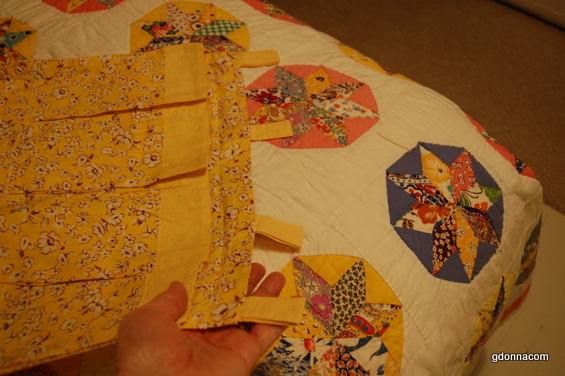 It has 4 tabs across to go over a rod and a solid fabric is at the top of each pocket.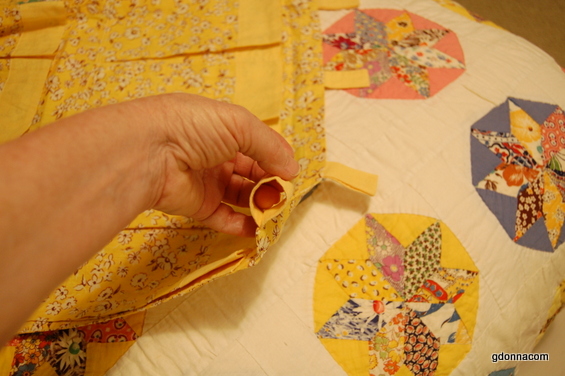 The rod goes through the tabs.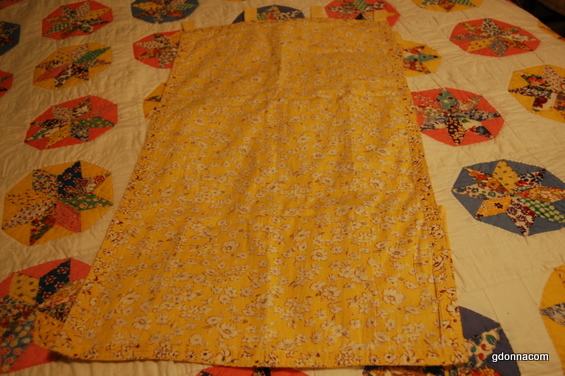 This is the back... this fabric finished size is 30inches by 17 inches it has a generous 3/4 fold so that would be and inch and half extra all the way around so it would need to be cut 33 length up and down by 20 inches across.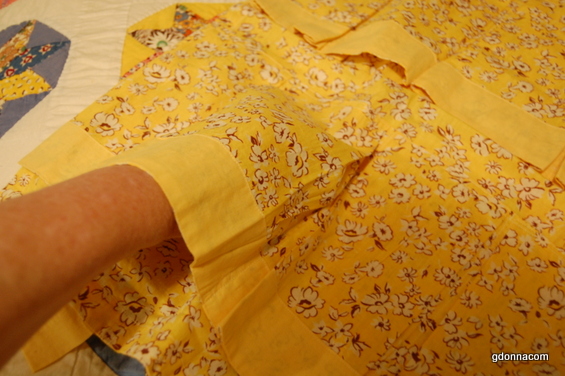 Each pocket is pleated with the bottom pleat sewn in and the top open. Each pleat is 2 and 1/2 inches on each side..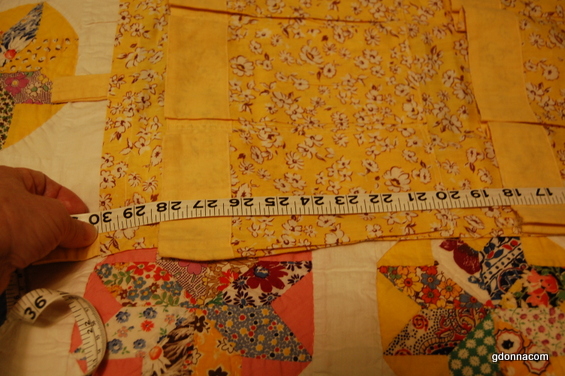 The finished length not including the tabs.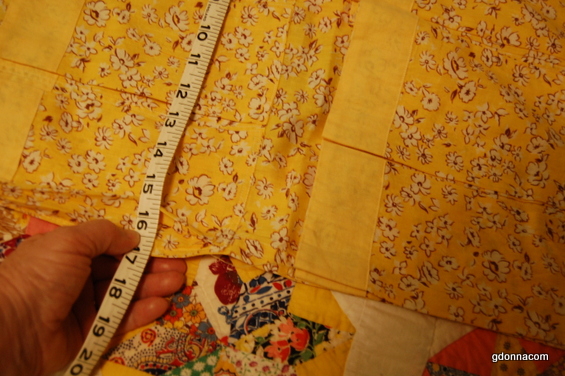 The width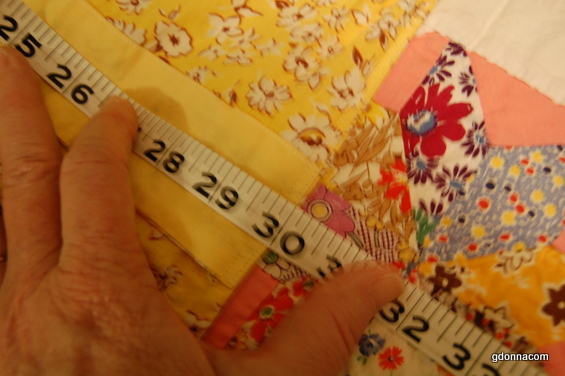 I unfolded the pleats and measured across the shoe bag part and a strip 30 inches so add 3/4 inch for each side to turn under so it would be 31 and 1/2 inches long...., each pocket is pleated 2 and 1/2 inches on each side.
Don't worry, at the bottom I have given the total measurements. :)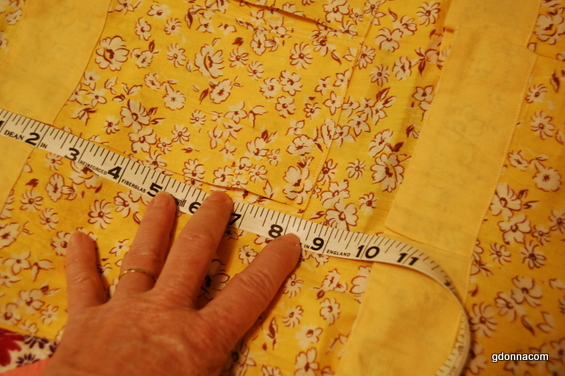 The bags are 8 1/4 inches top to bottom so add tucking a hem 1/2 inch hem top seam allowance and bottom would make that 9 1/4 inches. So the strip would be 31 and 1/2 inches by 9 1/4 inches to make one row of 4 pockets. Make sure you have the pattern of the print going in the correct direction.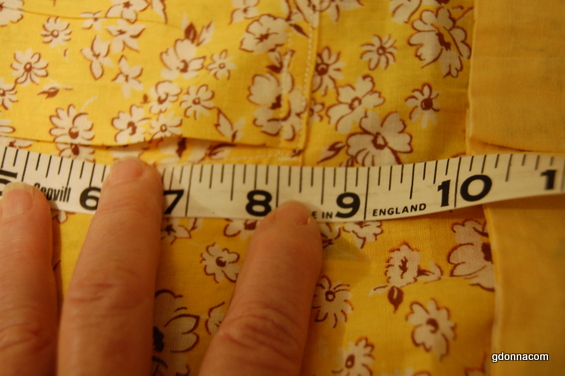 looks like it is about two inches between each row of shoe pockets.
The solid yellow trim is 2 inches and the top and the bottom of the solid are turned under 1/4 inch top / 1/2 or so bottom so make that a 2 and 3/4 inch by 31 inches solid strip times three strips.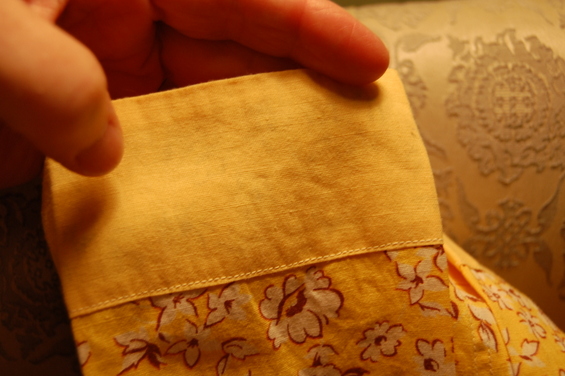 A closer look at the top of the shoe bag. The top is sewn together first and turned.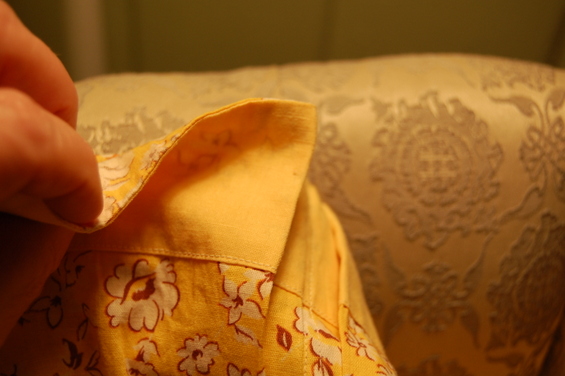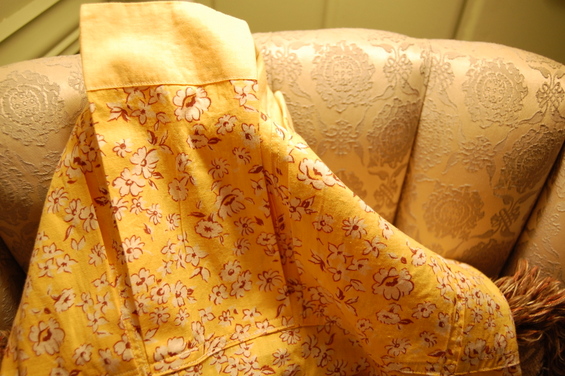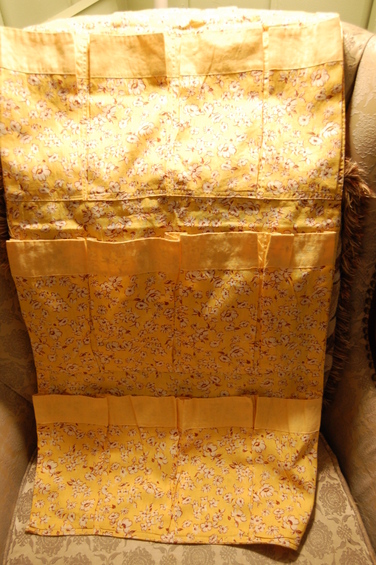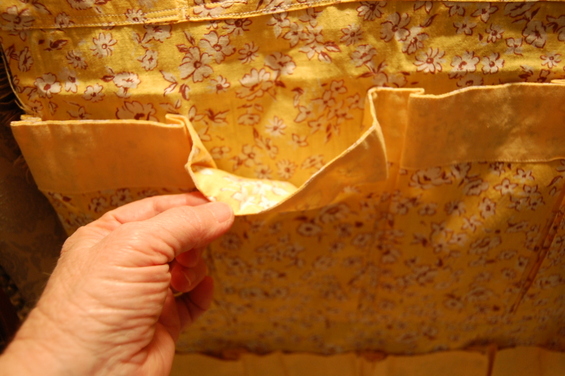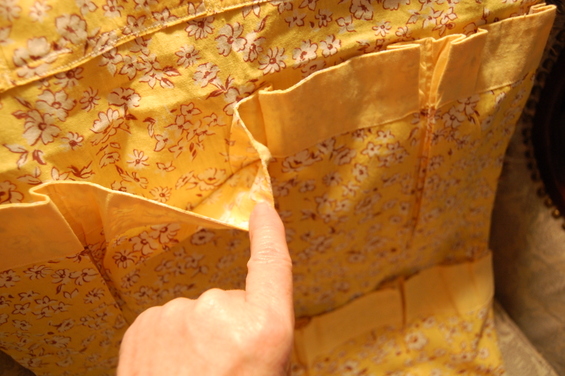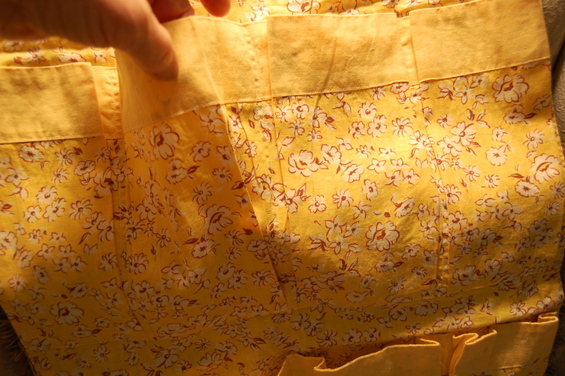 So here is what you need.
1 - main fabric 33 inches by 20 inches
3 - 31 and 1/2 inches by 9 and 1/4 inches main fabric pieces for shoe pockets
3 - 2 and 3/4 by 31 inches solid color fabric for shoe pocket top trim.
Solid fabric for loops or you could put another type of hooks.
You can do this, yes you can :) I can see this with so many purposes, do a one row bag for a children's sock sorter. Hair brush holders, shoe bag, belts. All kinds of projects. If you should do any of these projects in the last several posts send me your pictures because I would love to see them :)
This month we have been concentrating on building our garden soil, finding places we can grow vegetables, we have continued to work on getting rid of clutter, removing some of the modern things that feel they do not have much purpose and I am trying to learn all I can how to take care of plants, how to prune properly and how to make soil in an area that has poor soil. This seems to be what is very important to do right now.
Grandma Donna