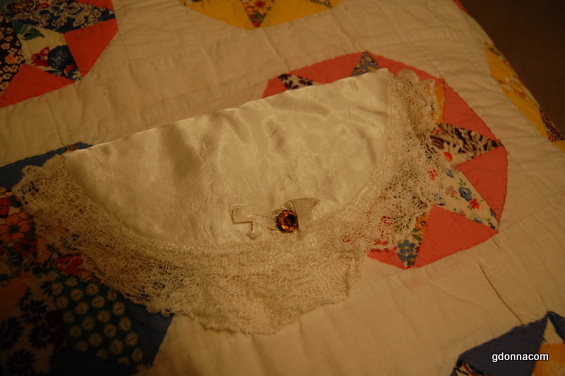 The handkerchief case...
This is part two of Vintage accessories. My mother had the most beautiful accessories. When I was a child I loved to peek into my mothers dresser drawers. I was respectful of the lovely things in her drawers and I knew not to move them from where they were kept.
I was a child and I knew that when I became an adult then in time I could have these lovely things. Time has changed many things and children of today have many grown up things given to them by their parents. The clothing that some children wear today is very inappropriate. If it was not appropriate when I was a child it is still not appropriate today.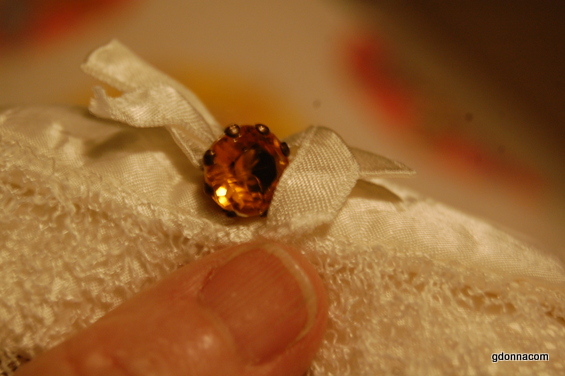 The jewel on the handkerchief case....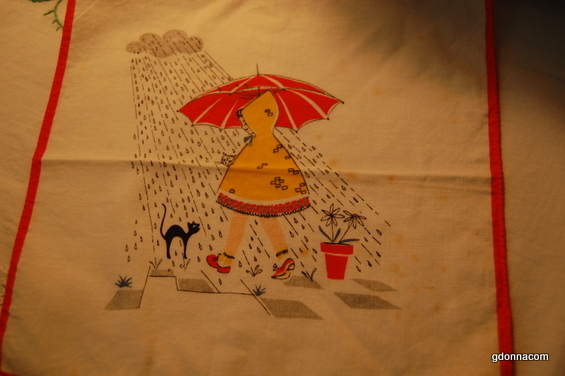 Children had a child's handkerchief.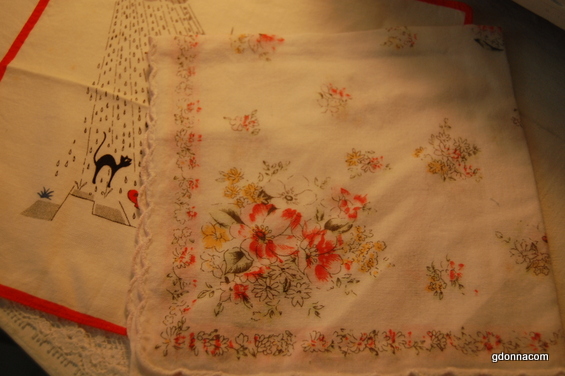 An adult had an adult handkerchief.
I am going to be very blunt about something here. I have seen little girls underclothing today. A parent should never encourage a store to sell such clothing for a child.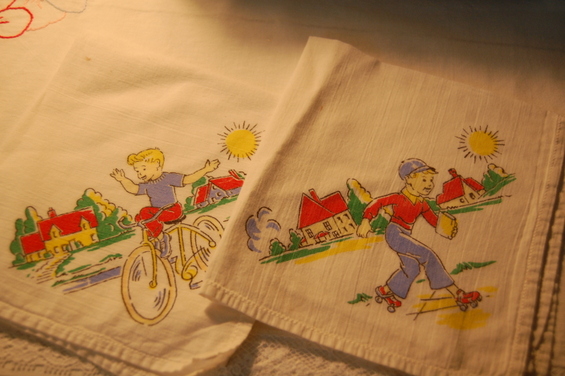 Do not purchase it and insist that they sell age appropriate clothing. Do not buy it for your child. Encourage a child to be a child until they are an adult.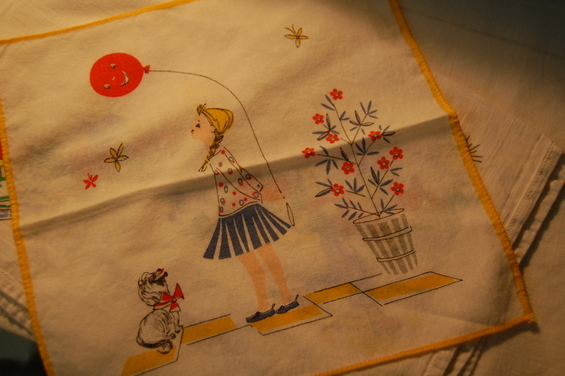 It was truly a different time we once lived. Many people do not even carry a handkerchief anymore.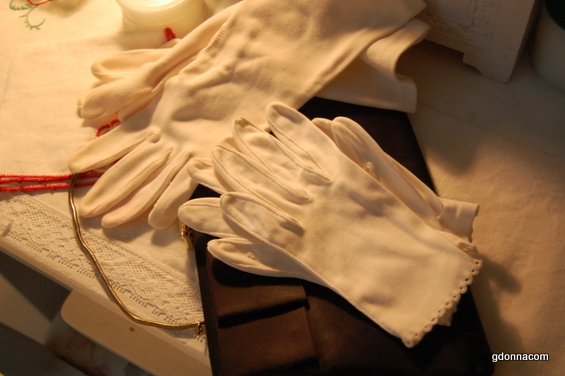 My mothers gloves on top my youth gloves bottom and I have my small child's glove somewhere packed away but could not find it for the picture.
When my mother and I would go to the store, church or to visit someone we would dress appropriate. We dressed up even to go shopping. We wore a hat, gloves and dress shoes.
I am not saying all of that is necessary today but we could do much better.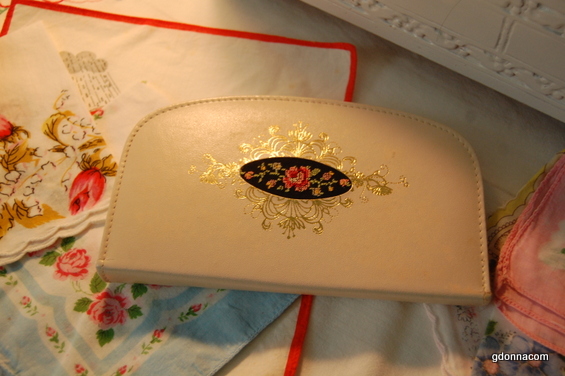 We were more careful with our things in the past. This is a manicure case from the past..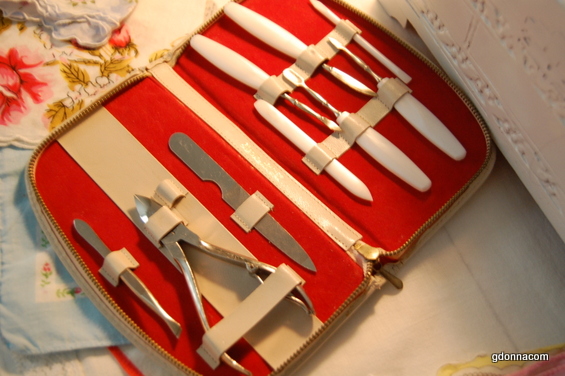 We kept our nails clean and tidy as well as our clothes and shoes. Cleaning and polishing our shoes was part of our normal routines. Cleaning our nails, pin curling our hair, soaking and washing our hair brushes and combs.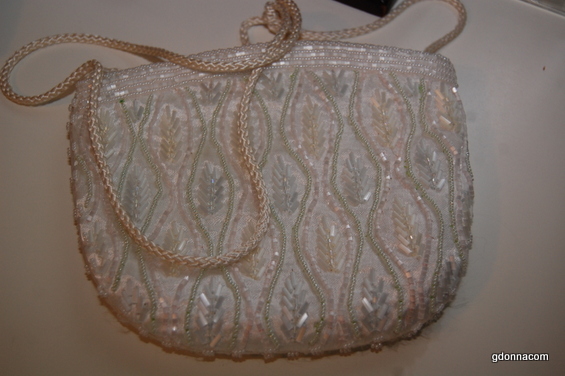 This was one of my mothers dress purses. Women had less clothing, purses and shoes than women have today but what they did have was better made and absolutely more beautiful.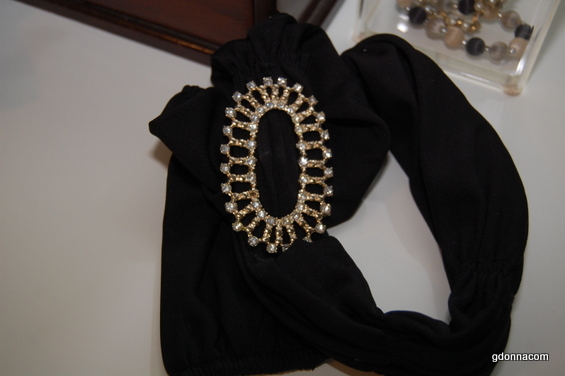 Ladies would wear accessories such as scarves and brooches.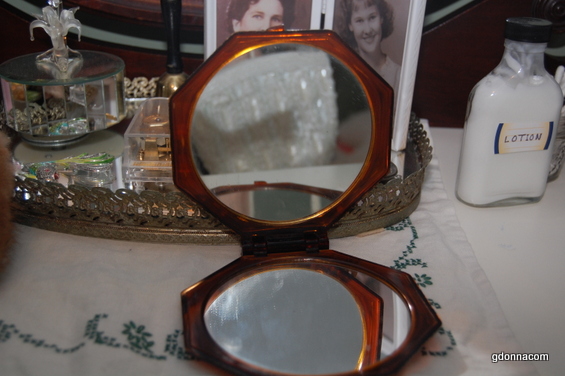 I have said many times on my blog that we cannot live in the past but we can live like the past. Even if we just make the change to live more modest we could help to inspire others to do the same.
When I did become an adult clothing was changing and women were starting to wear pants and clothing was not the same anymore. My husband and I had little money and I did not have the pretty things of the past and when we did get more financially able to purchase these things they were no longer in style.
I wish I had not paid any attention to style because we went through some really strange styles and still are doing that today. I do hope the prettier clothing of the past comes back around.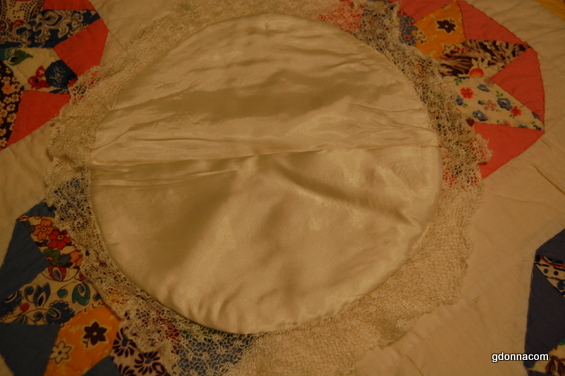 Back to the handkerchief case.....This is the inside.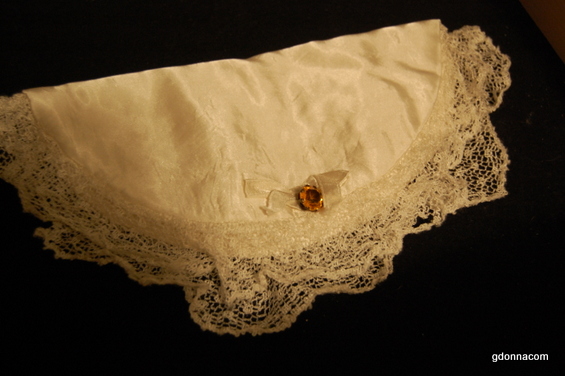 The outside...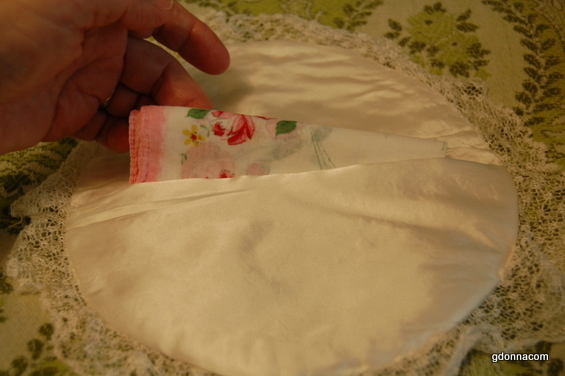 The handkerchief pocket...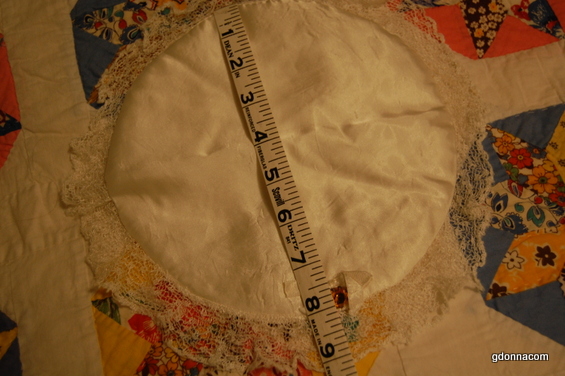 If you want to make this handkerchief case just remember to cut it larger than 8 inches to give yourself seam allowance. It has lace inserted between the front and back satin, it has padding inside that (similar to thin quilt padding) and then the pocket is placed on top of that. The pocket is one circle folded in half with padding. It is a half circle.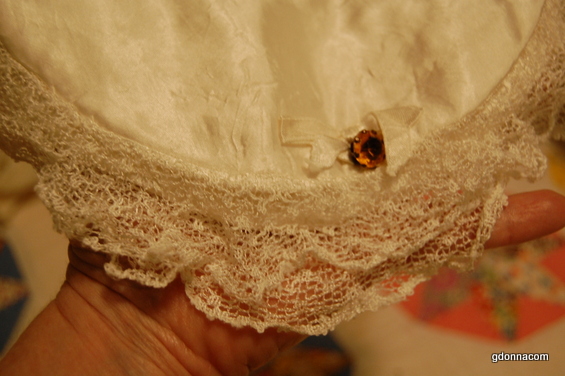 The jewel button and ribbon is for decoration and does not have a snap behind it.
One way to bring back some of the styles is to simply sew them. :)
Grandma Donna