So far we have started reading the Journal of Albert and Gladys, the Diary of Theodore, the diary of Edith and the diary of Phoebe.
This post, we continue the diary of Phoebe, here is a link to January if you did not read it or need a refresher.
https://gdonna.com/living-like-the-past/phoebe/
William and Phoebe married in 1900 and never had children. They have had boarders off and on renting rooms through the last 10 or so years but not at the beginning of 1939 diary.
The Griffith's live next door of the adjoining house above.
William has a brother named Harry and a sister named Frances and two other brothers, John and James.
Their niece Ruth age 17 lives with them and is a very social teenager.
William's mother Carvenia age 87 at the time of this handwritten diary 1939
Phoebe has brothers William, Herbert and a sister Sallie. There is also a older niece Jennie.
Phoebe's mother and father died 3 months apart in 1911.
Also the first few months of these Diaries are when it is very cold, rainy and snowing. Consider the time these diaries are written there is not a lot going on. Come spring and thaw there is more to do.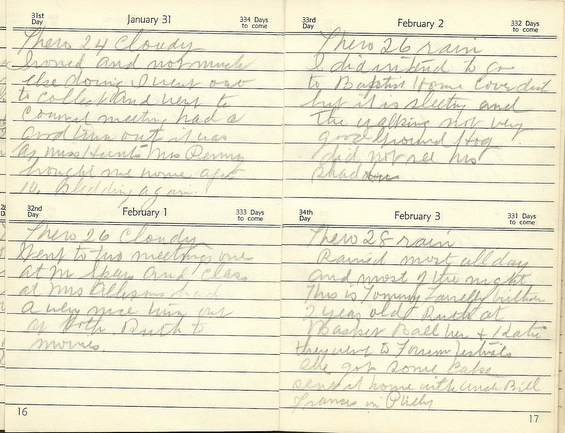 Diary, 1939 Phoebe writing
Feb 1, 1939
Thero 26 Cloudy
Went to two meetings, one at M Spars and class at Mrs. Allison had a very nice time at both. Ruth to movies.
Feb 2
Thero 26 rain, I did intend to go to Baptism Home Cover dish but it is sleeting and the walking not very good. Ground Hod did not see his shadow.
Feb 3
Thero 28 rain, Rained most all day and most after night. This is Tommy Fanelly birthday, 2 years old. Ruth at Basket ball her and Katie, they went to Forum festivals, she got some cake, sent it home with uncle Bill, Frances in Philly.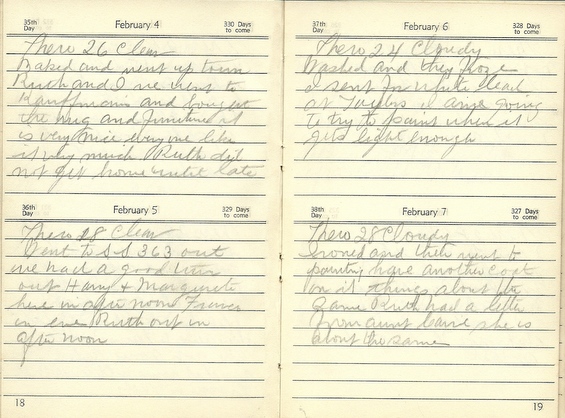 Feb 4, 1939
Thero 26 clear, Baked and went up town. Ruth and I we went to Kauffmon's and bought the rug and furniture it is very nice, everyone likes it very much. Ruth did not get home until late.
Feb 5,
Thero 18 clear, Went to S.S. 363 out we had a good time out . Harry and Margarite here in afternoon, Frances in eve, Ruth out in afternoon.
Feb 6,
Thero 24 Cloudy
Washed and they froze. I sent for white lead (paint) at Taylors, I am going to try to paint when it gets light enough.
Feb 7
Thero 28 cloudy
Ironed and then went to painting, have another coat on it things about the same. Ruth had a letter from Aunt Carrol, she is about the same.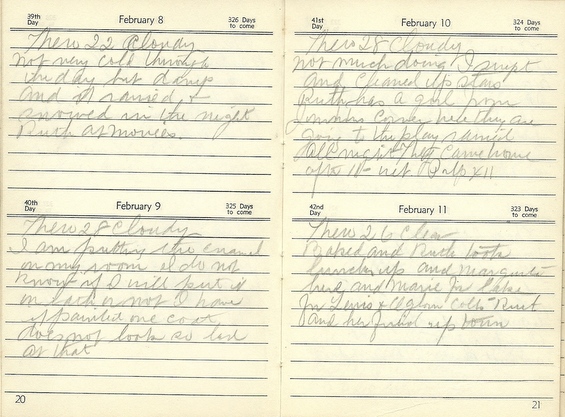 Feb 8, 1939
Thero, 22 cloudy
Not very cold though the day bit damp and it rained and snowed in the night. Ruth at Movies.
Feb 9
Thero 28 cloudy
I am putting the enamel on my room l do not know if I will put it in bath or not. I have it painted one coat. does not look so bad at that.
Thero 28 Cloudy
Not much doing. I swept and cleaned upstairs. Ruth has a girl home ?Jamenders Corvey here they are going to the play. rained all night. They came home after 11 wet. Prov? X11
Feb 11
Thero 26 clear. Baked and Ruth took luncheon up and near quiet here and Marie, Jn lake, Jn Lewis and Cl Glover Colbs, Ruth and her friend up town.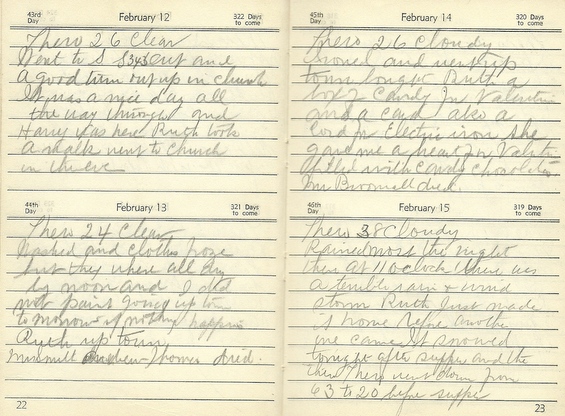 Feb 12, 1939
Thero 26 clear, Went to S.S. 343 out and a good turn out up in Church. It was a nice day all the way through and Harry was here. Ruth took a walk went to church in the eve.
Feb 13
Thero 24 Clear
Washed and Clothes froze but the were all dry by noon and I did not paint. going up town tomorrow if nothing happens. Ruth up town. Mrs Mill Andrew Thomas died.
Feb 14
Thero 26 cloudy
Ironed and went up town bought Ruth a box of candy for Valentines and a card, also a cord for Electric iron. She gave me heart for valentine filled with candy chocolates. Mr Broomall died.
Feb 15
Thero 38 Cloudy
Rained most the night then at 11:00 there was a terrible rain and wind storm. Ruth just made it home before another one came. It snowed tonight after supper and then the thero went down from 63 to 20 before supper.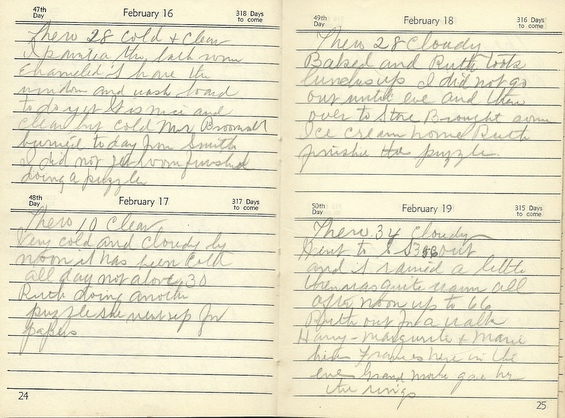 Feb 16, 1939
Thero 18 cold and clear. I painted the bathroom enameled, still have under window and washed board to do yet. It is nice and clear but cold. Mrs Broomall burried today from Smith. I did not get room finished, doing a puzzle.
Feb 17
Thero 10 clear
A very cold and cloudy by noon it has been cold all day not above 30. Ruth doing another puzzle she went up for papers.
Feb 18
Thero 28 Cloudy. Baked and Ruth took lunches up. I did not go out until eve and then over to store brought some Ice cream home. Ruth finished the puzzle.
Feb 19
Thero 34 cloudy. Went to S.S. 116 out and it rained a little then was quite warm all afternoon up to 66. Ruth out for a walk. Harry - Margarite and Marie here Frances here in the eve Grand Mother gave her the rings.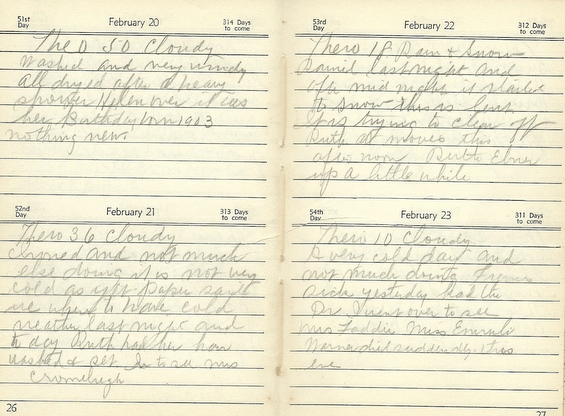 Feb 20, 1939
Theo 50 cloudy. Washed and very windy all dryed after a heavy shower. Helen over it was her Birthday born 1903. Nothing new Feb 21
Thero 36 cloudy. Ironed and not much else doing it is not very cold as yet. Paper said we were to have cold weather last night and today. Ruth had her hair washed and set. In to see Mrs. Cromeleigh?.
Feb 22
Thero 18 Rain and Snow. Rained last night and after mid night it started to snow ? ? ?. It is trying to clear off. Ruth at movies this afternoon. Ruth Elmer up a little while.
Feb 23
Thero 10 Cloudy. A very cold day and not much doing. Francis sick yesterday, had the Dr. I went over to see, Mrs. Faddir, Miss Emmli Warner died suddenly this eve.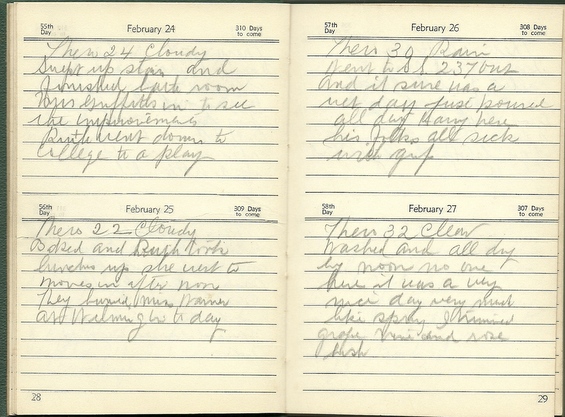 Feb 24, 1939
Thero 24 cloudy. Swept up stairs and finished bath room. Mrs Griffith (next door) in to see the improvements. Ruth went down to college to a play.
Feb 25
Thero 22 cloudy. Baked and Ruth took lunches up, she went to movie in afternoon. They buried Miss Warner at Wilmington today.
Thero 30 Rain. Went to S.S. 237 out and it sure was a wet day just poured all day. Harry here his Folks all sick with grip.
Feb 27
Thero 32 Clear. Washed and all dry by noon no one here it was a very nice day, very much like spring. I trimmed grape vine and rose bush.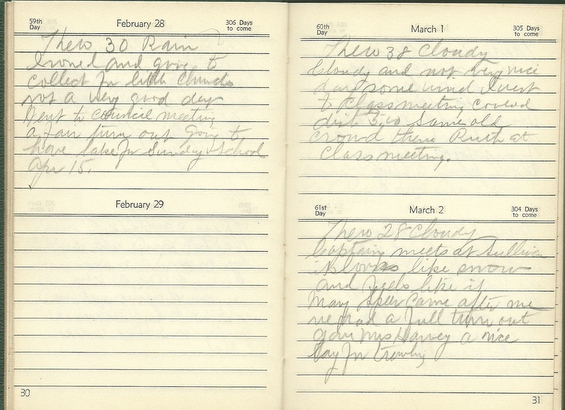 Feb 28, 1939
Thero 30 Rain. Ironed and going to collect for ? churches was a very good day. Went to council meeting a fair tun out. going to have or hove? lake for Sunday School Apr 15.
Feb 29
Nothing this day.
March 2
Thero
38 cloudy. Cloudy and not very nice day, some wind. I went to class meeting covered dish 5.00 Same old crowd there Ruth at class meeting.
March 2
Thero 28 Cloudy
Captain meets at Sullivan. It looks like snow and feels like it. Mary Speer came after me we had a full turn out, gave Mrs. Haney a nice day for traveling.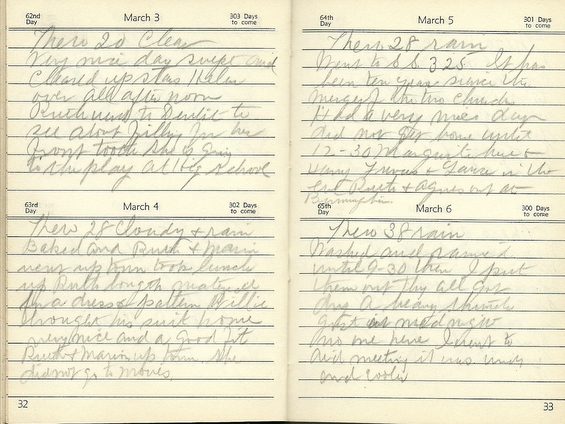 March 3, 2016
Thero 20 Clear. Very nice day. swept and cleaned upstairs. Helen over all afternoon. Ruth was to Dentist to see about filling in her front tooth. She is going to the play at High School.
March 4,
Thero 28 Cloudy and rain. Baked and Ruth and Marin went uptown took lunches up Ruth bought material for a dress and pattern. Willie brought his suit home very nice and a good fit. Ruth and Marin up town. She did not go to movies.
March 5
Thero 28 rain. Went to S.S.325. It has been ten years since the merger of the two churches. I had a very nice day and not get home until 12:30 Margarite here and Harry, Frances and Lance in the eve. Ruth and Agnes out at Birmingham.
March 6
Thero 38 rain. Washed and rained until 9:30 then I put them out they all got dry. a very heavy gust at midnight. No one here. I went to aid meeting it was windy and cooler.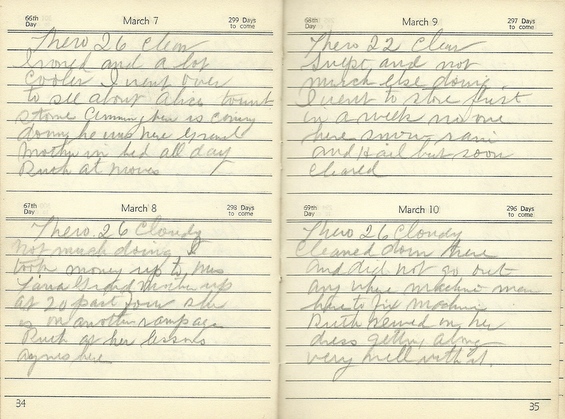 March 7, 1939
Thero 26 clear. Ironed and a lot cooler. I went over to see about Alice. _______________ was here. Grand Mother in bed all day, Ruth at movies.
March 8
Thero 26 Cloudy, Not much doing. took money up to Mrs. Lana. Grand Mother up at 20 past four she is on another rampage. Ruth at at her lessons. Agnes here.
March 9
Thero 22 Clear. Swept and not much else doing. I went to store first in a week no one here. snow rain and hail but soon cleared.
March 10
Thero 26 Cloudy. Cleaned down here and did not go out anywhere. Machine man here to fix machine. Ruth sewed on her dress getting along very well with it.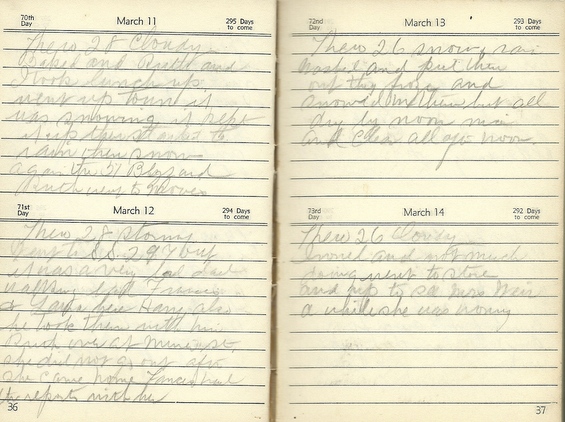 March 11, 1939
Thero 28 Cloudy. Baked and Ruth and I took lunch up. Went up town it was snowing it kept it up then started to rain then snow again (something) blizzard. Ruth went to Movies.
( I just have to say something here, Ruth would have made a wonderful mail carrier since she could go through Wind, Rain, Hail, Storms and a Blizzard to go to the movies).
March 12
Thero 28 stormy
Went to S.S. 297 out. It was a very bad dark walking back?? . Frances and Laura here, Harry also he took them with him. Ruth was at Mina St. she did not go out after, she came home. Frances had the reports with her.
March 13
Thero 26 snow and rain.
Washed and put them out, they froze and snowed on them but all dry by noon nice and clear all afternoon. (This is me, Gdonna giving a message to a family member, Evelyn, you should haul your laundry over to Pam's and try hanging the laundry in the snow and see what happens, Ha! Also some of you blog readers that have been snowed in a lot this winter. I cannot even get mine to hardly dry on a sunny day here in the south in the winter.)
March 14
Thero 26, Cloudy. Ironed and not much doing. Went to store and up to see Mrs. Weir awhile she was ironing.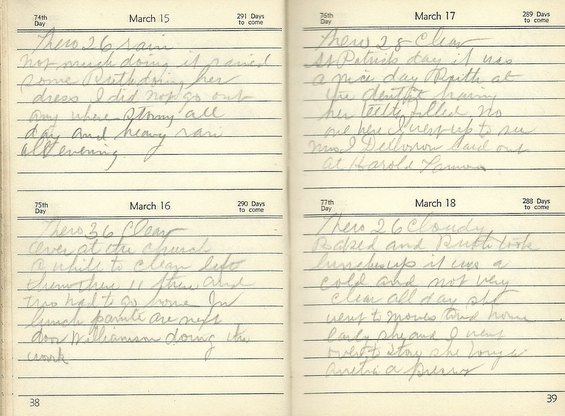 March 15, 1939
Thero 26, rain. Not much doing it rained some. Ruth doing her dress. I did not go out anywhere stormy all day and heavy rain all evening.
March 16
Thero 36 Clear. Over at the church awhile to clean. Left them there 11 after and two had to go home for lunch. Painters are next door. Williamson doing the work.
March 17
Thero 28, clear. St Patricks day, it was a nice day. Ruth at the dentist having her teeth filled. NO one here. I went up to see Mrs. J Dellonon? card out at Harold Lamons.
March 18
Thero 26, Cloudy. Baked and Ruth took lunches up it was a cold and not very clear all day. She went to Movies and home early she and I went over to store she bought Anetie a present.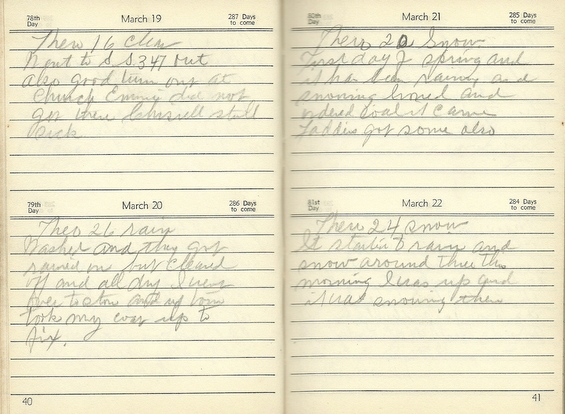 March 19, 1939
Thero 16, Clear. Went to S.S. 347 out. Also good turn out at Church. Emmily did not get there Chriswell? still sick.
March 20
Theo 26, rain. Washed and they got rained on but cleared off and all dry. I went over to store and up town took my coat up to fix.
March 21
Thero 20, Snow. First day of spring and it has been rainy and snowing. Ironed and ordered coal it came. Faddie got some also.
March 22
Thero 24, snow. It started and rain and snow around three this morning. I was up and it was snowing then.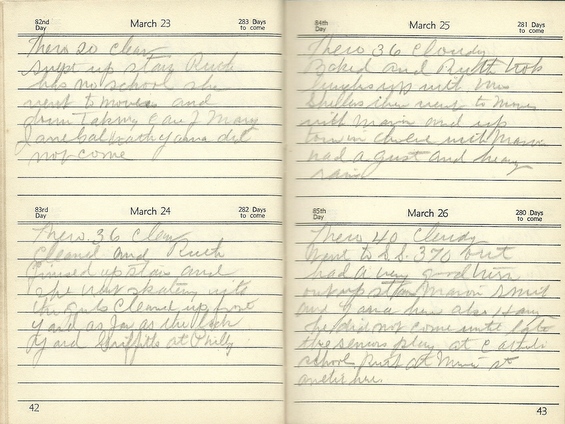 March 23, 1939
Thero 20, clear. Swept up stairs. Ruth has no school, she went to movies and down taking care of Mary Jane Galbreath. Lana did not come.
March 24
Thero 36 Clear
Cleaned and Ruth finished upstairs and she went skating with the girls. Cleaned up front yard as for as the back yard. Griffiths at Philly.
March 25
Thero 36, Cloudy. Baked and Ruth took lunches up with Mrs Shillens then went to Movies with Marvin and up town in the eve with Marvin. Had a gust and heavy rain.
March 26
Thero 40 Cloudy. Went to S.S. 370 out had a very good turn out. Up stairs Marion Smith and Lana here also Harry. He did not come until late the seniors play at Catholic school. Ruth at Miner? street Anetie here. (There is a Miner Street 4 blocks away)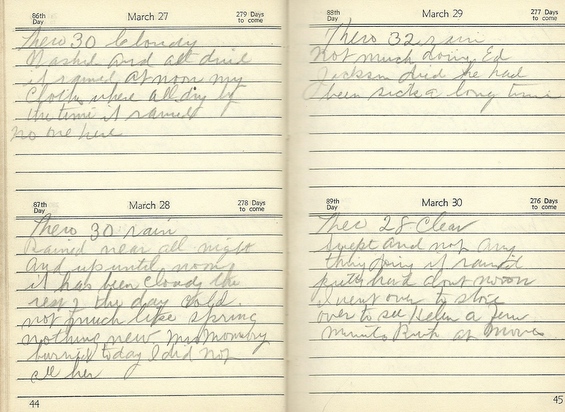 March 27, 1939
Thero 30, Cloudy
Washed and all dried. It rained at noon, my clothes were all dry by the time it rained. No one here.
March 28
Thero 30, rain.
Rained near all night and up until noon. It has been cloudy the rest of the day cold. Not much like spring, nothing new. Mrs. Mombry buried today, I did not see her.
March 29
Thero 32 rain. Not much doing. Ed Jackson died he had been sick a long time.
March 30
Thero 28 clear. Swept and not anything doing it rained pretty hard about noon. I went over to store over to see Helen a few minutes. Ruth at movies.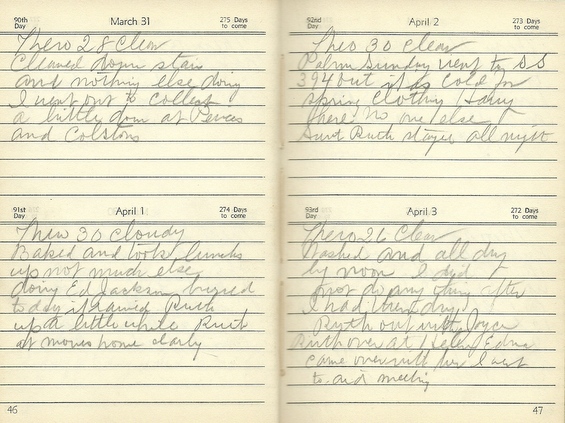 March 31, 1939
Thero 28, clear.
Cleaned down stairs and nothing else doing. I went out to collect a little down at Pevices and Colstons.
End of February and march. Three days in April up above for sneak peek.
Grandma Donna