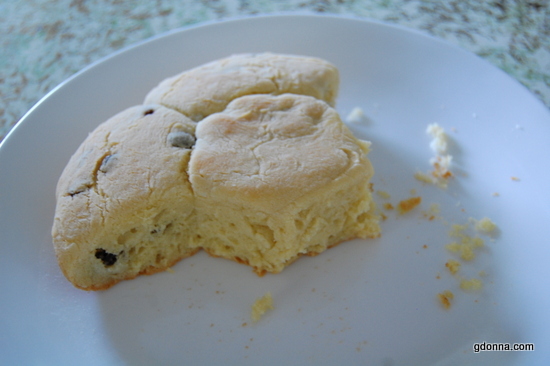 Next time I make scones I will take pictures of the entire process. I was not sure they would turn out but they did and are wonderful! These were so good I am posting this recipe right away.
My husband and I have been avoiding all gluten to see if it makes a difference with a few issues and I must say that we do miss certain foods that has gluten. My mindset has been to simply go on to other foods that we can eat but when it comes to gravy, salmon patties and other things I decided to give a gluten free flour mixture a try. I purchased the King Arthur gluten free multi purpose flour. It is very expensive but I will not use much.
I wanted to surprise my husband with a small batch of scones so I combined my regular scone recipe with our regular biscuit recipe, tweek it a bit so the gluten free mix would rise and to my surprise these scones were so delicious that we ate most of them before I thought to take a pictures.
I have not baked anything with the gluten free flour because I did not want to add other ingredients such as xantham gum. After pondering a bit I decided to see what I could come up with.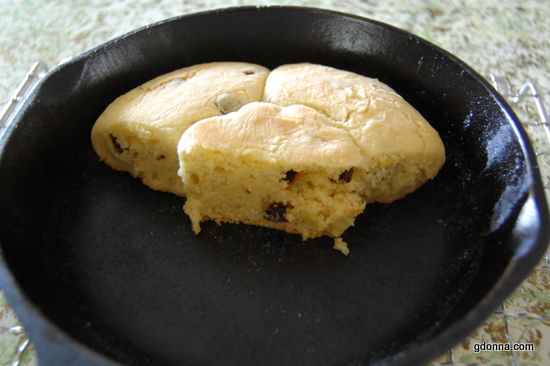 The recipe for six scones
I used a small cast iron skillet, you could use muffin tins
Lightly grease your pan with light olive oil or oil
1/4 cup plain greek yogurt or good quality plain yogurt that is not flavored
1 Tablespoon buttermilk
1/4 teaspoon (slightly heaping) baking soda
Mix these three ingredients in a bowl and set aside. It will be fluffy
1 cup gluten free multi purpose flour
1/4 cup organic sugar
1/2 teaspoon baking powder
1/8 teaspoon cream of tarter
Whisk these dry ingredients in a large bowl
1/4 c real butter
1 small egg beaten
1/3 cup raisins
Cut or rub in the butter into the flour mixture, then add the set aside yogurt mixture, add the beaten egg and the raisins. Stir together until mixed but do not over stir this mixture. Do this with a spoon and not a beater.
Put about 1/3 cup of the gluten free flour in a small bowl and set aside
Gently press the dough evenly in the bowl and with a knife divide the dough into six equal parts then spoon out one scoop and plop that into the small bowl that has the gluten free flour. Gently toss the flour around this scoop then gently lift it up and toss it back and forth in your fingers to shake off the flour, place it in your pan and continue until all are in the pan.
Brush a very very light coat of extra light olive over the top then cover and let it sit for 15 minutes before baking. You will want to preheat your oven during this time.
Bake at 350 degrees for 25 minutes. You might have to adjust depending on your oven.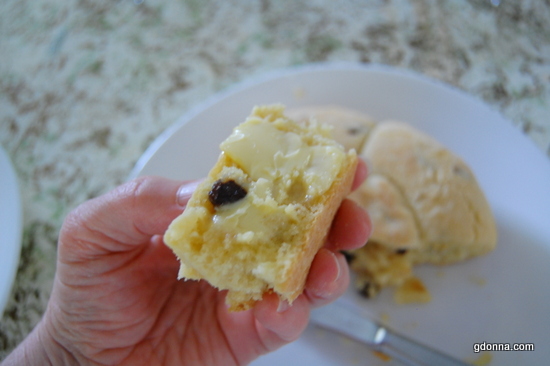 We eat our scones with real butter because they are so good this way.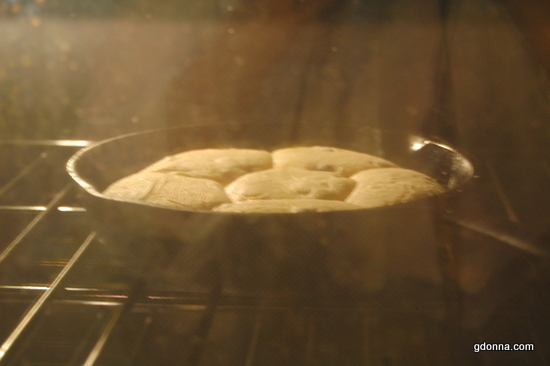 I did think to snap a picture when they were in the oven
If you go to homemade southern biscuit recipe on my website located under cooking from scratch you can see pictures of how we toss the soft biscuit dough in flour. The biscuit recipe is not gluten free but it is done in the same manner. I will take pictures next time I make these scones and repost. Good luck and enjoy!