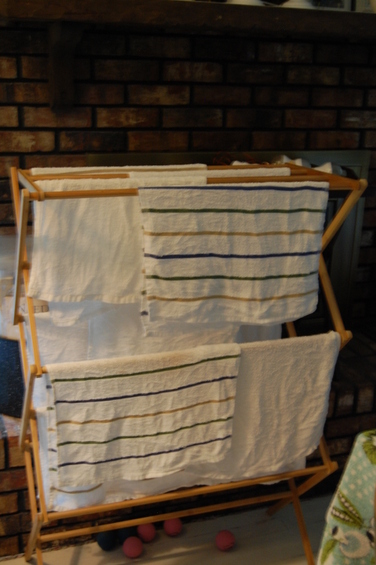 Wow, May has been a whirlwind here in our home. We have been so busy with normal things such as gardening and housekeeping but adding in finding ways to live with less use of electricity and water makes for some sore muscles.
By the way those balls in the photo above belong to our pets. Our little dog Bernadette collected those for that spot. I am guessing she wanted to dry them.
The right tools and equipment is very important to live with less grid such as having a way to dry clothes when it is rainy outside.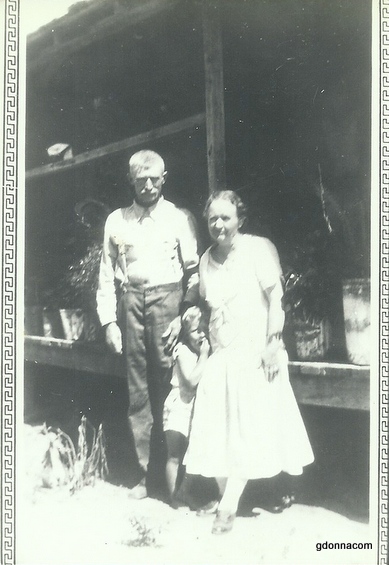 We are fortunate that we have some family living today that are in their 90s and have clear minds for us to ask questions but "our" family in their 90s all lived rural, without electricity so getting information about city life in 1942 has had to come from the newspapers from that time.
Many people think of the 1940s as a time with pretty clothes and hairstyles and people pulling together for the war effort. But our rural families tell us life was much the same. They were working hard on the farms, they did not have electricity and running water and that is just how they lived. They raised families, grew crops and took care of themselves without any electricity or running water.
Our family members that are now in their 80s lived city and rural. These folks were born in the 1930s and were very young during the 1940s. So we are trying to figure it out. One common answer I have found that is similar is that in 1942 they lived mostly as they did in the 1930s.
So we are doing our best to use minimal grid living in the city and doing our best to somewhat resemble 1942. To do this we have to get off track to get on the right track.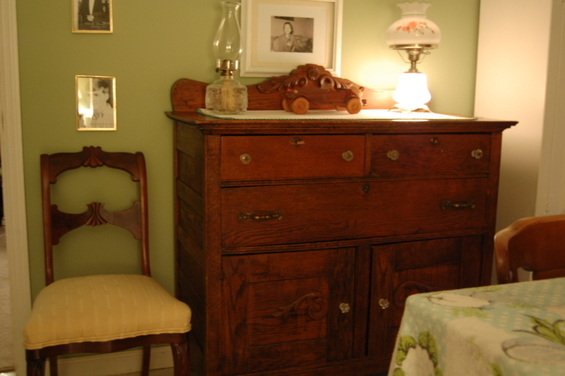 Slowly we have been replacing our modern furnishings with pieces from the past because these experiments we have been doing the last few years of living like the past has shown us this feels right.
The older the furnishings the better because in 1942 the furnishings in homes would have been furniture from the 1800s to the end of 1930s. Furniture was built to last and passed down. They did not change furniture and decorate often as we do today. Also in 1942 they were just coming out of the great depression.
We are fortunate to already have some old furniture. My Granny's old trunk from the mid 1800s. A cabinet that belonged to my mother and I still have my bedroom suite built in the 1940s. We have not gone into debt to replace the modern cheaper furniture we simply pulled a few pieces from storage, found some things in thrift stores and Charles has repaired old broken pieces that have been discarded by others.
Our intentions are to have older functional furnishings in our home. We have no desire for non functioning decorative pieces but rather pieces that are being used for the purpose intended. What is happening along this journey is we are wanting more and more to truly live this way. Would we like to live off the grid on a farm? Yes we would be we cannot do that now so we are doing the best we can to live resembling a mixture of city and rural life from the 30s and 40s.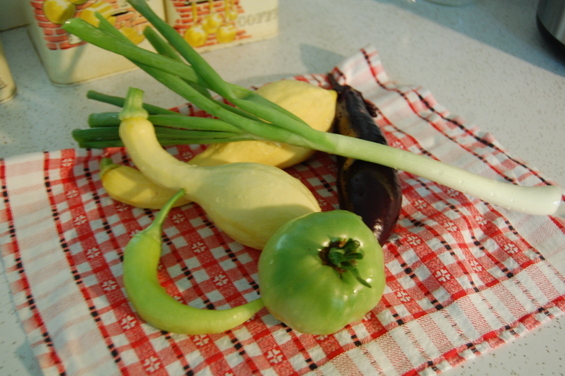 We are starting to harvest a few vegetables from our Victory garden. I encourage you to grow some of your food. A large or small garden or buckets on a patio or pots on a balcony, just do your best to have some type of fresh food growing because picking something fresh and eating it right away is so good for us. Even if it is just a small amount, it can be put in a salad or stir fry.
And that green tomato? When you live in the deep south you just gotta have a little bit of fried green tomatoes. and it was some more good!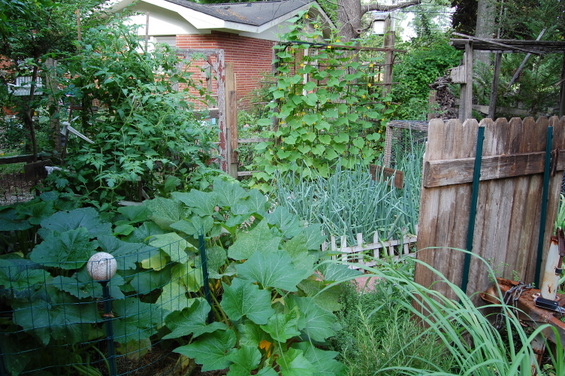 Each day it is getting harder to walk in the secret victory garden as the plants are spreading out onto the stepping stones.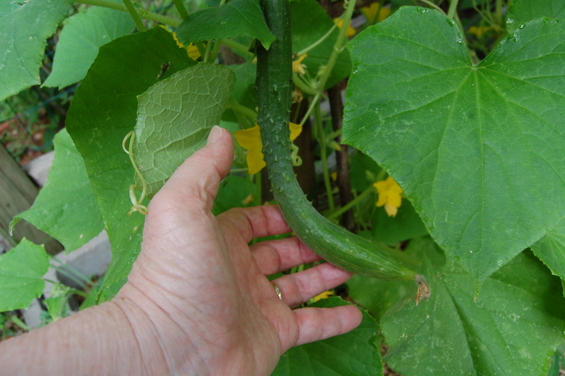 This year I planted 4 types of cucumbers. I had a mixture of leftover seeds and I was not sure if they would grow so I mixed them up and planted them. I believe this is a Suyo Long burpless cucumber that will grow 12 to 18 inches.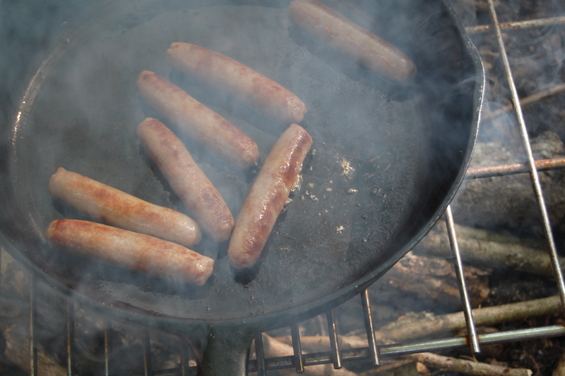 Charles cooked sausage and biscuits over a wood campfire this weekend as part of our living with less grid.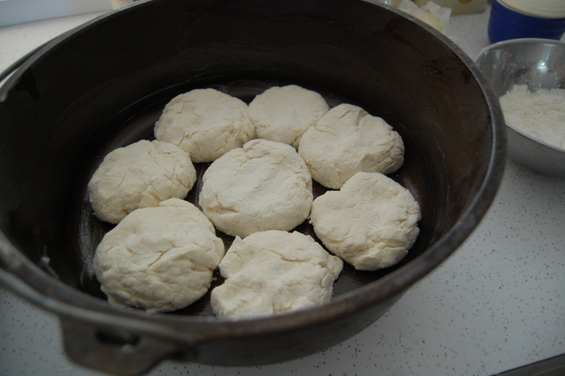 The biscuits was a bit more challenging since we were not using anything but pecan wood from limbs that fall from the trees. We do not eat biscuits and sausage much anymore, we are trying to eat more healthy but we do eat them every so often.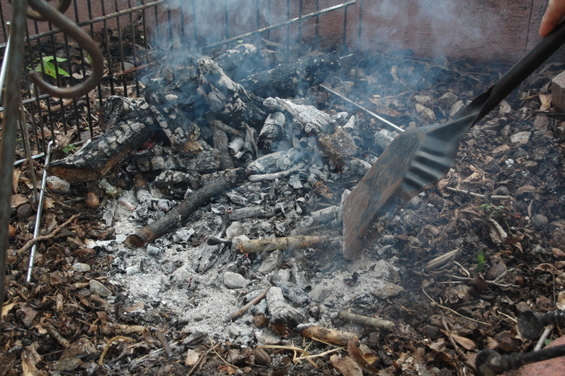 He shoved the hot coals around to make a place to set the dutch oven...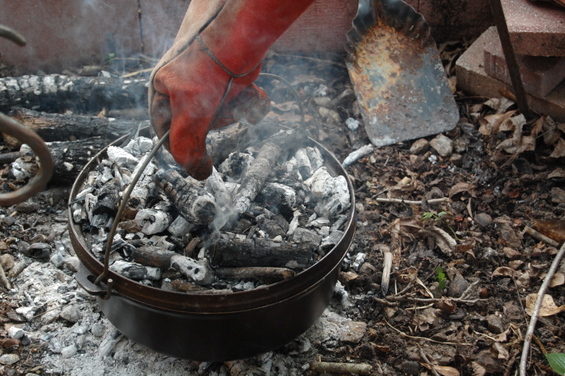 A good flat top dutch oven is a good thing to have for campfire cooking. Packed coals on top and then piled hot coals around the side. We have rocks in the bottom of our fire pit so the rocks were hot under the dutch oven.
This day we were doing an experiment using only small limbs from the trees and straw.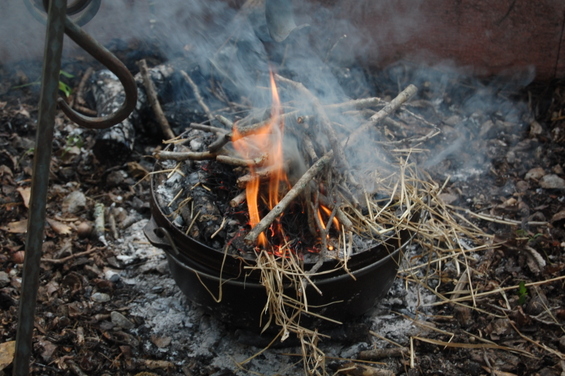 This was the last picture I took of the process because I was busy doing other things but he was adding more things around the dutch oven to burn. He ended up packing some straw around the sides of the pot and lighting it.
Most people today normally use charcoal/coals in their campfire cooking but we were trying to do it as an experiment of only having small limbs because that could be used for emergency cooking.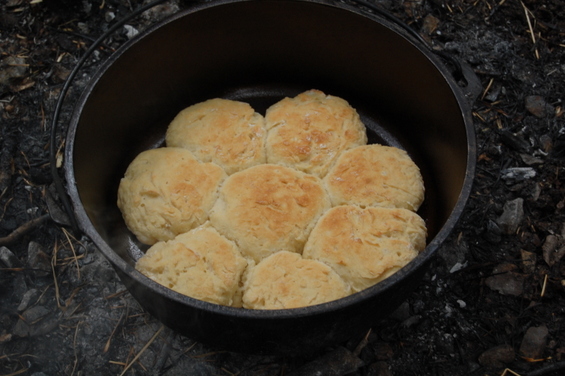 The outcome was beautiful biscuits. :)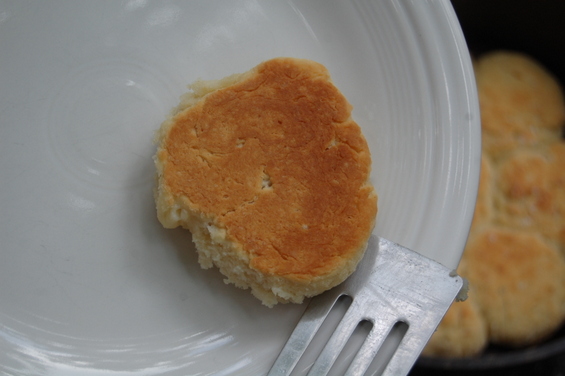 This is the bottom of one of the biscuits and if we had not removed the hot coals before setting the dutch oven down these would have been most likely dark brown or burned. You want most of the heat to come from the top and sides.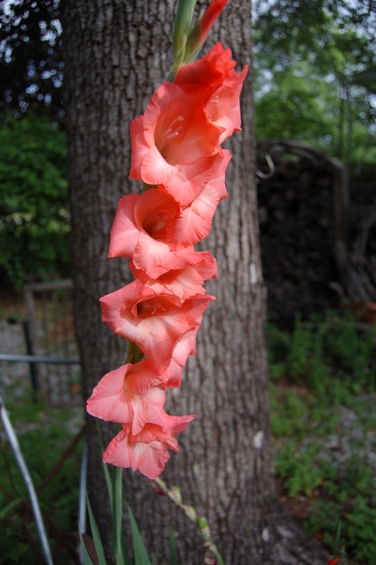 We are in the later part of May now and hopefully we are leading up to a more organized old fashioned June as we are getting many of the kinks worked out.
Some of the modern items such as the food dehydrator, solar light bulbs and thermal cooker will be our substitutes for some of the things they used in the past that we don't have. Charles plans to build a old fashioned dehydrator to put outside in the sun. Our solar light bulbs can be a big help should we lose power from a severe storm. Because we live in the city should we have damage from a storm we would not want to light anything until we knew there were no gas leaks around us. The thermal cooker will help save electricity since we do not have our wood burning stove in place and we are heading into some very hot weather.
It is all a matter of routine and this Grandma/Great Grandma needs to get on a better routine because the older I get the harder it is to make changes.
Oh and I have been taking my baths in our outdoor bath area for over week now but yesterday I did take a cold bath. I normally heat the water and as I was washing my hair and bathing, I prayed to God that I did not have any kind of heart abnormalities or suffer from hypothermia. :) I really did :)
I am moving along through life, I was first a twinkle in the eye then a daughter, a sister, Wife, Mother, Aunt, Grandmother, Great Aunt, Great Grandmother. I still enjoy learning new things and as long as my health continues I will continue this journey back in time because now as I am older our generations from the past are so very important to me. I miss so many of them and wish I had asked more questions. I truly love knowing more about how they lived and want to resemble them.
Grandma Donna