Some people like crochet and some prefer knitting but there are some very useful things that can be made with yarn and a crochet hook. I did not want to put a rug under our table but the chairs scratch our painted floors. The stick on felt pads would not stay on so I decided to crochet booties for the chairs.. Bernadette decided to walk through when I snapped the picture, she looks like a cat to me. :)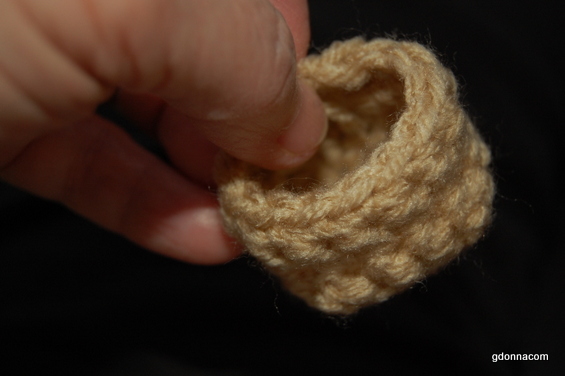 All I did was make a magic circle and crochet rounds until it was the size of the bottom of the leg then reduced it to bring the sides up.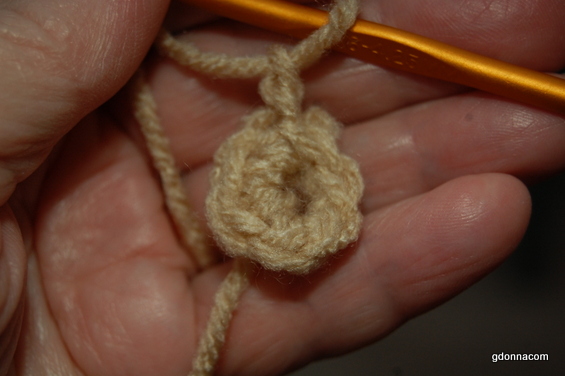 You can look up the magic circle on youtube and they have very good demonstrations how to make them. For the chair booties I made a magic circle of 6 single crochet.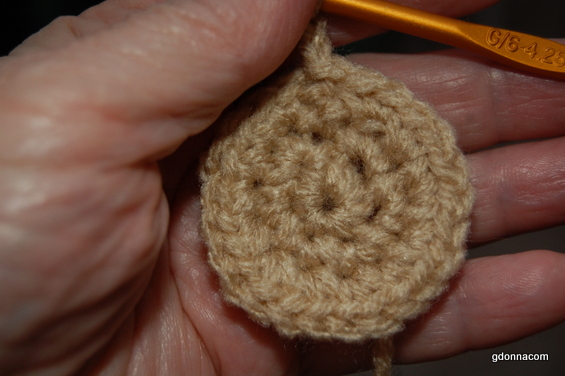 I crochet three rounds for the bottom, the first was six single crochet,join then chain one, second round was 12 single crochet (two sc crochet in each stitch, join and chain one, third round was 24 single crochet. I used a regular coarse yarn.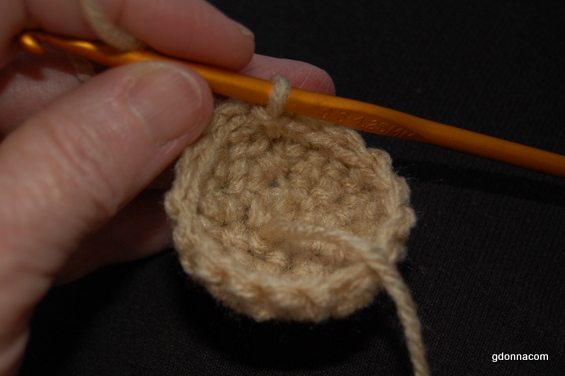 Then I had to decrease to 16 on 4th round, then decrease to 12 on the 5th and 6th round. You can do more to make it taller. These were the measurements for the size of our chair legs.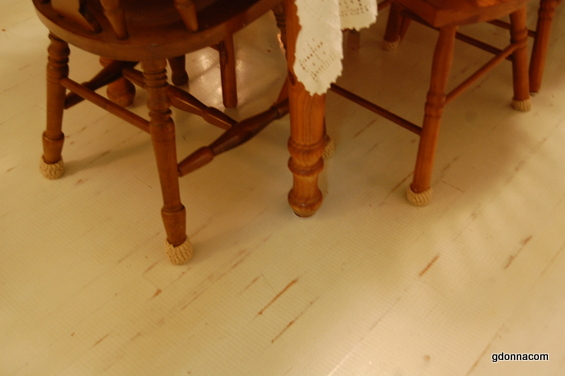 We have one chair that has larger legs so I had to make them a bit larger for this chair.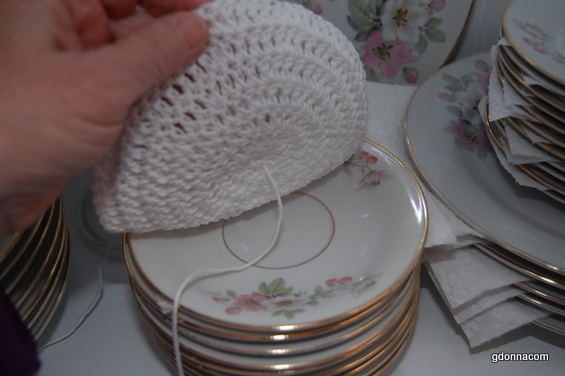 Then I started crocheting rounds for our China. I keep paper towels between them now but little by little I am replacing the paper towels with crochet rounds.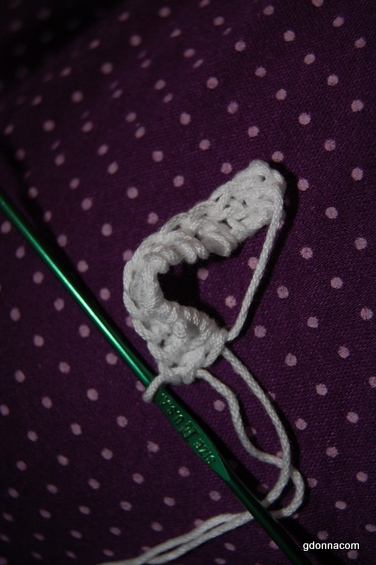 To do this I started with a magic ring of 10 double crochet.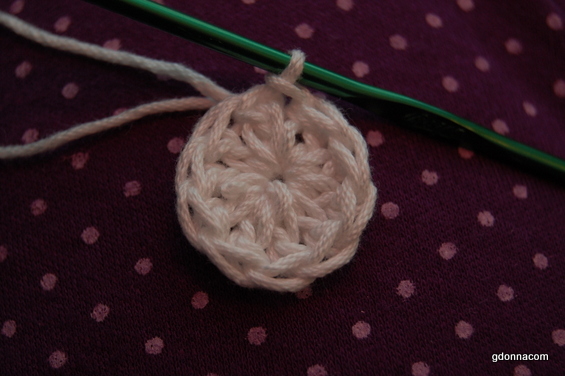 This is 10 double crochets with the ring pulled together and a join. Chain three...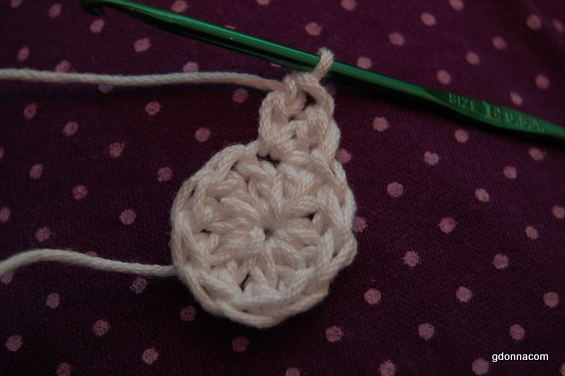 Round two... now I am doing two double crochet in each double crochet. I count the chain three as the first double crochet. I am doubling the second round making it 20 double crochet. As you can see I cannot write a crochet pattern.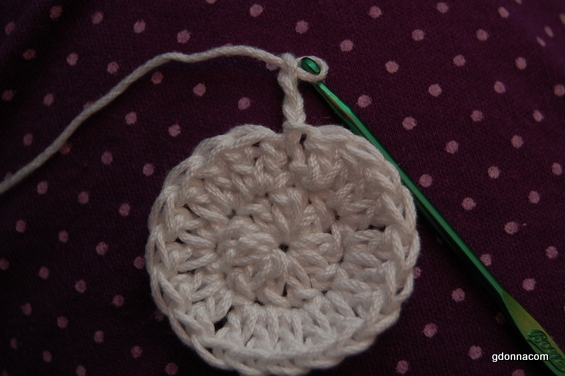 I have joined here now and chained three and getting ready for the third round.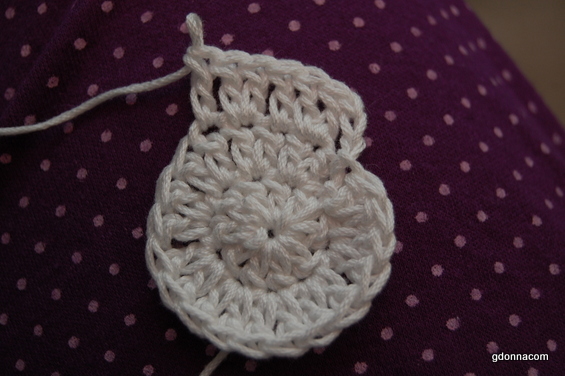 The third round is starting with the chain three counting as the first double crochet. so it goes like this. 1 double crochet, 2 double crochet, 1 double crochet, 2 double crochet. Third row will be 30 double crochet. The number of the round is the number of double crochets so to speak. (round 3 is 30, round 4 is 40, round 5 if 50, round 6 is 60 and so on.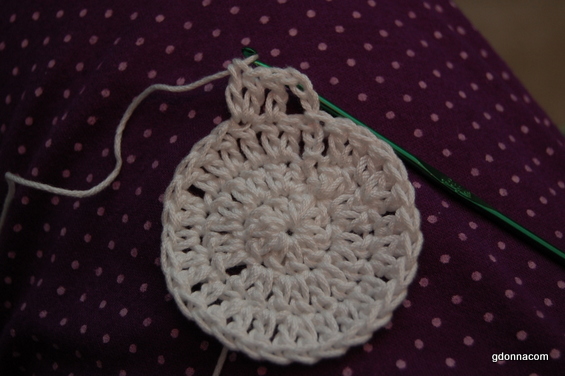 So if you look closely, here we are at the fourth row. I use the chain three to count as the first double crochet. This picture above is the set that will be repeated in the round.
So round 4 goes like this, 1 double crochet, 1 double crochet, 2 double crochet, and it will continue with this same count all the way around in round 4. . 1 double crochet, 1 double crochet, 2 double crochet.
Each round will increase with one more double crochet in each set.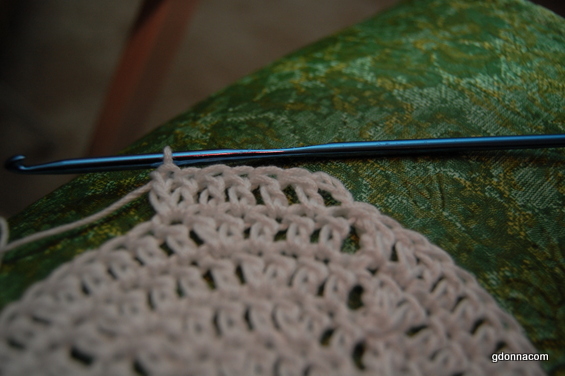 I am skipping row 5 and 6 and going to show photo above is round 7
If you count the double crochets, starting at the right which is the chain three you count, one, two , three, four, five, six & seven are crochet together in one stitch. So this "set" will be repeated all the way around and it will be 70 double crochets.
So round 8 will be one, two, three, four, five, six, and seven & eight will be crocheted together in one stitch and that set will be repeated.
(row 5 was 1 double crochet, 1 double crochet 1 double crochet 2 double crochet.)
(row 6 was 1 double crochet, 1 double crochet 1 double crochet 1 double crochet 2 double crochet)
I can read crochet but I simple cannot write it in a short version.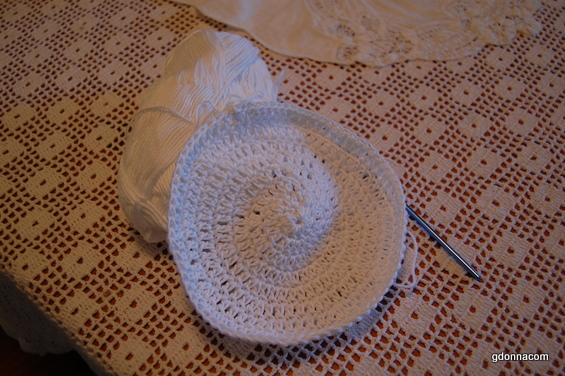 I like how this method curves just a bit and it will fit in the bowls nicely. It will also flatten when pressed between plates.
I am using Sinfonia 100g= 200 m, 3.52 oz 100 % Mercerized Cotton, Sportweight, with a 3 mm E/4 us hook and after the third round I switched to a F/5 3.75 mm hook to do the rest. This was to make it curve a bit and then flatten out as I increased the rounds. I hope this was not too confusing. I purchased the yarn at hobby lobby. You could use any small yarn to do these.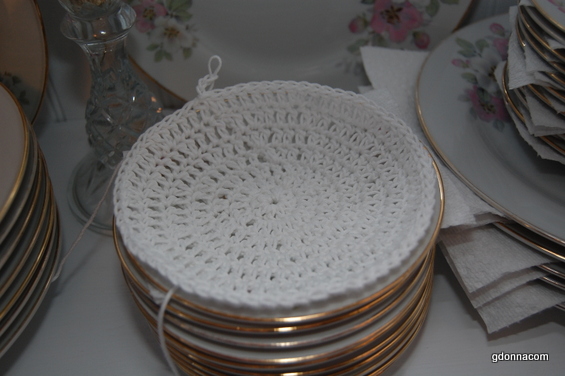 I prefer knitting but to me crochet is faster. This is a project that takes time as many things do when done by hand but very worth the effort to protect the china.
For those that move often these crochet rounds would come in handy when moving and storing your special dishes.
This china goes way back to the 1940s as it was our family special occasion dishes. My mother and father purchased them in the 40s for their formal or special occasion table setting. My brother and I still remember those days when our relatives and friends gathered, the laughter in the house and the stories told as everyone caught up from time last seen or the last letter. There was no social media or email back then and people wrote letters during the year. Long distance phone calls did not come often as it was considered expensive.
My mother passed them down to me many years ago and now that my husband and I are living more like the past this china has become more useful once again.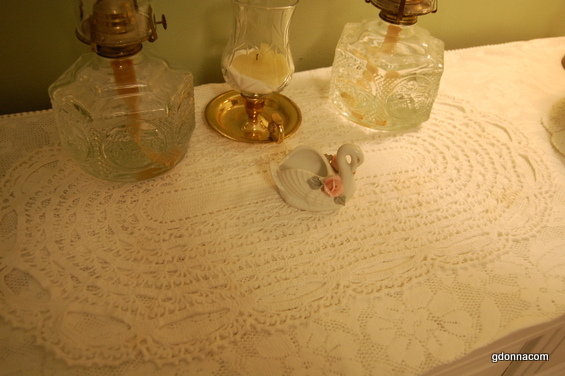 Crochet can be very pretty and functional. The top of this old dresser is pretty banged up and with a bit of lace and some crochet it turns something worn into something very nice.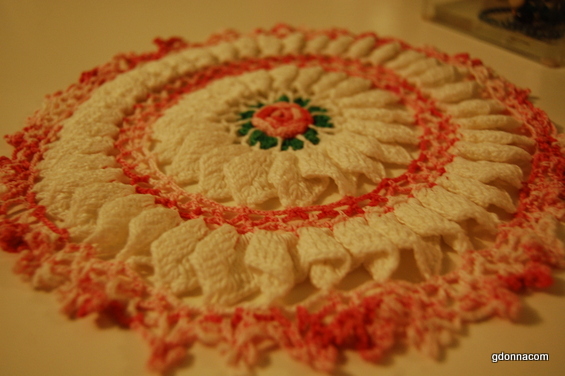 It can add color and cheer to an area that needs just a little something. It is better to sit and crochet than to hang out on social media and not accomplish anything.
I hope this gives you some ideas. Grandma Donna