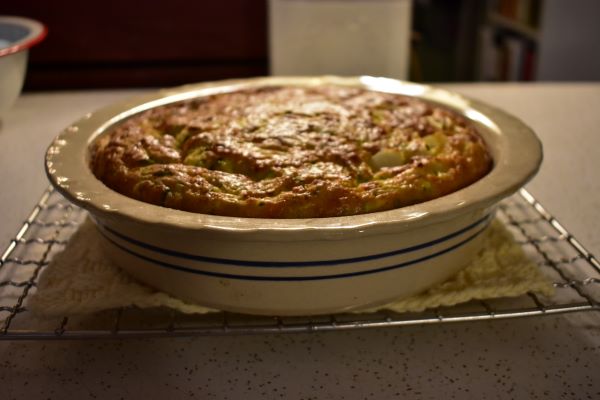 Our latest research has been about food. Charles and I have been studying and doing history projects for many years now because we want to know all we can about what was it really like in the home many years ago.
Recently in a post I mentioned that I have researched our family tree for many years and also we had DNA taken. The past few months we decided that we want to try eating traditional meals that our ancestors ate.
I am starting to understand more about the many recipes such as the Sunday Roast and the recipes for pies and casseroles. There are history articles about the history of the casserole and such as that but like we do about all of our studies we want to know about the "average income to below average" family of long ago.
What I am finding is that today we may find a recipe for a casserole and then go out and purchase the ingredients to make that casserole or one that we make regularly.
But for so many families long ago the casseroles and pies and pasties were for other reasons. They were a way to use leftover meat and vegetables, a way to stretch the food they already had at home.
In the past workers would take a pasty to eat while away from home and this hand pie was easy to carry and hold while eating. I read that for some people that worked long shifts they could warm them using a hoe or shovel and candles or a small fire.
We also know that there would be no Sunday roast for many people during certain times in the past when times were a difficult financial struggle, sometimes it was just a turnip or in my mothers situation during the great depression a cold biscuit with a little butter.
A pasty is basically a meat hand pie with meat and vegetables baked in a pastry dough. Depending on where one lives may or may not know what a pasty is.
There is a story on Charles side of the family taking a trip to the northeast part of United states and they kept seeing signs that said Pasties. They started getting hungry for Pastries, thinking that Pasties were Pastries. So when they drove up to this place to find the delicious pastries there were none and that is when they were surprise to find that pasties were meat pies.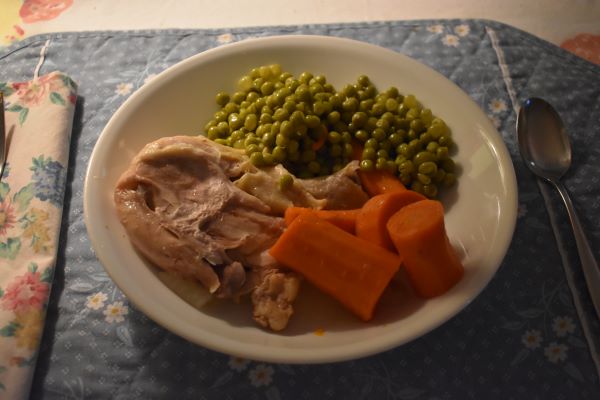 Charles and I are concerned about the price of groceries today and so by looking back we are taking away information how our ancestors stretched a meal.
If we can plan meals that follow the Sunday roast there are many things we can make from that. Many people already understand this, but many people today enter a grocery store without a list or plan and purchase groceries without much thought and much of what goes into the buggy are snacks and people come home with little to eat and end up going out to eat or picking up fast food. This is a very expensive way to live.
The above photo is from last week, the middle of the week boiled chicken. That day that I boiled a whole chicken with the ingredients to make chicken stock so we are left with tender chicken and the chicken stock to use for other meals.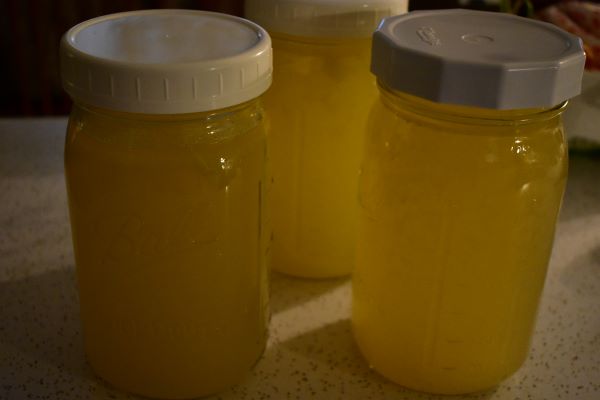 I always feel it is going to be a good week with fresh chicken stock. I strain the stock and fill the quart jars and then chill them down overnight and the fat will harden at the top. I then skim off the fat and put the chicken broth in containers the size I need and put them in the freezer so I can take it out individually to use throughout the week. This saves on the grocery bill because we are not purchasing broth and what we made has what we put in it.

I put a whole chicken in a large stock pot, 2 onions, both quartered, 2 to 3 carrots, 2 stalks of celery, salt and peppercorns. I use my big stock pot and I pour four quarts of water over the chicken and veggies in that pot, bring to boil and then simmer for two hours. Then remove the chicken that will be tender and falling off the bone, the vegetables and then strain the broth.

Some people prefer to bake the chicken and then boil the bones to give it more flavor We like the tender boiled chicken and it takes less electricity because the broth and the Chicken is made on top of the stove in two hours. (We have an electric stove)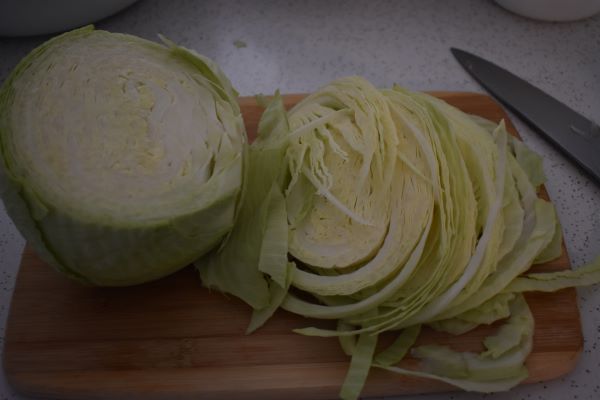 The following days were Potato cabbage soup, I added some leeks and a bit of bacon along with potatoes and chicken broth.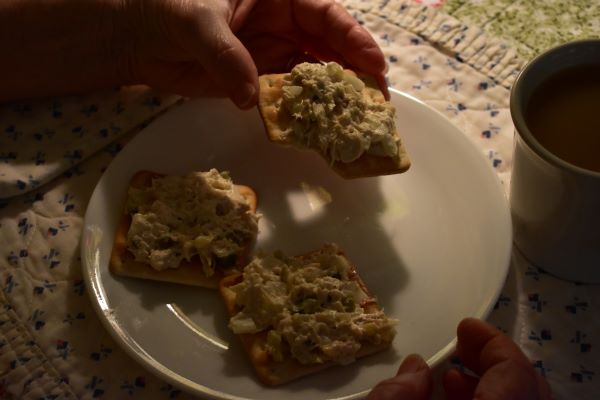 We had a light snack of chicken salad on crackers and for sandwiches another time.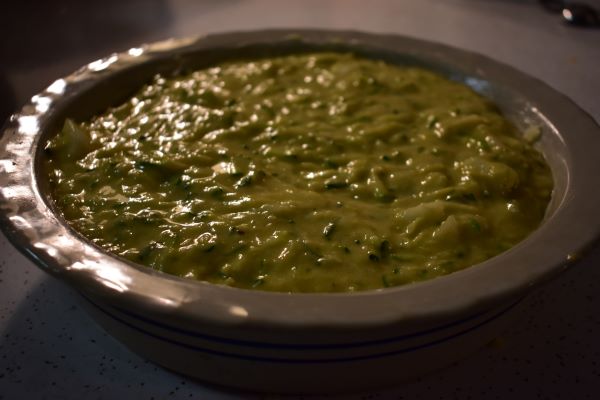 The zucchini pie ready to go into the oven.
We had two zucchini's in the fridge so we decided that would be a good side with the pork roast that was Sunday Roast. Our two meats for the week, one whole chicken and a pork roast.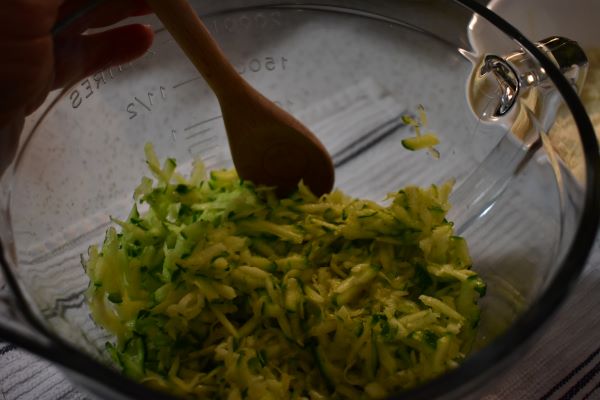 The zucchini pie is three cups of shredded zucchini...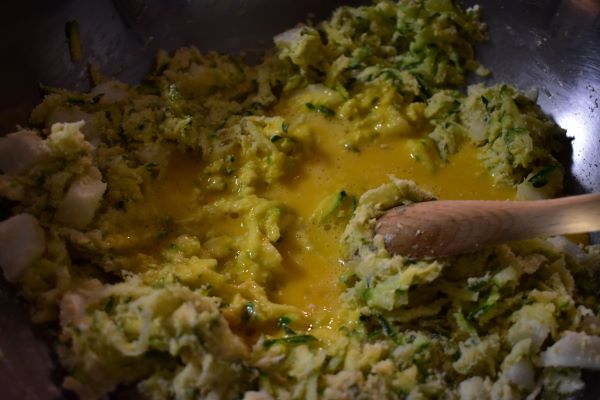 All of the ingredients are put into a bowl and mixed gently with a spoon and poured into a buttered or oiled deep pie pan.
The ingredients are;
3 cups grated/shredded zucchini
One medium onion chopped

One cup biscuit mix ( we do not use biscuit mix so I have recipe below)

1/2 cup vegetable oil

1/2 cup Parmesan Cheese
2 Tablespoons parsley
4 eggs, beaten
Salt and pepper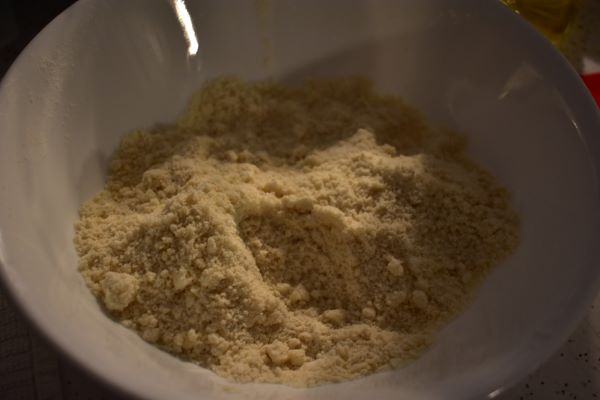 You can use biscuit mix if you have some but since we do not use biscuit mix we made 1/2 of our biscuit recipe and left off the buttermilk.
One cup all purpose flour

1/2 teaspoon salt
1 and 1/2 teaspoons baking powder
2 tablespoons cold butter cut into pieces.
Simply sift dry ingredients and crumble the cold butter into the flour mixture until it is crumbly pictured above.
Mix all ingredients in a large bowl gently with a wooden spoon or spatula and pour into a greased deep pie pan.
Bake at 350 degrees for about 45 minutes, I brown the top by turning on the broiler on low for about two or three minutes.
( make sure to use a deep dish so it does not leak over the side.)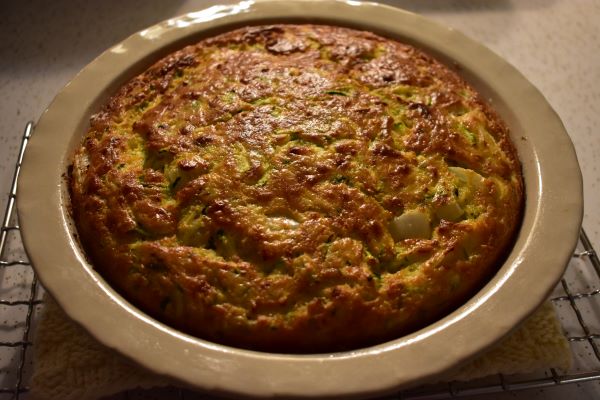 If we have our basic vegetables, potatoes, carrots, peas, cabbage, onions and then the seasonal vegetables we can make many meals out of these.
If we have our basic fruits, apples, peaches, lemons we can make many desserts just from these. Then again the seasonal fruits.
We have become so accustomed to a large selection that we forget about basic.
So what I am saying is there are the basic items to keep on hand that will keep us going and then there are the seasonal items that make us look forward to the new seasons. The fresh greens in the spring, the turnips and sweet potatoes, the oranges and nuts and beets and squashes, the plums and grapes, the fresh tomatoes and basil. All the wonderful seasonal food.
We can preserve some of the seasonal food for winter to use for those special occasions or much of it as they had to in the past because they did not have grocery stores such as we have today.
I now have a different perspective of where I am going with planning meals. Some of you already understand this and I would give anything if I could just remember all I knew in the past of why it seemed so much easier to put meals on the table. I feel that today everything is so confusing because we have too much.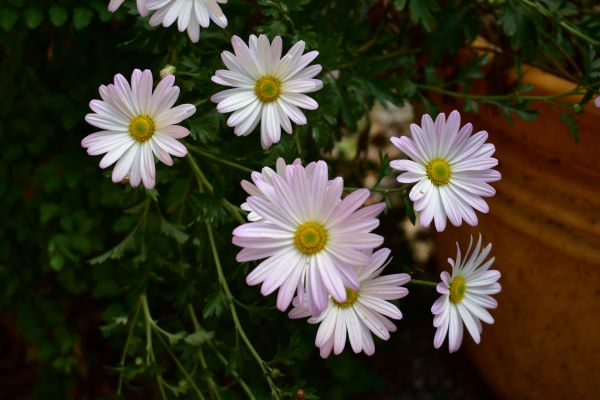 There are other things going on at home such as the heirloom chrysanthemums are blooming. They are so pretty. :)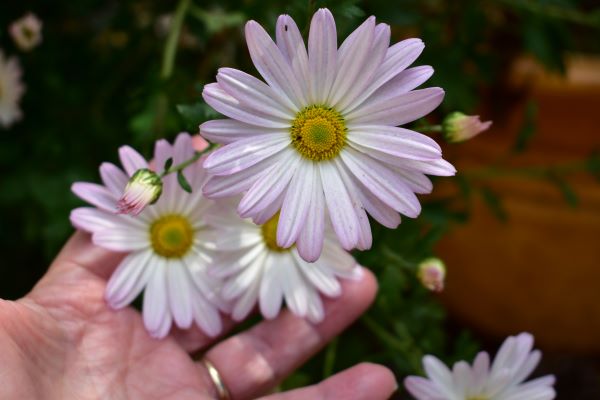 Just when everything is dying back and turning brown out pops these beautiful flowers to give a wonderful burst of cheer in the garden.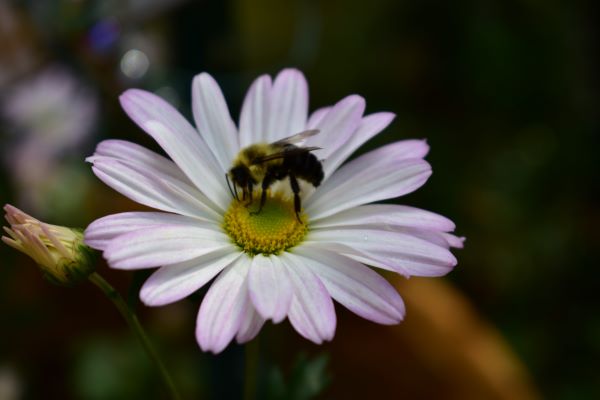 The Bumble Bee is hard at work, I just love bumble bees, they go on working no matter what is going on around them.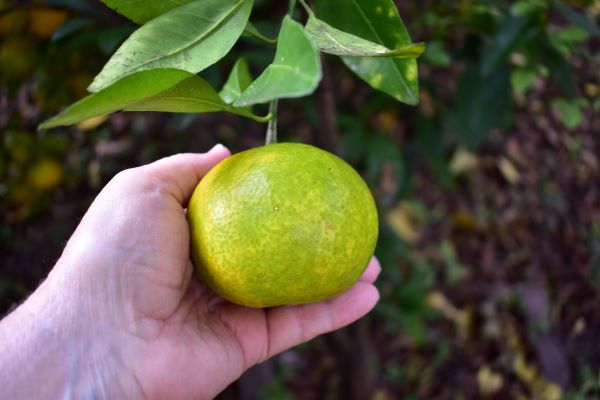 The lemons and the satsumas are starting to change from green to yellow and orange.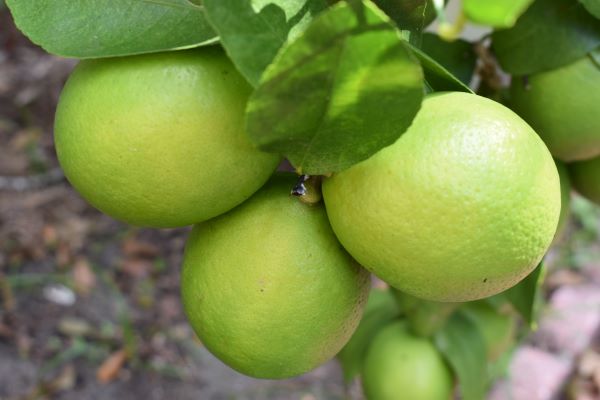 Lemons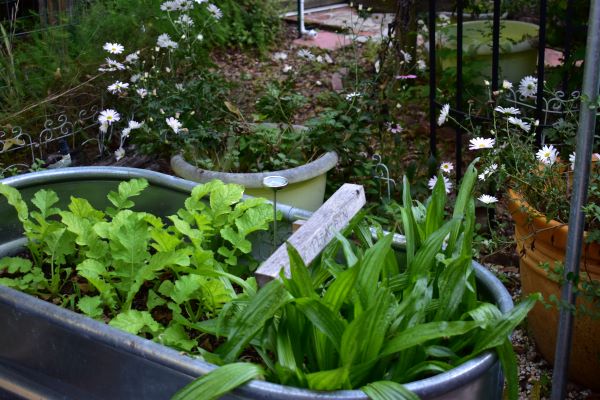 I am really enjoying watching the English Plantain grow and change. I still have a lot to learn about it but it is finally growing well.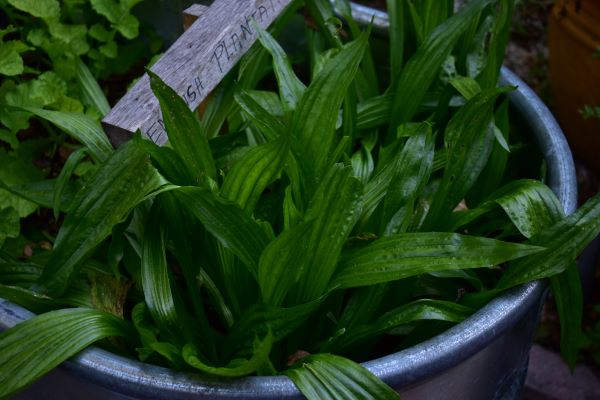 The leaves are most unusual and so beautiful and shiny.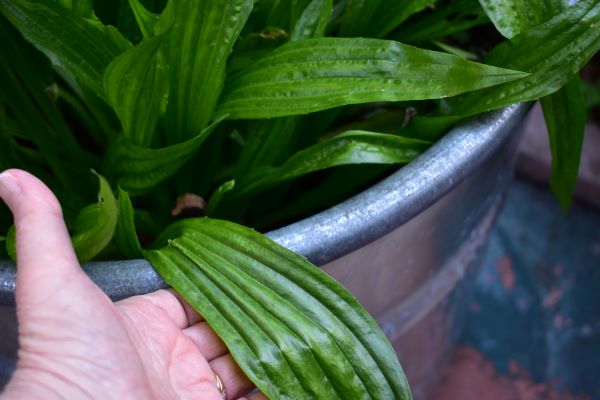 It is just so interesting! It is a perennial plant known as a perennial weed in North America. It is my understanding that it will become limp and small through winter and then late winter and early spring new leaves will grow from the center and upright and then scapes and flowers will emerge.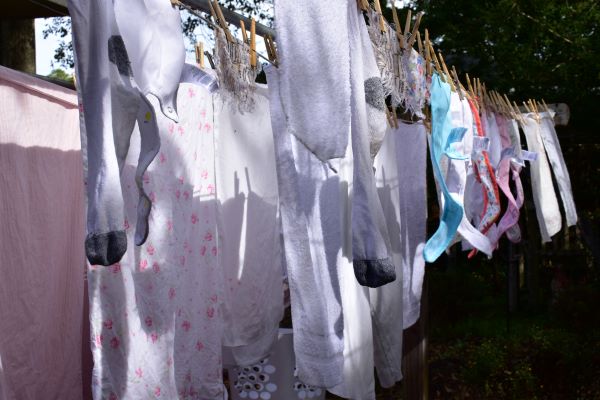 Laundry is still happening around the house as well, a surprise row of baby bibs is out to dry but there is no new baby at this time only the bibs used to brush the fur babies teeth. This is new to us to brush their teeth but necessary because our Elizabeth has a new issue that is not curable and medication is being given to help it some and we are doing our part to do all we can for this is an autoimmune disease of the mouth.
We are having to go slow with her because her mouth is tender but she is letting us wash out her mouth and soon we will start trying to brush her teeth as her gums are less sore. She has had many dental cleanings so we do not understand how she got this but just like other autoimmune diseases that people get often we have no explanation of why it occurs and we do what we can to control it.
I have made a video to go with this post called our simple life, the bumble bee and the petunia. Click here to view the video.https://www.youtube.com/watch?v=LWYeIFSkvlg
Grandma Donna