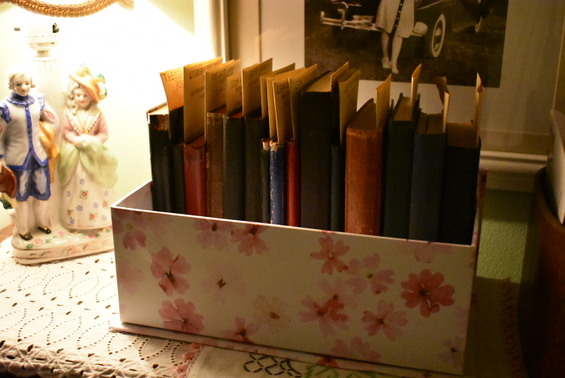 We continue the Journal of Albert and Gladys, the year 1932. We have been following the monthly expenses and budget for this young couple with a new baby during the great depression. Albert has remained employed at this time.
You may find the other Journals (Jan thru March) in the upper right hand column called Donna's Diary posts. Or you can find them by scrolling down under Living like the past.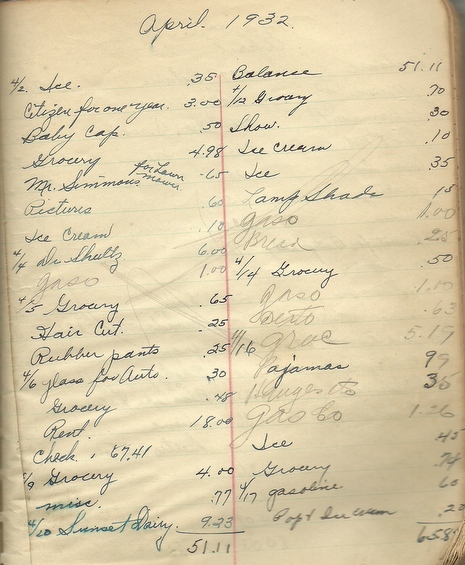 This is the journal entries for the month of April 1932
April 2, 1932
Ice .35, Citizen for one year 3.00, Baby cap .50, Grocery 4.98, Mr. Simmons for lawn mower. 65, Pictures .60, Ice Cream .10
April 4,
Dr. Shultz 6.00, Gasoline 1.00.
April 5
Grocery .65, Hair Cut .25, Rubber pants .25,
April 6
Glass for Auto .30, Grocery .48, Rent 18.00, Check 67.41
April 9
Grocery 4.00, misc .77,
April 10
Sunset Dairy 9.23
Balance 51.11
plus Grocery .70, Show .30, Ice cream .10, Ice .35 (for their Ice box) No electric refrigeration. Lamp Shade .15, Gasoline 1.00, Bread .25
April 14
Gasoline 1.00, Dexto .63,
April 16
Groceries 5.19, Pajamas .99, Hangers etc. .35, Gasoline 1.26, Ice .45, Grocery .74
April 17
Gasoline .60, Pop and Ice cream .20
65.80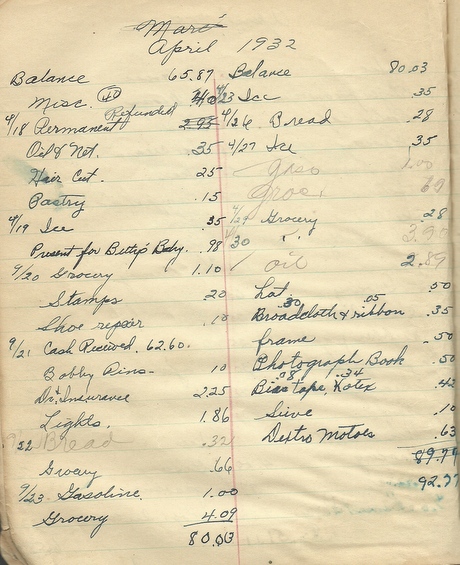 Balance 65.87
Misc .40
April 18
Permanent 2.95 refunded, Oil and Net .35, Hair Cut .25, Pastry .15
April 19
Ice .35, Present for Betty's Baby .98
April 20
Grocery 1.10, Stamps.20, Shoe Repair .10
April 21 Cash Received 62.60
Bobbie Pins .10, Dr. Insurance 2.25 Lights 1.86 (Note, at this time many people that had electric only had lights and gradually they added other electric items such as radio and some kitchen appliances but few electric items at that time.)
April 22
Bread .32, Grocery .66 (Note, during this time shopping for groceries was very different and depending where someone lived they would have to go to a baker for bread a meat market for meat a general store etc.Ice was normally delivered but people could go to the ice house. Ice was often brought in by train to a ice house.)
April 23
Gasoline 1.00. Grocery 4.09
80.03
Balance 80.03
April 23
Ice .35
April 26 Bread .28
April 27 Ice .35, gasoline 1.00, Groceries .60
April 29
Grocery .28
April 30
Groceries 3.90, oil 2.89, hat .50, Broadcloth .30 and ribbon .05 =.35, frame .50, Photograph Book .50. Bias tape .08 Kotex .34 = .42, Sieve .10, Dextro Motors .63
92.77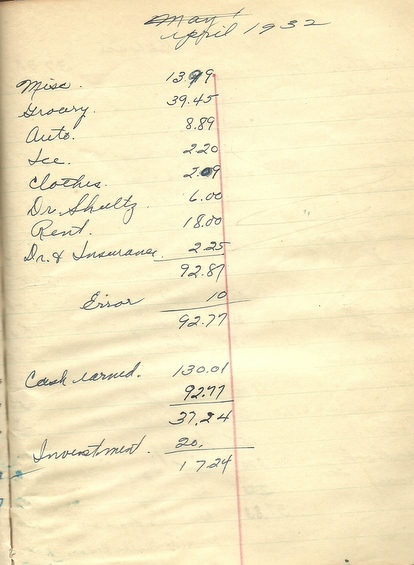 Misc 13.99
Grocery 39.45
Auto 8.89
Ice 2.20
Clothes 2.09
Dr. Shultz 6.00
Rent 18.00
Dr and Insurance 2.25
92.87
Error .10
92.77
Cash earned 130.01
92.77
_______
37.24
Investment 20.00
_______
17.24