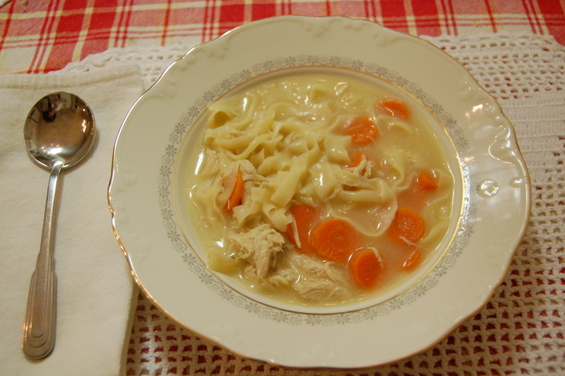 Homemade egg noodles are delicious and they are not hard to make, there is a first for everything and with practice you can make fresh egg noodles as often as you like.
Recipe
Small batch
1/2 cup all purpose flour
1 egg
pinch of salt
1 tablespoon water
If you want more, double this recipe or triple. It is just however much you need to make. Try a small batch and start from there.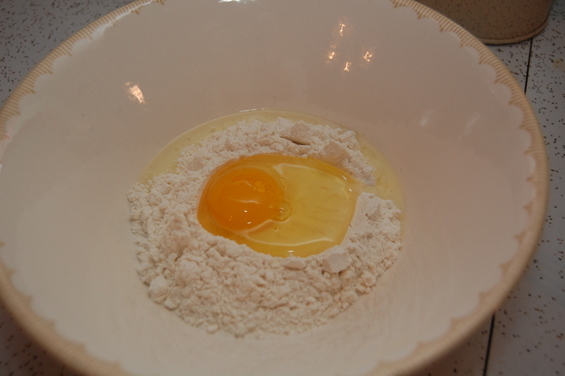 Toss the salt in with the flour and then make a well in the center. Add egg and water to the center.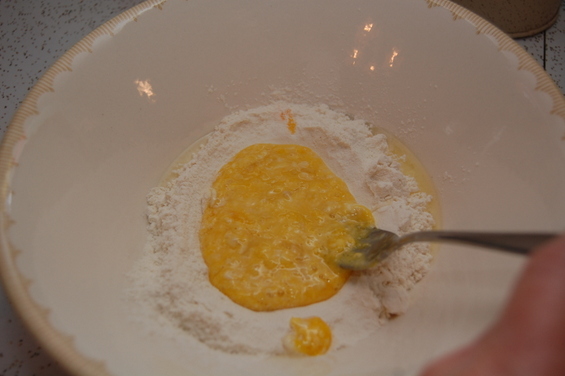 slightly beat the egg with a fork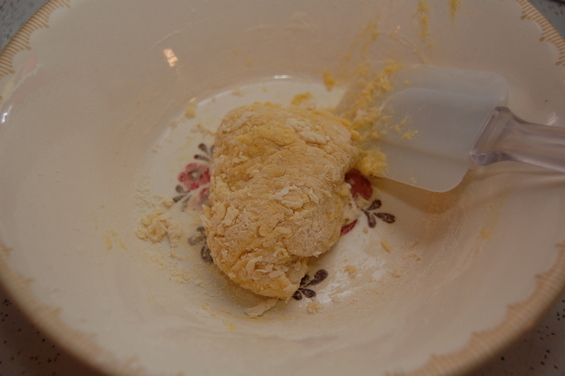 Work the dough with a spatula until together. It will be sticky at this point.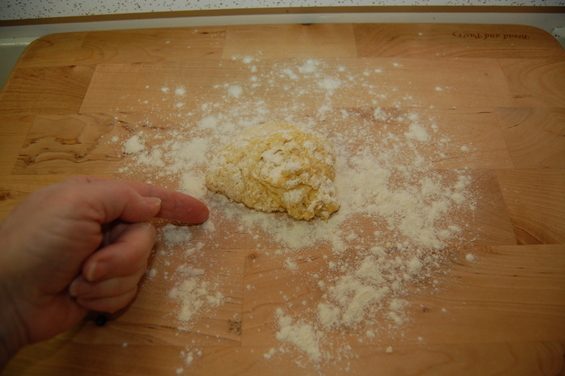 Place flour on a cleaned counter or a pastry board and put the dough on top and sprinkle more flour on top.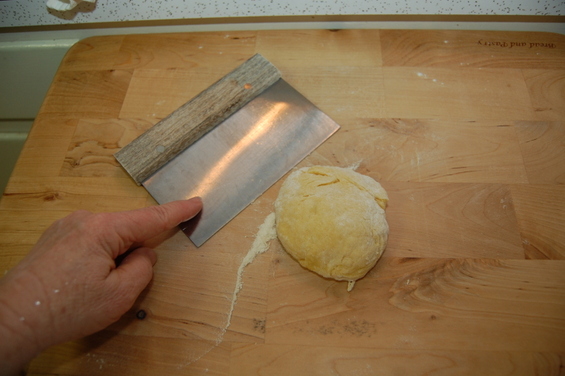 I did not take pictures of me kneading the dough because I could not knead and snap a photo.
This is how to do it....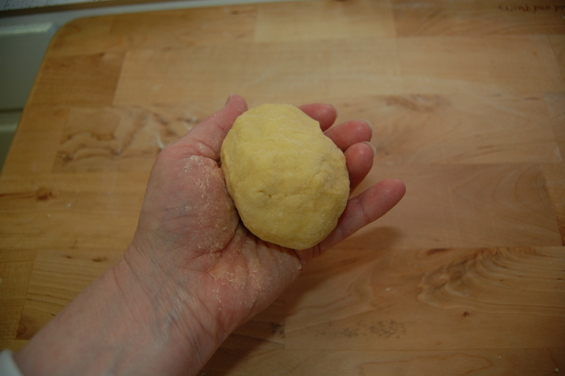 Sprinkle the dough with flour, pat down, sprinkle pat and gradually get it to where you can knead the dough. Keep your hands floured and take your time and just press, sprinkle etc.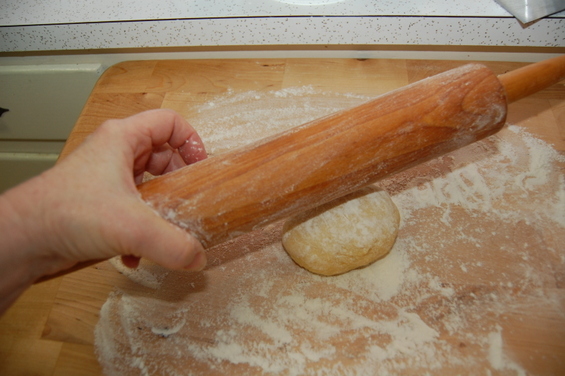 add more flour to the surface and to a rolling pin. We will be rolling out this dough until fairly thin. The more you make your egg noodles you will get the feel of how thick or thin you like them.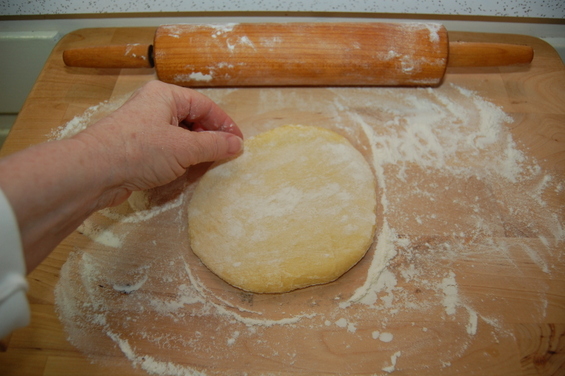 At first the dough will spring back a good bit when you roll it. Just keep working it by sprinkling more flour, flipping it over, sprinkling more and rolling. Just keep doing this.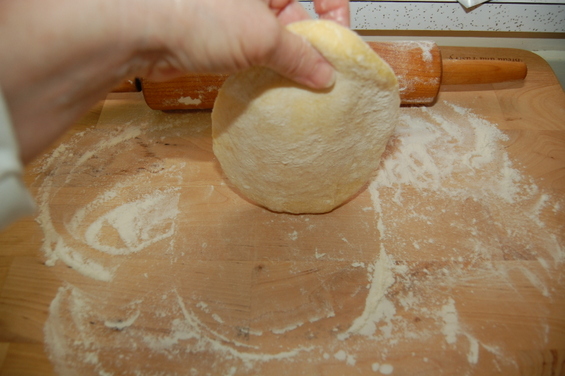 Roll, flip, roll.....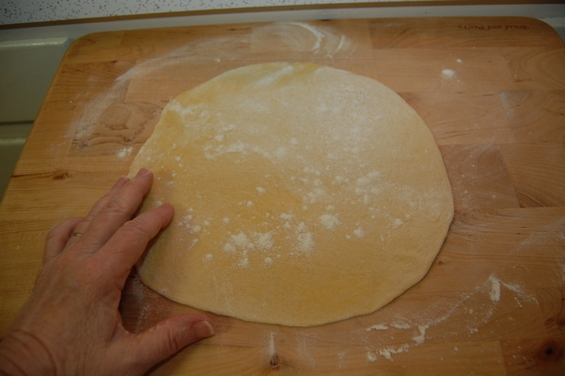 This is still not rolled out enough, it is too thick, sprinkle, flip sprinkle roll.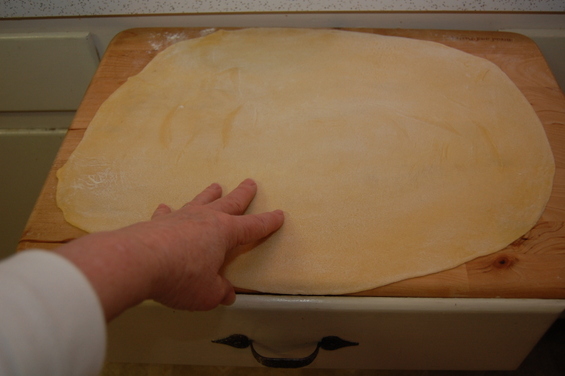 Now we are about right. My board is 21 wide and 15 deep. I have to open a drawer and roll there because I am short and I need the leverage. This needs to be rolled until it is very thin.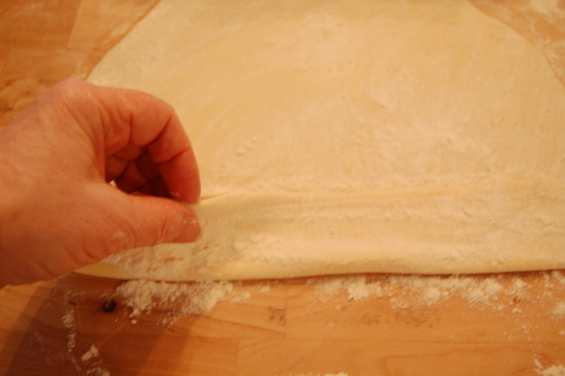 Now for the folding. Put flour over the top of the rolled out dough. Put a good bit because you do not want the folds to stick. So be generous with the flour. Flip the dough over about 2 to 3 inches or in between that. then more flour on top of the fold.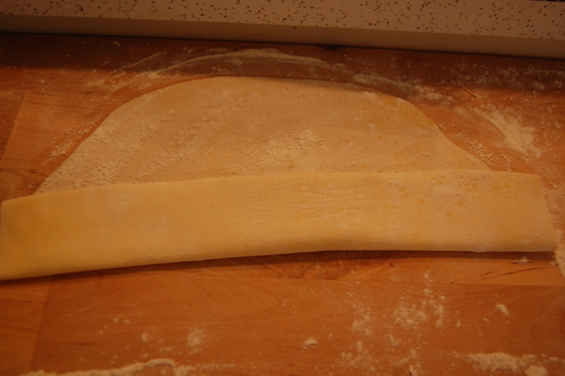 Keep doing this.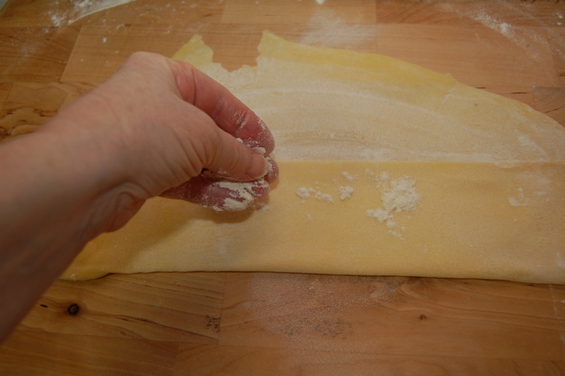 make sure you keep adding flour, spread the flour with your hand after you sprinkle.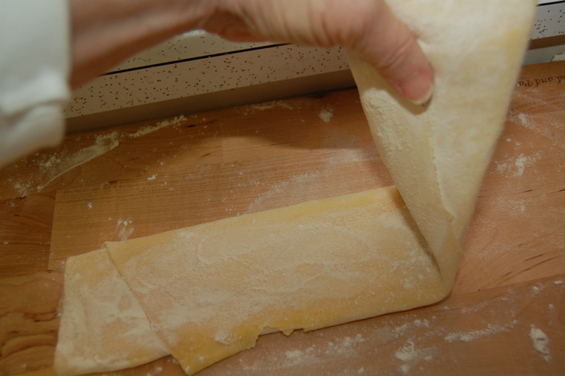 Now we will fold this in half.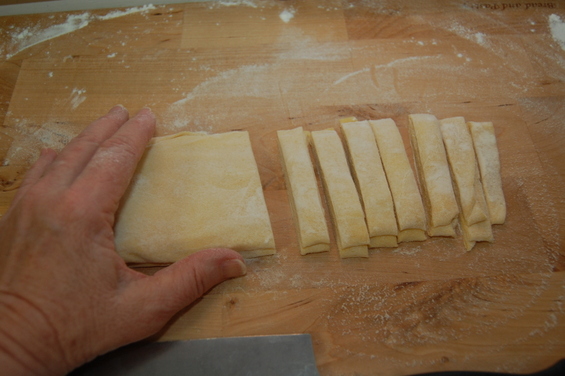 Here I am cutting wide noodles.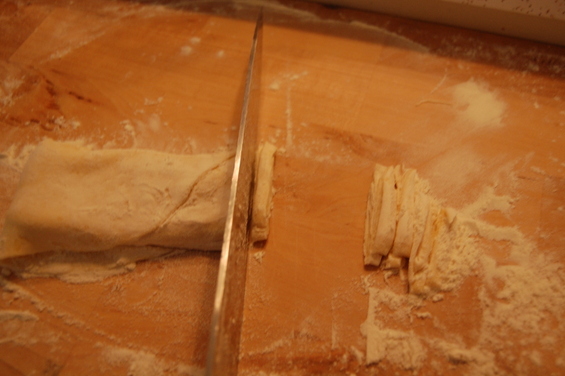 Here I am cutting small noodles from another batch.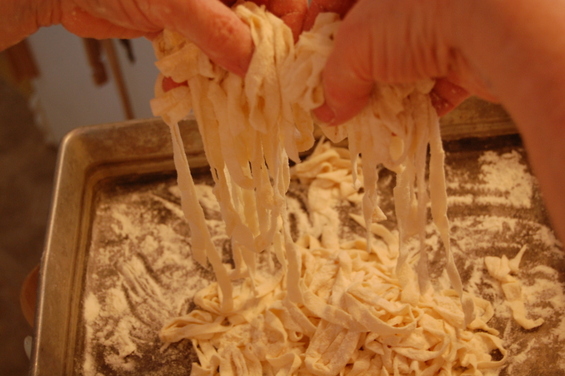 For the narrow noodles, put some flour in a pan and get your fingers under the noodles and toss to open the rolled cut noodles. The small noodles can be a bit tricky if we did not put enough flour when folding the dough.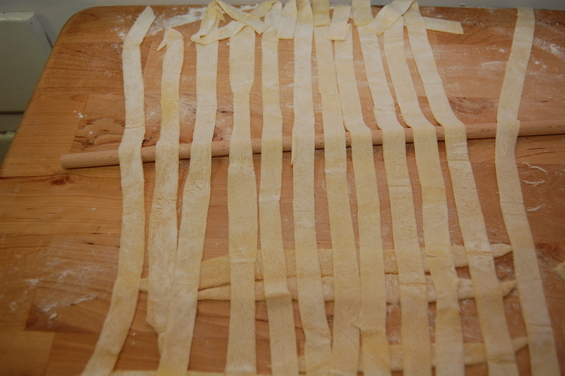 The wide noodles should unfold easily and lay them across a pasta dowel or put a kitchen towel over the back of a chair or lay the towel flat on a surface and lay out the noodles.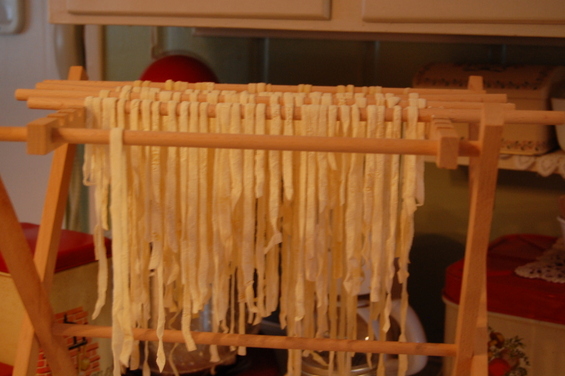 These are the narrow noodles hanging to dry.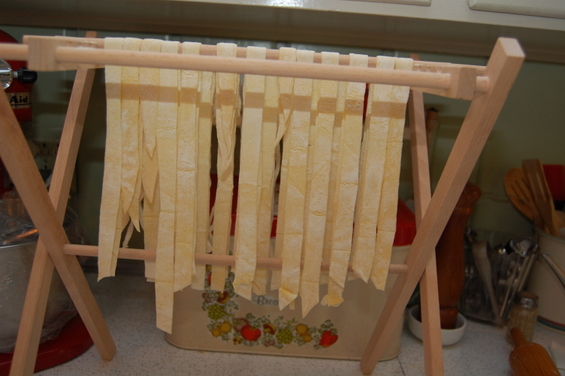 The wide noodles.
Let the noodles dry for about half hour if you are going to use them right away.
I don't like to store egg noodles but make them fresh each time and this is why I am giving you a small batch recipe.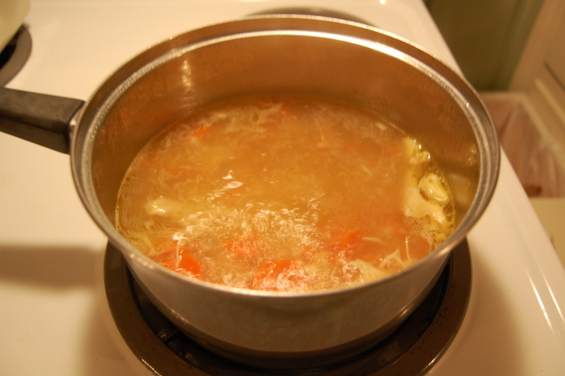 To make a chicken noodle soup. This day I had two pieces of left over boiled chicken. I put chicken broth in a pan, added a carrot and when the carrot was close to being done I added the cut up chicken and the noodles.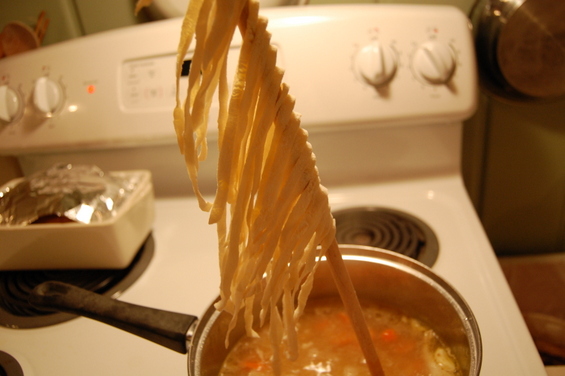 Adding the noodles.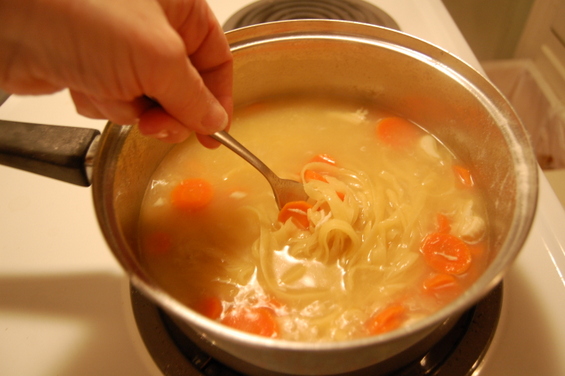 Bring back to a mild boil and cook for about 6 to 7 minutes more.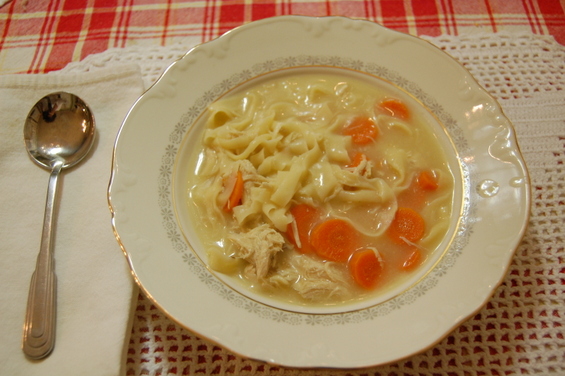 Here is the chicken noodle soup or maybe called noodle chicken soup since I added so many noodles.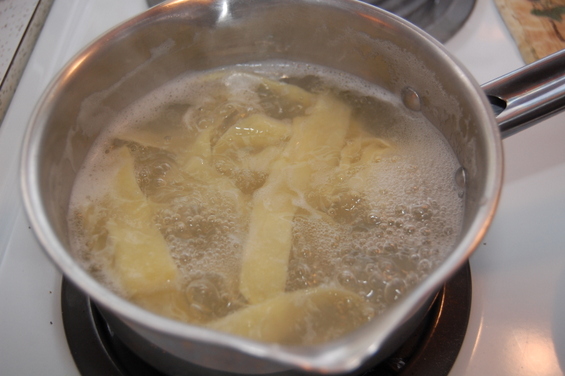 If you just want cooked egg noodles to go with butter and milk or as a side dish, just drop the dried egg noodles or noodles that have set for half hour or so into boiling water. Boil for about 6 to 7 minutes and Watch for foam because the flour on the egg noodles will cause it to boil over quickly. Watch it closely or it will boil over, be ready to remove it from the heat until the boil settles down.
Skim off some of the foam and that will help.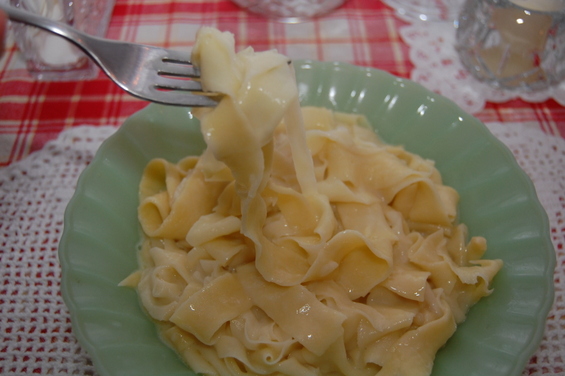 This would make a nice side dish or we could add steamed broccoli and cheese, this could go in Beef Stroganoff, or just eat it plain with butter and milk or parmesan cheese.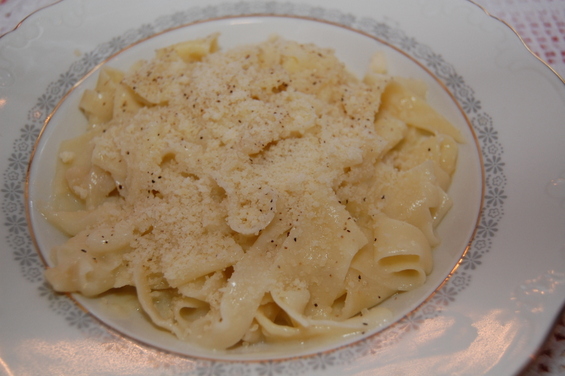 This is egg noodles with butter, milk and Parmesan Cheese.
I hope you enjoy! Grandma Donna