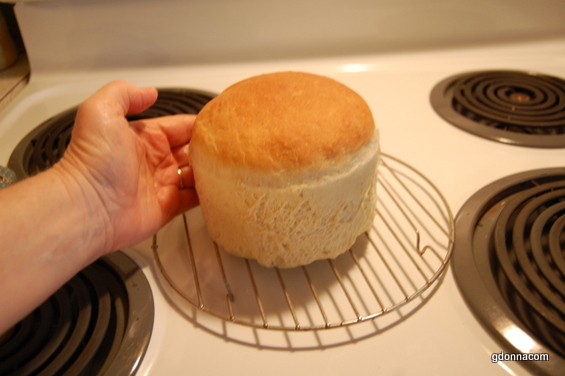 HALF LOAF OF BREAD

This page is for all of you that desire a half loaf of bread. Many people live alone and a full loaf of bread may go to waste if you do not put part of it in the freezer. Some couples only need a half a loaf because our diet does not always include bread and then it goes stale. Recently I decided to look for a half loaf pan and I could not find anything desirable to use. I read in the forums and some suggested to make two balls of dough and put it in the bread pan side by side and pull it apart but then you still end up with a full loaf of bread. Another suggestion is baking in a can but that did not sound safe with the types of metal and some of them are lined.

So I decided to resolve this issue and my husband thought I should share this idea because it is a lovely half loaf of bread. I am including my recipe.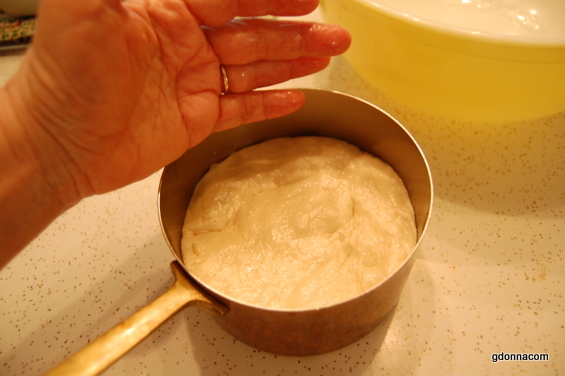 I cut my recipe in half and I bake the loaf in my stainless steel one quart saucepan. It is very important to use a pan with a metal handle which makes it ovenproof. This pan is a limited edition Paul Revere copper on the outside and stainless on the inside. There are many pans on the market with metal handles but NOTICE that the sides are straight. I saw a pan where the bottom flares out a bit and that would not work because the bread would not come out of the pan. So the pan must have straight sides.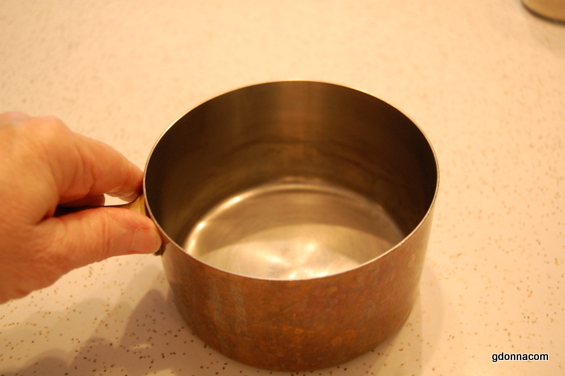 This is my pan and it holds one quart the sides are straight. I looked to see if there are other pans on the internet with metal handles and there are but I want to mention my pan is one quart pans that a quart and half will NOT work. The bread will come out too spread out and short. So a one quart the size I am showing in this article is what you need to look for.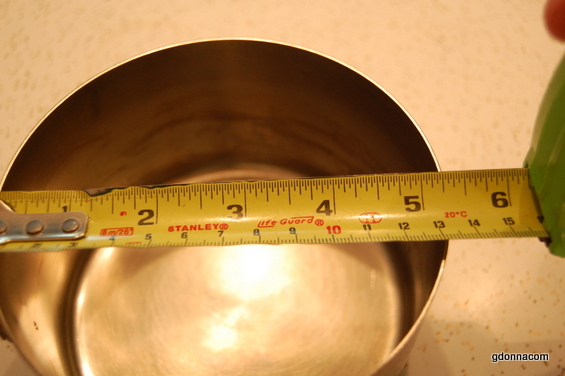 It measures 5 and 1/4 inches across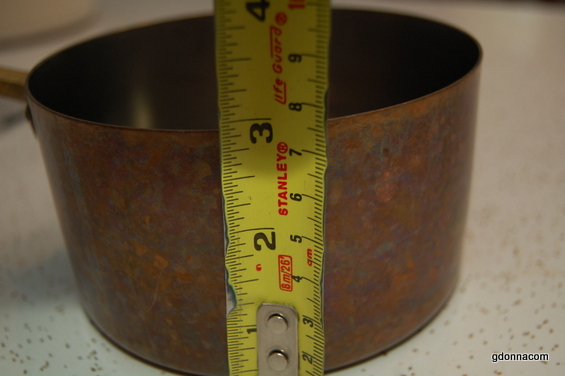 And the height is about 3 inches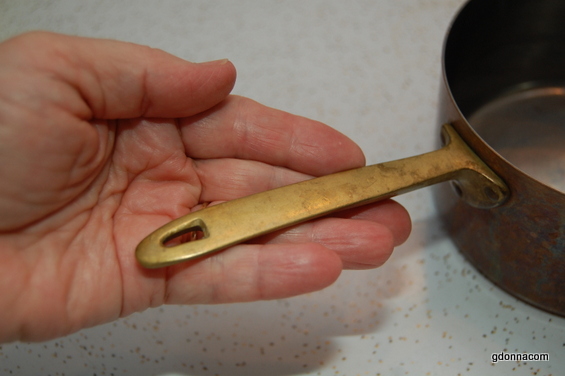 The handle is metal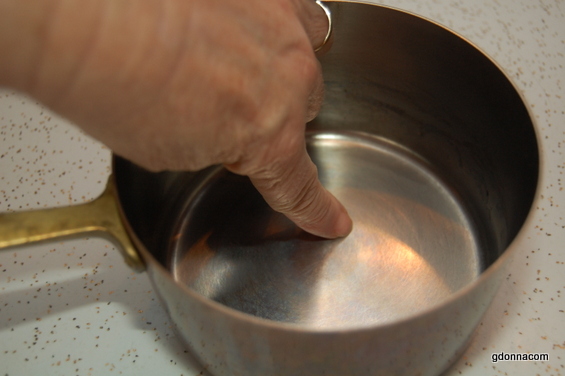 The inside is stainless steel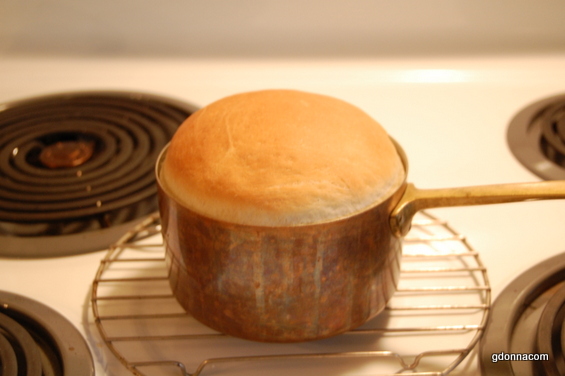 This pan bakes a lovely half loaf of bread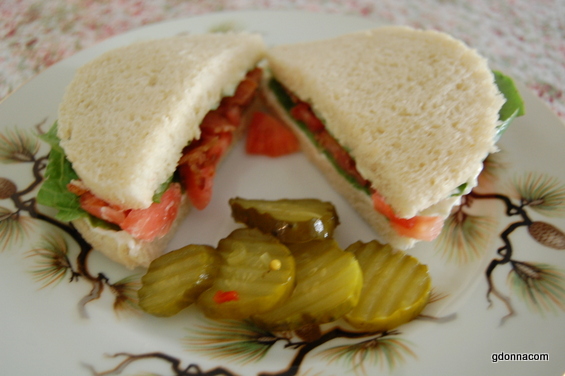 And my husband says this is some more good.
The Recipe
Many years ago when my children were small (they are grown with children now and their children will soon have children is how long ago) a friend that worked in a school cafeteria gave me a bread recipe. It is is called my dough for all recipe. I make bread, rolls, buns, raisin bread, Christmas bread and cinnamon breads with this one recipe.
Approximately One and a half cups of bread flour will be used in this half loaf bread.

I want to say here, when you are making bread the amount of flour is always different due to humidity in the house etc. You should always go with a soft dough instead of a hard dense dough.
For this half loaf of bread recipe I add 1 and 1/4 cup of bread flour to my bowl and then I reserve another quarter of cup or so to work with and I will show you with pictures but here I will write down the ingredients.
One and half cup of bread flour plus maybe a couple of tablespoons more.

1/2 cup plus 2 Tablespoons of warm water about 100 to 105 degrees
1 Tablespoon of olive oil

1 and 1/2 teaspoon active dry yeast
2 teaspoons sugar
1 teaspoon salt ( I use sea salt)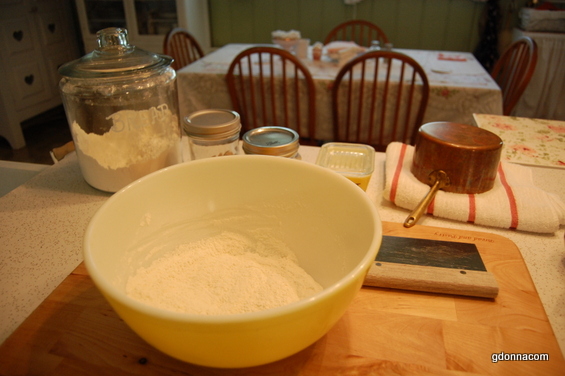 Place 1 and 1/4 cup of bread flour in a bowl and add the salt (one1 teaspoon). I use a large bowl because I just do it that way.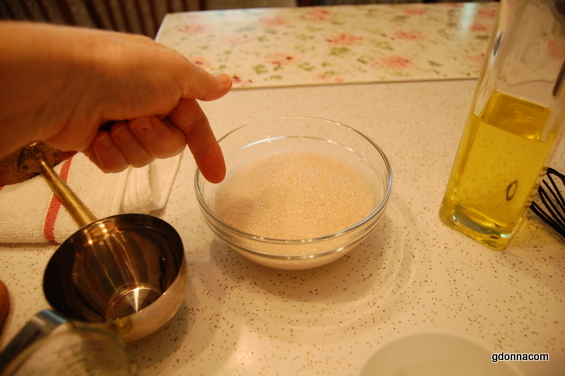 Here I have mixed one and one half teaspoon active dry yeast, 2 teaspoons sugar and 1/2 cup plus 2 tablespoons of warm water (100 to 105 degrees) and then whisk that together. You want to put this in a medium size bowl because it will foam up. Set your timer for 10 minutes and let it rise.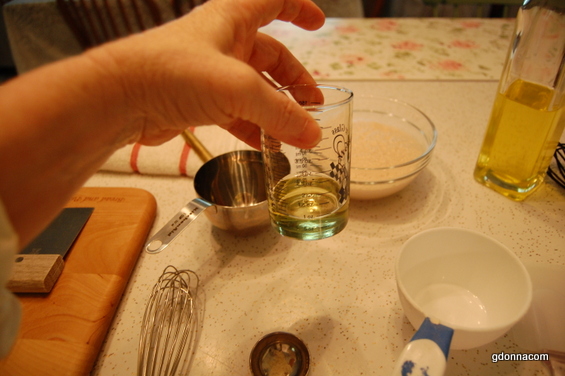 Now measure out tablespoon of olive oil. I use lite or regular olive oil.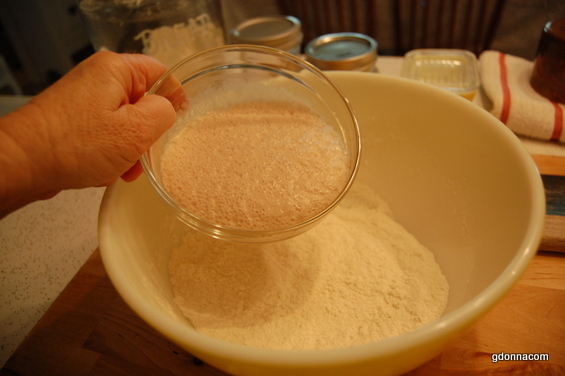 After your 10 minute timer goes off then add the yeast mixture to the flour.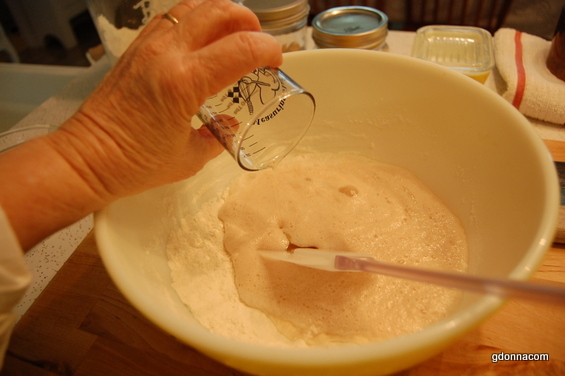 Now add the olive oil and you will stir the dough. I use a spatula to stir at this point until it forms a dough ball.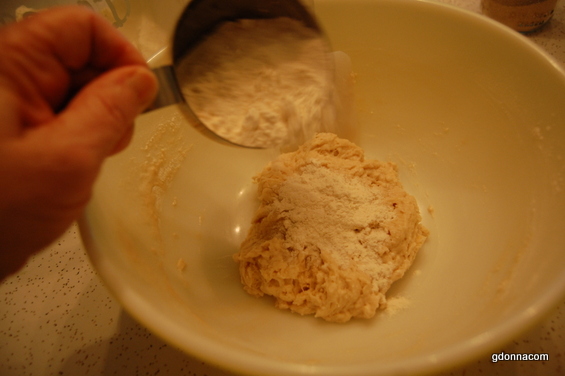 After you have mixed up the dough then add a little flour at a time of your reserved flour then move to a floured bread board to start kneading.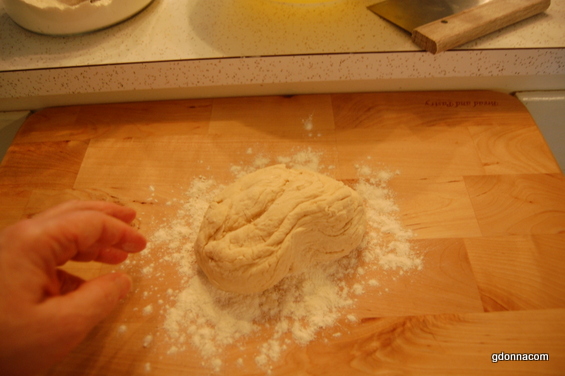 Now we are ready to knead for 8 to 10 minutes.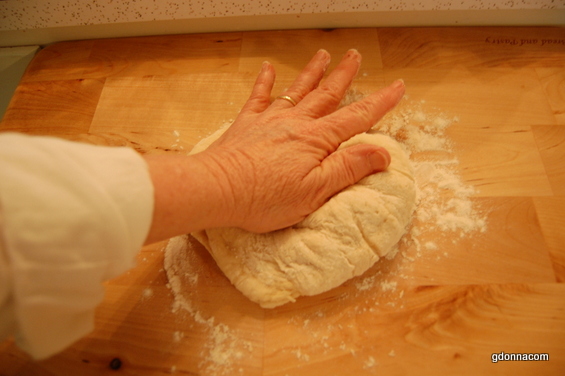 I use the heel of my hand to push and tuck and push etc. Keep sprinkling with flour until it is no longer sticky. To keep a dough light you must knead fast and keep the dough moving quickly across the bread board or counter or whatever surface you are kneading on. Both of my hands work quickly tossing and flouring and pushing the dough. To knead this small loaf is easy to work quickly.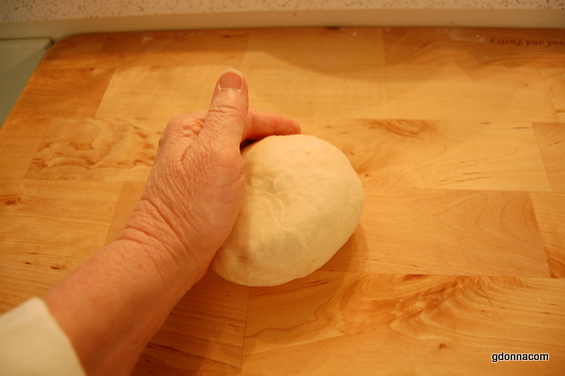 You should end up with this nice soft dough.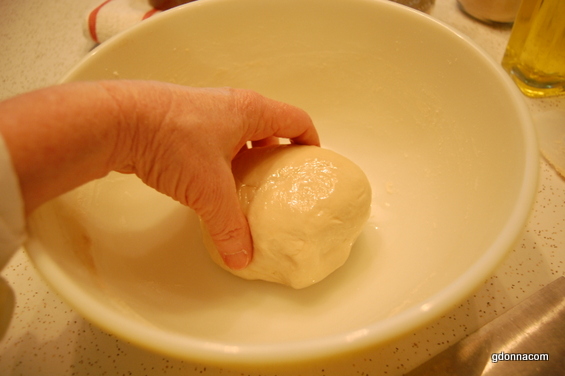 Place a small amount of olive oil in the bowl and toss around the dough to coat the dough with oil.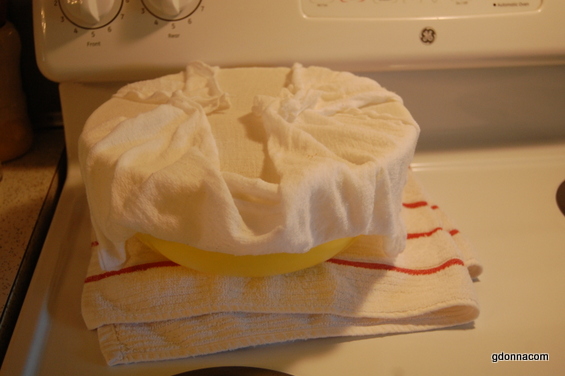 Cover the bowl with a warm damp cloth and place in a warm part of your kitchen to let it rise. If it is cold in your kitchen you can place it in the oven with the light on. It will need about 1 hour to hour and 15 minutes to rest at this point and have time to rise.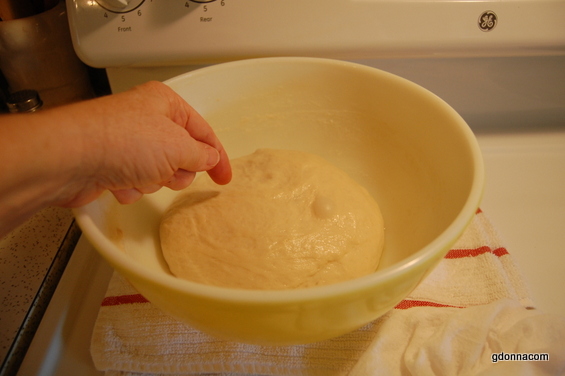 After on hour to hour 15 minutes, remove the cloth and the dough should have risen and if it did not then your yeast could be out of date.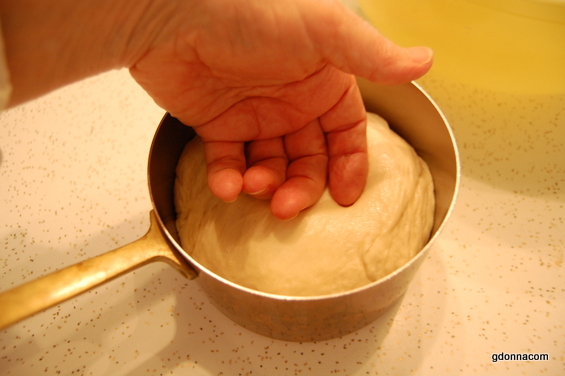 Oil the bottom and sides of your pot that you are going to use to cook the bread. Now remove the dough from the bowl and place it in the oiled pot and using the back of your fingers gently press the dough down in the pot.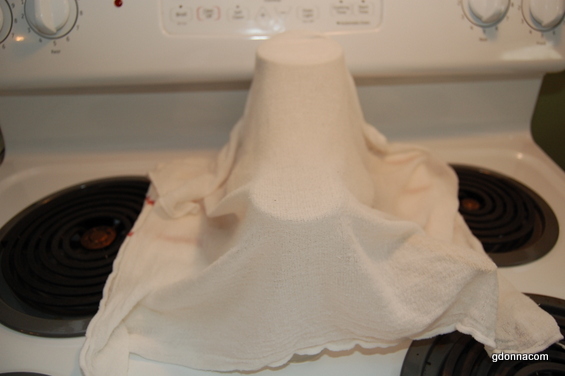 Place a damp cloth over the pan so it can rise again. I put two jars next to the pan so when the dough rises the cloth will not be pressing on the top of the dough. Another way to let it rise is place it in the oven with the light on and a pan of warm water in the lower rack.

Let it rise for 30 minutes.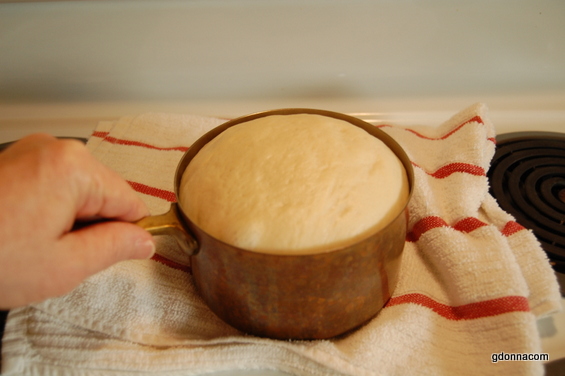 After 30 minutes it is time to bake the bread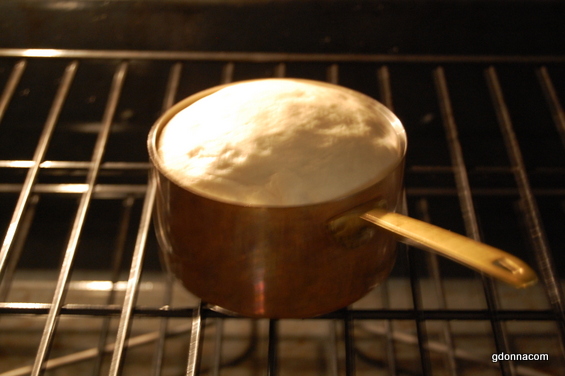 Place it in a preheated 350 degree oven and bake for 30 minutes.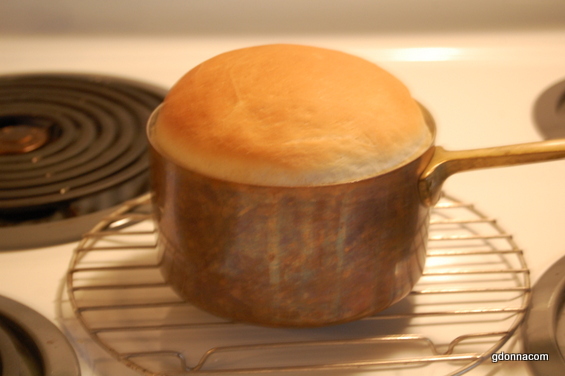 After it is done remove the bread from the oven and let it cool for half hour.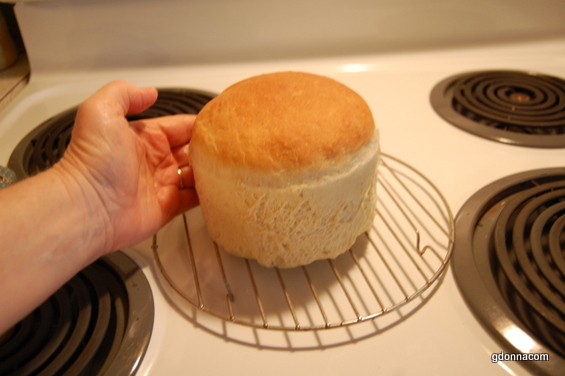 After half hour the bread should come out of the pan easily. Place the bread on a rack to cool.
Note
The two pictures below have been taken to show a bit of difference in the height of the bread after I adjusted the recipe to make it just a bit taller.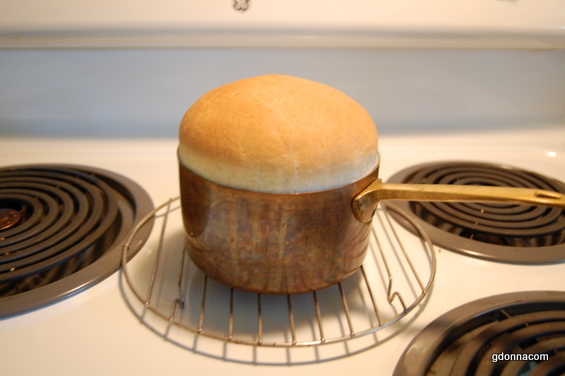 *****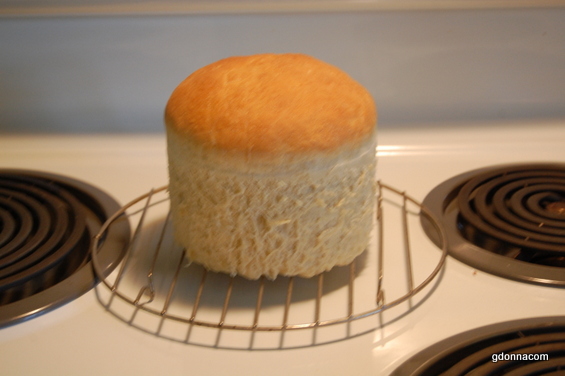 *********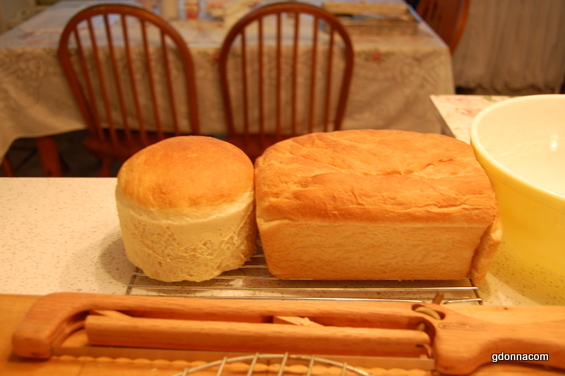 Here is the half loaf next to the whole loaf.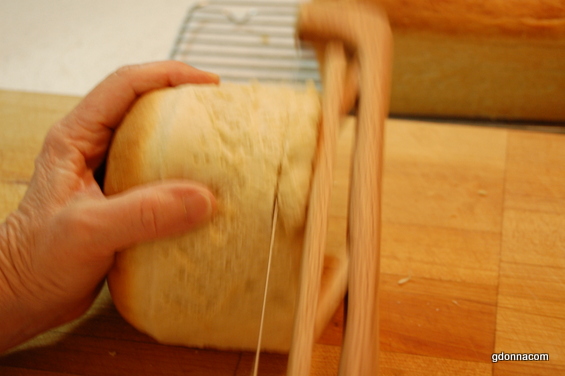 Lay the bread on it's side for slicing. I have a wooden bread knife that was given to me as a gift. It works very good to make even slices. It is made by Mountain Woods.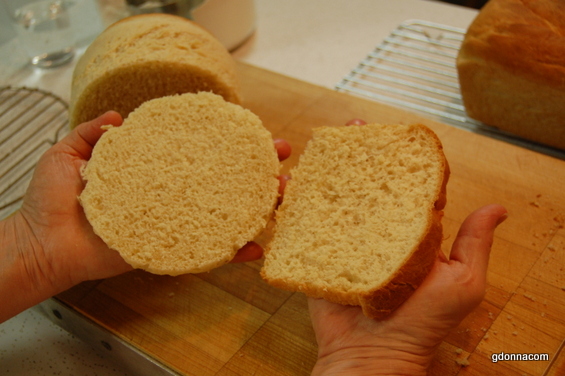 This is the half loaf bread on the left and a whole loaf bread on the right.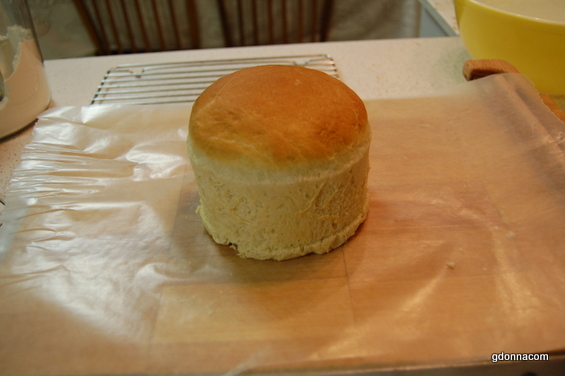 This is how I wrap my bread. Once the bread if fully cooled I place it on wax paper.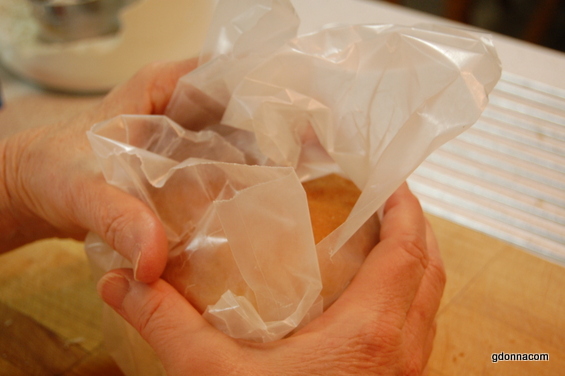 Pull the paper up and around the bread.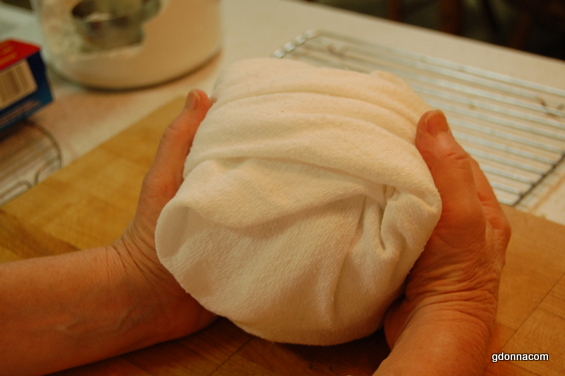 Then I place the bread wrapped in waxed paper in a bar cloth. I open the cloth and place the bread in the center then pull the corners over and swaddle the bread. It keeps the bread well this way.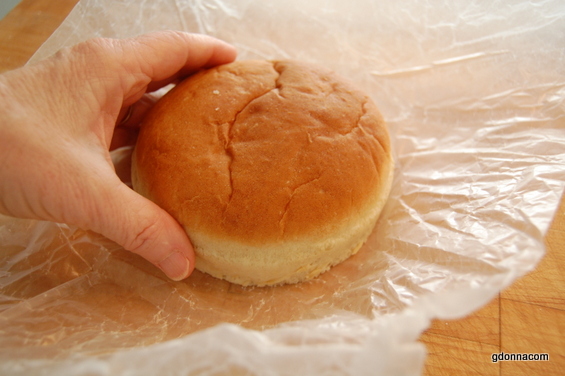 As you use up your bread you end up with the perfect hamburger bun. So if you plan your meals right this is a bonus.
Depending on how you slice your bread you can make about three sandwiches and a hamburger or two sandwiches and toast and a hamburger.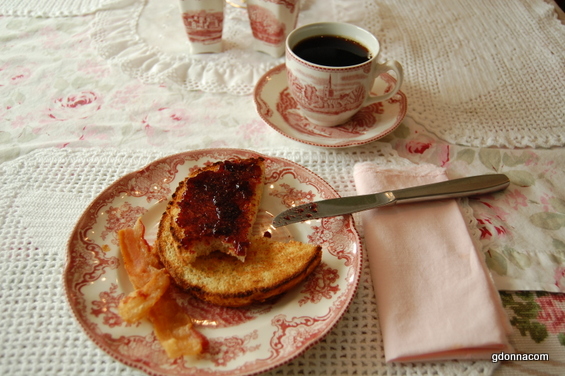 Hope you enjoy!